By Juan Pablo Mazzola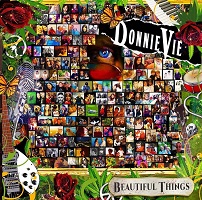 One of my heroes is back with another killer album! Donnie Vie's 'Beautiful Things' is proof that this dude can go on and on with releasing brilliant songs: apparently he will never stop, and that's a good thing.
The album starts of with the very poppy 'Beautiful Things' where a sort of Steve Lukather kind of solo leads to a very ELO verse. It's Beatles-eque in a very Donnie Vie way. The song has a Todd Rundgren feel that is both catchy and melancholic. 'Plain Jane' comes right after. He sings "rise and face the new day little girl, fly that middle finger at the world" and you are already hooked. This is Cheap Trick, Badfinger and everything that's alright.
'Breaking Me Down' sounds at times like a mix of Beatles' 'And I Love Her' and the best of Tom Petty's 70's magic. 'I Could Save The World' is my favorite here: They used to have Led Zeppelin, Stones and Beatles… All I want to do is bring the good shit back… If it was up to me I could save the world"… ha! Just a glorious song in which he clarifies that we used to listen to AC/DC all night long: memories of a better world and not this Facebook selfish place we are living in.
"Take a little time to cry for yourself…" he suggests to us in 'Fly', a beautifully piano-played ballad: "fly away from this dark, cold and lonely place". A very Donnie Vie ballad: he can say difficult things and express deep thoughts in a pretty easy way, making it sound natural – very much like Lennon did.
'Tender Lights' brings back the classic power pop he is famous for: a mid-tempo song with harmonized guitars, a song about relationships and how hard is to keep up with them. 'I'll Surrender' could easily have been included on Enuff z'Nuff´s 'Ten' album, just classic Donnie Vie sound here with all the catchy hooks and love lyrics. 'Whatever' narrates Donnie's story, just like he once did with 'There Was My Heart': another autobiographical Beatles-eque inspired song; a gem… it sounds a bit like Lennon's 'Crippled Inside' when he sings "wehatever turns you on". Catchy as fuck.
Power pop comes back with 'Fallin' Through The Pages': "sometimes I'll be trouble but nothing you can't handle" – a decent proposal! The album ends with another piano played ballad, 'Back From The Blue', a love gone wrong song with beautiful piano arrangements.
If you are lucky enough to grab the Japanese version of this album you will also get Donnie's version of the classic Lennon song 'Instant Karma'.
This is one big album, just like everything he puts put!
'Beautiful Things' is out now. You can get your copy HERE.
www.facebook.com/DonnieVieOfficial/
All content © Über Rock. Not to be reproduced in part or in whole without the express written permission of Über Rock.