By Phil Cooper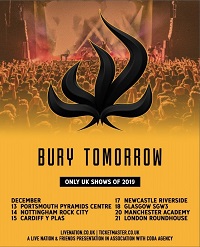 It's been a whirlwind year for Bury Tomorrow. They'd already made a big impact prior to the release of the acclaimed album 'Black Flame'; however, since then everything seems to be going their way, playing across Europe on headlining tours and having spots at a vast array of festivals. Their fanbase is ever growing and their output shows no sign of slowing down. I must confess that I was a little late to the party, but when it was announced that they would be doing a jaunt around the UK kicking off with a hometown show in Portsmouth, I was well up for a trip across the Solent.
A healthy queue was already in place before doors opening and there was a buzz about the night's opening act. At half seven with a very decent crowd in attendance, Blood Youth took to the stage. From the first track onwards, I could understand why there was an air of interest circulating about them pre doors. They came out with a thick textured, heavy hitting wall of sound. Frontman Kaya Tarsus had a commanding presence and backed up by the equally engaging guitarist Chris Pritchard and Big Les on Bass who was clearly loving every minute of the set. The sound locked together with a thumping drum groove from Sam Hallett. It's not often you see a decent crowd response for an opening act unless they're already well known. Yet, at the halfway point of their second song had the crowd on their side. A pit was dutifully opened and there was plenty of people giving them the attention they deserved. Indeed, as the venue continued to fill, some forwent the standard pre-show pint and went straight to the stage to get a closer look at who was providing such a dominating sound. Clearly there were pockets of fans familiar with the tracks on offer so that when sing-alongs were requested Blood Youth were not left hanging. A very worthy opening act who definitely made their mark and won over plenty of new fans. Just a shame that they only had a half hour.
With ears still ringing and neck muscles suitably warmed up the crowd eagerly welcomed Employed To Serve. With a blend of catchy riffs, guttural like vocals courtesy of Justine Jones and a thunderous rhythm section the five-piece launch into their set. From the opening salvo the audience is drawn in, pockets of established fans are re-energising the mosh pit from earlier and leaping about and those new to the band are just taking it all in and getting swept up in the riffs and driving rhythms. They're providing a devastating sonic assault; the technical proficiency of the musicians allows them to combine a wide array of elements and dynamics in order to deliver a detailed and engaging sound that is both precise and heavy hitting. Like a finely engineered, carbon fibre sledge hammer. Much like Blood Youth earlier, Employed to Serve are working the crowd well. They provide a captivating stage presence while simultaneously driving the crowd to mosh harder and jump higher. Their set list encompasses much of their work including their latest single which draws a lot of attention from the crowd. If one is looking to judge how well a support band has gone down with the audience then check out their merch table. I'm pleased to report that after both bands, their respect merch stands had a lot of healthy interest.
As enjoyable as the opening two bands were, there is only one band that everyone is here to see. The crowd is primed and ready and as the house lights came down and the opening samples on 'No Less Violent' begin the hometown crowd roars its approval and prepares to embrace their local boys done good. This tour sees them playing their latest album 'Black Flame' in its entirety and right from the get-go its apparent that this crowd has been doing its collective homework. As soon as vocalist Daniel Winter Bates launches in, he is joined by the Pyramids collective and they do not let up throughout the show.
As a vocalist Bates has a lot to offer with a solid range to express the emotion of the tracks and when combined with the clearer melodies of Jason Cameron, the vocal juxtaposition is extremely engaging. However, he is also an excellent frontman. He commands a solid stage presence, stalking left to right picking out groups and individuals in the crowd at random and pulling them into his world. The exuberance he shows at being able to show off his passion for performing this music is matched equally by the rest of the band. The locked in groove of Davyd Winter Bates (bass) and Adam Jackson (drums) is the thunderous powerhouse that supports the towering twin guitars of Cameron and Kristan Dawson. This might be the first night of the UK leg of this tour, however, the band have clearly honed this show over their previous shows. As such there is no evidence of nerves or jitters and they offer a slick and dominating performance.
As this is a full album, show the audience are well aware of the track list; however, certain songs do still receive a greater reaction when announced. Notably, the title track where the whole crowd simultaneously jump and sing along non-stop at the band's command trying to match the energy of those on stage. Similarly, the mosh pit goes wild for 'More Than Mortal' and 'Stormbringer'. The encore of four tracks comprised a nice mix of some older Bury Tomorrow tracks such as set closer 'Man on Fire' as well as their most recent single 'The Grey (VIXI)' which I'm happy to say is an absolute stormer in a live environment. It's easy to see off the back of this performance why Bury Tomorrow have gone from strength to strength with the calibre of their song writing matching their enigmatic stage performances, if you're not sure about going to see them and you're near one of the upcoming shows, go. Go buy a ticket, you won't be disappointed and you'll get to see two other very excellent bands too.
www.facebook.com/BuryTomorrow /
The tour continues tonight (Saturday 14 December) at Nottingham Rock City before moving onto dates in Cardiff tomorrow, Newcastle Upon Tyne, Glasgow and Manchester, finishing up on next Saturday (21 December) at London's Roundhouse.
All content © Über Rock. Not to be reproduced in part or in whole without the express written permission of Über Rock.