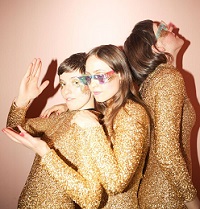 Another hometown gig, this time taking in Stealing Sheep with a couple of supports. Previous time constraints mean I'm later than expected arriving, meaning I miss Tierney, our first act, so this review starts up with main support Video.
A local duo, Video come across with a sound very much rooted in the '80s. Using backing tracks while they alternate on bass and keys, sharing vocal duties and create some rather attractive alt-electro tracks that are quite enjoyable. The room fills up quite quickly as they start and continues to busy up a touch further and further as they progress through their set. It's clear that they have a couple of friends at the front and the ease with which they both show a real adeptness with both instruments and on vocals demonstrates a good standard both for musicak talent and songwriting ability. Even those that are not as well initiated into their sound as their friends are quickly moving along to the music – the sound techs included –  and they actually make for quite a spellbinding performance, sounding like The Cure meets dysfunctional dance music. An excellent set.
On the build up to the ten year celebrations of being a band,
Stealing Sheep
are playing four successive nights, of which I catch the third. They come on stage to a well rehearsed and choreographed five minute routine before the trio take to their instruments and to briefly introduce themselves and the room is as packed as when I caught SPQR a couple of weeks previously. They musically come across as a mixture of a mixture of alternative electronica acts, with influences as varied as older acts such as Gary Numan and more contemporary acts like The Knife or Peaches, with their harmonies blended both vocally and musically, each complimenting and supporting the other as they take turns to lead songs.
The audience, myself included, can't seem to help but to move along to the music,  with almost everybody swaying along as if part of some hypnotic floorshow. I particularly like the fact that the vocal duties are quite evenly shared out, as it shows a togetherness not always present in bands and certainly often lacking after almost a decade together, showing that any egos are firmly in check. The earlier choreography keeps being brought back into the set at different times, making it into more of an all round performance than *just* playing their music live, serving to provide even more reasons for us all to stay rapt to the trio. It feels very much like dystopian electronica at times, when heading on to a more modern sound than their 80s electro feel, with both sides going down as well with us all in the crowd as the other. It's a very strong, well rounded performance from the ladies, one which goes down an absolute storm with us all.
All content © Über Rock. Not to be reproduced in part or in whole without the express written permission of Über Rock.