By Colin Hunt
For those of you that do not recognise the name, Brian Downey is one of the world's most underrated rock drummers. Along with Phil Lynott on bass, they provided the bedrock that supported the now famous twin guitar sound of Thin Lizzy. Why Brian isn't in the Rolling Stone's top 100 drummer's list is beyond belief, and hard to swallow, especially for any diehard Thin Lizzy fanatic like me. Thin Lizzy was the band I grew up listening too, so this review may be a bit biased.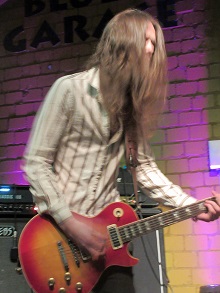 I last saw Brian Downey play in Thin Lizzy at the Reading Rock Festival in 1983. They were awesome and closed an excellent weekend that was also my first festival. Roll on to 2019 and I find myself on another road trip, this time to the Blues Garage in Isernhagen, Germany, to see Brian Downey's Alive & Dangerous. I'm writing this preamble while sat in Burger Bro's burger bar around the corner from the venue feeling excited and a little bit nervous.
The venue from the outside doesn't look like much. It's just another unit in a row of similar industrial units. However, when you go inside you are transported to another time. The place looks and feels like a '50s America mid-west club. There's an upstairs balcony supported by large wooden beams, were the smokers can go, the front of an old car sticking out of the wall, old signs and a cool looking bar that gives the place a great feeling. Opposite the bar, the stage is in the corner and triangular, with a raised platform for the drum kit. As the place fills up, mainly with men of my age, many wearing Thin Lizzy T-shirts, I keep looking at the wall clock, counting down the minutes to eight o'clock when the show will begin.
And then its time and the band emerged from the backstage room beside the bar and climb the few steps onto the stage with everyone clapping, and Brian waving back. With the band in place, they began with 'Jailbreak' and I knew straight away I was going to have a great night. Jailbreak was well played, and the singer asked for hands in the air, to which he got a good response. They then played 'Are You Ready', followed by 'Southbound' with its excellent slow guitar solos. Then the band was introduced, Brian Grace on lead guitar, Phil Edgar on lead guitar, Matt Wilson, vocals and bass and the man himself Brian Downey on drums. With the audience clapping enthusiastically, Brian stood up to acknowledge the support, which was greeted with more noise from the crowd. The next song was then introduced "written by Bob Seger but made famous by Thin Lizzy", and 'Rosalie' began followed by 'Emerald'. Both songs were excellently played and demonstrated just how great Thin Lizzy's twin guitar sound was.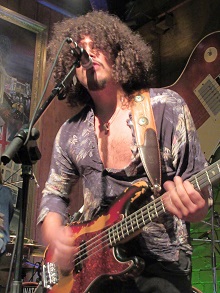 The next six songs were in exactly the same sequence as 'Live & Dangerous', starting with 'Dancing In The Moonlight' (the first song on side two) powering through to 'The Boys Are Back In Town' (the second song on side three). The introduction to 'Still In Love With You' was very moving, with the singer asking for a big cheer for Phil and reminding us, that without him none of these song would be here. The song was played beautifully, and I have to admit that I did fall to pieces. I've never cried at a concert before. God bless you Phil.
The bass playing in 'Johnny The Fox' was excellent, and then it was time for Brian to star, as they started playing 'Sha La La', and he didn't fail to deliver. An excellent drum solo from one of the best drummers to walk our humble lands. And just in case we forgot, the singer reminder us all who it was "Brian Downey on the drums" he called out to great applause at the end. Next came 'Don't Believe A Word', followed by an excellent version of 'Suicide' which I really enjoyed. The next song, the last song on the 'Live & Dangerous' album was 'The Rocker', which I'm afraid just didn't work tonight. With one of the guitars not sounding right, it was hard to listen to. And that was it, well almost, as the band left the stage and the crowd began cheering for more, and we didn't have to wait long as they were soon back.
The first song in the encore was 'Got To Give It Up' the first song not on the Live & Dangerous album. Next was a big surprise – we were introduced to a new song. A song that they had only played a couple of times live, and very enjoyable it was too. It had a great rhythm and the band seemed to be more relaxed and having more fun playing it. I asked the stage technician afterwards, what it was called, and he told it didn't have a title yet and was more "work in progress". It would be really great if after the tour they went to a studio and finished it so everyone can hear it. This was then followed by 'Bad Reputation', one of my favourite Thin Lizzy songs and I'm pleased to say it was an excellent end to a great show. As they left the stage for the last time, Brian threw into the crowd his two drum sticks and I was lucky enough to catch one.
They had played every song from 'Live & Dangerous' except 'Baby Drives Me Crazy' and I can understand why they omitted that one. It was always Phil's song to interact with the audience, and I would rather remember him performing it then hearing someone else try.
Soon after they had finished Brian appeared by the bar and chatted to the fans, signing album covers, tickets and allowing people to take photos with him. Brian also signed the drumstick for me, for which I am very grateful.
If you're a Thin Lizzy fan, or someone that likes good Irish rock music, and enough a good night listening to well play music, then Brian Downey's Alive and Dangerous is the band for you. I know I'll be seeing them again.
www.facebook.com/briandowneysaliveanddangerous/
All content © Über Rock. Not to be reproduced in part or in whole without the express written permission of Über