Written by Phil Cooper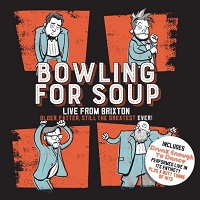 You just can't keep 'em down. After announcing a farewell to the UK tour in 2013, Bowling For Soup Returned in 2016 with a new UK tour and follow up album looking to stick around for good. They evidently enjoy what they do and now they've come back again with a full live album/DVD to illustrate just how much they enjoy themselves. Taken from the February Brixton UK show, 'Older, Fatter…' sees the band performing 'Drunk Enough To Dance' in it's entirety plus a host of other songs from their extensive catalogue.
Opening to rapturous cheers and applause, the 'Bowling For Soup Theme' kicks off and it's immediately apparent that the bands intention with this release is to immerse the listener into the kick. For those of us that were there it ignites the memories and suddenly the listener is hurled into a massive karaoke.  'Drunk Enough To Dance' contains a large section of BFS' most well known back catalogue, and as Jaret himself acknowledges the best thing about playing this album live is that the audience gets to hear the best songs early in the set before launching into the intro to 'Girl All The Bad Guys Want'.
As a band they don't have any political agenda or angle. If Bowling For Soup were out to make a statement, it would be to have fun and not take life so seriously. This comes across in all of their music, but certainly in tracks such as 'On and On (About You)', 'Almost' and 'Life After Lisa' it's highlighted further on this record. The raucous cheers from the crowd as they attempt to sing along to their favourite numbers as Jaret and the boys seem to be playing at twice the usual speed. Possibly just to try and fit in as much as possible, but it is difficult not to burst a lung in order to keep pace with vocals. The simple unchained joy brought forward by the band seems like the perfect antidote to a lot of the tough times people are facing day to day.
It's impossible not to get swept up in the maelstrom of excitement that these guys generate as they kick into the like of 'Last Rock Show' and 'Punk Rock 101'. They've fully achieved the concept of bringing the gig to your living room (or indeed wherever you are). The audience calls for more at the closing of '1985' the listener will also be left wanting for more as it's a full-on experience that does require multiple listens even if it's just to re-hear the jokes.
It's testament to the fans of the band that this release is entirely crowd funded. The money was raised by pre-orders and merchandise sales. The tour was already in place yet the band wanted to put out a live album celebrating not only breakthrough album 'Drunk Enough To Dance' but also Brixton being their largest London crowd to date.  The fans were only too happy to oblige, coming forward to ensure that this project could go ahead. It's not been all plain sailing though, this release has been a long-awaited instalment, as there have been a number of date movements in its delivery. This may be due to other touring commitments on the part of the band in terms of BFS shows as well as solo projects. In addition, it was recently announced that bassist Erik has parted ways with the band. The split was entirely friendly; however, it does mean that an original member has now left the fold. The band have recruited bassist Rob Felicetti from Patent Pending so will look to continue to tour and keep BFS going. 'Older, Fatter…' now represents the last record out by the full original Bowling For Soup.
Make no mistake, this is a recording that will put a smile on your face. The highly infectious joy that Bowling For Soup can bring to a live setting has been perfectly captured. Not only are all the on-stage banter and jokes unedited and audible, but they clearly took time capturing the audience as they fully get involved with the music. It's a very well-produced live record as the music is perfectly clear yet it still retains the rough around the edges mix that adds to the live authenticity. It is all to easy to over produce a live record in the pursuit of perfection, but Bowling For Soup do not need to do that. They're a band that are here for the fun and joy of playing music with your friends for twenty plus years and entertaining their fans. 'Older, Fatter…' captures this ethos and displays it fully for all to hear.
'Older, Fatter, Still The Greatest Ever…' is out now. You can get your copy HERE.
Bowling For Soup play The Telegraph in Belfast on Wednesday 24 April and The Academy in Dublin on Thursday 25 April.
www.facebook.com/bowlingforsoup/
All content © Über Rock. Not to be reproduced in part or in whole without the express written permission of Über Rock.