By Jim Rowland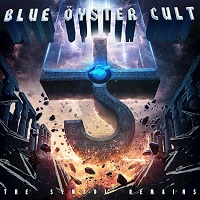 Blue Öyster Cult fans have been spoiled with numerous releases over the past year since the band hooked up with Frontiers Music. Three live albums – 'Hard Rock Live Cleveland 2014', '40th Anniversary – Agents Of Fortune – 2016' and '45th Anniversary Live In London' all came out this year, as well as welcome reissues of the 'Heaven Forbid' and 'Curse Of The Hidden Mirror' albums from the late '90s/early '00s, which were getting pretty hard to get hold of. Now comes another big one – a brand new studio album 'The Symbol Remains', the first from BÖC since the 'Hidden Mirror' album in 2001.
The album contains 14 brand new cuts, clocking in a just over an hour in total, and is available on double vinyl (various limited coloured editions have already sold out on pre-order), as well as CD and download. As is often the case with a BÖC album, it's quite easy to segment the album according to who handles the lead vocal. The five tracks with Eric Bloom on lead vocal, as has often been the case, tend to be the heavier ones, and many here come pretty close to being the heaviest riffing tracks the band have ever done. Particularly fine are the opening cut 'That Was Me' that somehow manages the combine a very heavy and catchy riff with a sudden and unexpected detour into reggae territory (yes, you read that right!) which actually works a treat, whilst the epic sounding 'The Alchemist' provides one of the album's outstanding moments.
Donald 'Buck Dharma' Roeser contributes six lead vocal tracks, which fans will not be surprised to hear are the more melodic contributions in typically unique and diverse Buck style. 'Nightmare Epiphany' has a trad rock'n'roll twist and 'Train True (Lennie's Song)' has a bit of a southern rock boogie feel to it. Elsewhere, 'Box In My Head', 'Secret Road' and particularly the closing track 'Fight' are prime slices of Buck-led BÖC. The three remaining tracks see Richie Castellano, now firmly established in the Allen Lanier keyboard/guitar role in the band, take on lead vocal duties with the epic sounding 'Tainted Blood', 'The Machine' and the heavier 'The Return of St. Cecilia' all heading in a more AOR flavoured direction.
'The Symbol Remains' is proof that after almost 50 years of activity, Blue Öyster Cult can still deliver the goods. It's not up there with the true classic albums of the ' and early '80s like 'Secret Treaties', 'Agents Of Fortune' or 'Fire Of Unknown Origin' and realistically you could not expect it to be. But it is a solid, very decent and enjoyable album that easily holds its own against the more recent 'Heaven Forbid' and 'Curse Of The Hidden Mirror'. A must for every self-respecting BÖC fan, and no disappointment.
'The Symbol Remains' is released this Friday (9 October). You can get your copy HERE.
www.facebook.com/blueoystercult
All content © Über Rock. Not to be reproduced in part or in whole without the express written permission of Über Rock.