By John Bedard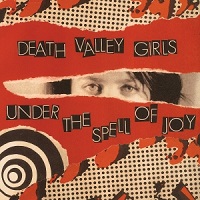 Reading the press info, I had a feeling that I would like this album, but even with that expectation I was not prepared for how good this album actually is. It is so unique while still having a very solid grounding. Sometimes when an artist tries something that is a little out there, things get lost for the listener. I don't find any issue like that here. In fact what I hear is an album that is extremely well grounded in a few existing styles combined in unique ways that make 'Under The Spell Of Joy' one of my favourite albums I have heard this year. Fair warning, I have nothing but praise to say about this album so there will be gushing.
The musical tone has a very '60s rock tone meets '90s punk with hints of psychedelic. This plus the addition of a few brass instruments I was not expecting it could have gotten over complicated and messy but instead what we got was a perfectly put together mix that just feels fantastic through and through. Even though I have never heard this band before somehow every track feels extremely nostalgic. Like I grew up with it but at the same time totally new and its own thing. Not at all derivative.
Once again with the vocals we have a tone that perfectly complements the musical style I talked about above. There is probably a technical explanation for the tone of vocals in the '60s but it is above my pay grade. I'm sure most of it had to do with the equipment of the era but the best way I know how to describe the tine is like The Mamas And The Papas. If you were to isolate their vocals it would have a similar tone. That kinda far from the mic, slightly under saturated, layered tone that is so satisfying and a total staple of the era. It is perfect.
I'm sure by now you can tell that I love this album but I'm going to take that a step further. In the approximately year and a half I have been writing for uber rock I think this might be my favorite album that I have reviewed to date. Every second was fantastic, and I found myself listening to it again and again. This is a must buy. You will not regret it. Hell, I might need to buy a few more copies for friends of mine. It's a masterpiece!
'Under The Spell Of Joy' is out now. You can get your copy HERE.
www.facebook.com/DeathValleyGirls
All content © Über Rock. Not to be reproduced in part or in whole without the express written permission of Über Rock.