Written by DJ Astrocreep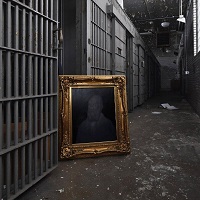 On first listen, there is more than a single sound to Blue Dream – be it the quite prog sounding 'UFO' and 'Tune In', to the Sabbath-esque 'Locked In A Daze', to a rather more ethereal, melodic and laid back style. The self-styled "Heavy Psychedelic Space Funk" act from Chicago, Illinois are still early in their career but already seem to be producing high-quality releases, as I'll now detail…
At a first glance through, there are only two tracks at five minutes or above – though penultimate track 'The Battle of Cicero' is very much so at a touch over 12 minutes, with most hovering around the 3.5 minutes mark, a touch short for a band with a more space rock kind of sound as an overall premise, so I had a touch of concern about how formed some of the ideas would be, as a fan of the genre in general. In truth, I needn't have worried. Where some bands, as much as I love them, do get a touch waylaid with what they are doing and caught in the moment at times, Blue Dream seem able to express their ideas with a level of clarity that's equal parts surprising and enjoyable. The only track with any stretched feel to it is the penultimate track, 'Battle Of Cicero', which has an extended and very well performed drum solo, feeling more like a band trying something out to showcase their ability, rather than it being particularly overcooked.
They reference a few notable and audible influences in their social media bio, in the form of Jimi Hendrix, The Doors, Black Sabbath, Pink Floyd and Led Zeppelin, all of whom I can hear echoed in this release, though not in a way that sounds like an outright rip off of any of those acts, more a passing homage in the way they create their own sound. There are also some elements of some of the Desert Rock icons such as Kyuss and Yawning Man, adding further depth to what was an already strong release. With vocals that sound akin to John Kay from Steppenwolf, while musically the band sound like they could give the above-mentioned major acts a run for their money in terms of technical ability and group fluidity. Most of the album is highly accessible, with 'Battle of Cicero' being the only one that may cause a new listener any issues, simply due to the length and the attention span needed to take it all in. I can see this being liked by people into their classic rock, heavy psych, space rock, stoner and desert rock releases, with the sheer level of accessibility meaning it could easily cross over enough into surrounding fields that even more find something of interest in it.
Already shortlisted for my top 20 of the year.
'Volume Won' is released this Friday (25 January). You can get your copy HERE.
www.facebook.com/bluedreamchicago/
All content © Über Rock.  Not to be reproduced in part or in whole without the express written permission of Über Rock.