Written by Rich Hobson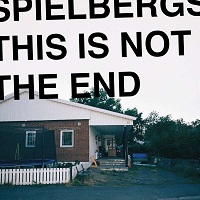 Scandinavia certainly isn't a slouch when it comes to producing modern day rock maestros, having churned out the likes of Backyard Babies, Royal Republic, Sons of Morpheus and The Hives – among many others – in the past couple of decades alone. But, when it comes to Norway most will likely think more of burgeoning extreme metal scenes than for good times rock n roll – something that Oslo's Spielbergs hope to fix. Coming out the gates with the oddly-titled 'This Is Not The End' (obviously; it's a debut!), the three-piece owe much more to rock's heady heyday than to the extreme metal underground.
But, don't be mistaken; this isn't another bombastic entry in the ranks of big-struttin' Scandinavian rock n roll. No, Spielbergs are more reflective, more likely to pop up in conversation alongside the likes of Culture Abuse or The Menzingers than to the style-obsessed swagger bands the region usually produces. Sat somewhere between alt rock, US indie and modern punk, the band offer earnest lyricism, hammering guitar lines and road-trip ready melodies, crafting a record which will likely stir the interest of anybody looking for a solid, emotional journey.
'Five On It' kicks things off with insta-nostalgia, evoking memories of the '90s alt/radio rock scene, and a time when three friends could rule the world with the right chorus and a suitably dissonant guitar. This is reflected in lines 'I want to leave this country/I want to flee this land', a line which feels less like an indictment of their homeland as it does for wanderlust setting in as they embark on an enormous journey. This journey is matched in the expansive, roving quality of their songs, each melody driving the listener further and further away from where it all began. By only track three, 'NFL', the band enter a world of clattering drums and wailing guitars, giving way to minimalist melodies which catch the listener off-guard before sending them careening over a cliff of distortion and feedback.
Combining disparate elements seems to come to the band as easily as breathing, as with the militaristic machine-gun rattle of drums to 'We Are All Going To Die', strikingly at odds with a track which is easily among the most punk on the record. Existing in that space between extremes, Spielbergs stand out as a band with undeniable radio appeal whilst still keeping their feet firmly planted in the realms of alternative and post-hardcore, particularly in their use of roaring instrumentals and glorious choruses, two elements which at times seem at war.
'This Is Not The End' sets Speilbergs' stall out as a band who could very well join the conversation started by bands like Touche Amore, Thursday and – more recently – The Menzingers or Culture Abuse. In their adoption of a wealth of styles (ranging from post-hardcore and instrumental post-rock to punk, emo revival and even US indie), the band arrive onto the scene as a fully formed, multi-faceted entity, ready to unite many of the disparate elements of the modern alternative scene. Gluing them together with a combination of big choruses and high concept songs like 'McDonalds (Please Don't Fuck Up My Order)' (no, really; a seven-and-a-half minute minimalist post-rock epic whose vocals don't start until well past the four-minute mark), the band already sound like they have a rich lineage to mine and evolve from.
And, in many ways they do; this is a band who takes the torch from their forebears and finds ways to take it on an epic journey around the world, across vast expanses of minimalism and through chaotic punk avenues to find a place of their very own. With the extremely positive reaction to their debut EP, there was a lot riding on Spielbergs' ability to build a coherent, solid record that could announce their arrival to the world and build their profile seamlessly from that first release. 'This Is Not The End' achieves that and much more, marking Spielbergs out as a band who have already grown enormously in a short amount of time, suggesting there are many bigger adventures to come, with no way of knowing just how far this band could go.
'This Is Not The End' is released on 1 February. You can get your copy HERE.
Spielbergs play the following dates in February:
Monday 11 – Manchester, Jimmy's
Tuesday 12 – Glasgow, The Garage (Attic Bar)
Wednesday 13 – Newcastle Upon Tyne, Think Tank
Thursday 14 – Birmingham, Sunflower Lounge
Friday 15 – London, Shacklewell Arms
They also play the 2000 Trees festival in July.
All content © Über Rock.  Not to be reproduced in part or in whole without the express written permission of Über Rock.