By DJ Monk and The Dark Queen
What better way to shake off the January blooze, induced by both financial and musical shortages, than in the company of some of ÜR's favourite rock 'n' roll rapscallions, The Quireboys, making their now traditional start-of-the-year visit to that wee gem of a venue buried deep in the arse-end of nowhere (actually, if you want to find it, you follow the signs to the arse-end of nowhere, hang a left and keep going…)? So, off we headed, deep into the hills of County Antrim… and it appeared that there were many like-minded folks, as the Diamond was rammed by the time we piled off the beer bus and gorged our traditional chicken and bacon burger in the wonderful little chippie across the village square…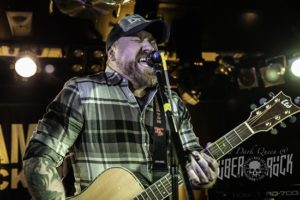 The task of warming up the capacity crowd falls to DRC and ÜR hero Tom Harte, best known as the frontman with the mighty Trucker Diablo and now flying his solo flag, if only for a brief period.  Accompanied, for the first part of the set at least by fellow Trucker Terry on beatbox, he has a few technical issues to sort before declaring that "it's good to be home" and kicking things off at a lively pace with the energetic 'Tearin' Up The Road'. 'All Night Long' is slightly mellower and somewhat mournful.
Of course, he has to pay a nod to his background, and we get stripped back versions of 'Drive' and 'Voodoo' before Terry quits the stage to leave his bandmate truly flying solo, which he does by inviting us to catch the 'Last Train Tonight' and then asking 'What About Us?', both taken from his debut solo EP, 'Life, Love And Everything In Between'. Tom's performance is a much more comfortable one than his debut a few months' earlier, and he is definitely more at ease in the familiar surroundings of the Diamond. Unfortunately, however, it is plagued by the usual problem high pitched harridans squawking all the way through each and every song, and then having the downright cheek to applaud enthusiastically at the end… Nevertheless, DQ is reduced to tears with 'Where Angels Fly' and sings along to 'One More Minute' before Tom signs off with a cheekily appropriate rendition of the theme from 'Cheers': yes, he truly was in a place where (nearly) everyone knows his name.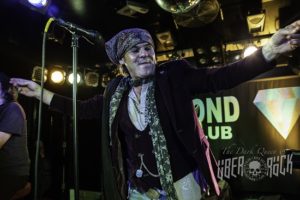 The Quireboys had ambled into the venue just a few minutes before Trucker Tom took to the stage, and there's an easy manner to there set up before Spike saunters onto the stage and declares "this feels like my second home". After 'There She Goes Again' gives us a surprising opening pop, Spike proves that many of the stories about his drunken antics are just that, and often just a part of what is expected from him, as he invites us to "raise your glasses in the air" before revealing that "I'm on the apple juice, so we'll be OK… I might even remember what songs we're supposed to be playing!".  Slightly later, however, he plays up to the legacy of his former antics by declaring that the band will be "up all night drinking, as we don't have to catch our flight until 4pm tomorrow – and Keith Weir wants to buy you all a drink…"
It all threatens to go awry however as, after dedicating 'Devil Of A Man' to "my second mam", who had got married in Las Vegas a little earlier in the evening, he is handed a pint of Guinness: "I haven't had a drink in 14 days, maybe I better check my medical note to see if I'm allowed this," he declares cheekily before, egged on by the crowd, he cheekily downs it in one!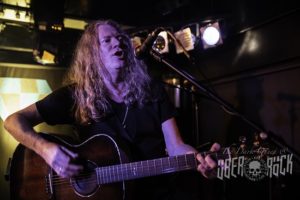 One of the beauties of unplugged shows is that they give the artists much more time for storytelling, and the tales keep on coming, as Spike talks about the recently completed recording of their forthcoming 'Absolute Disgrace' album. "We finished at 6.30 and had to be out leave at ten – fortunately, I knew the policeman who stopped me… well, I was driving alongside Prince Philip!" Later, he tells us he got stopped at airport security on the way over to Norn Iron: "they found traces of cocaine on my harmonicas!"
In between the obvious big pops, such as the always beautiful 'Mona Lisa Smiles', 'Beautiful Curse', 'Have A Drink On Me' (as if we need a second invitation) and 'Mary Anne', such shows also offer a chance to air some rare archive material, such as the likes of 'Whipping Boy' ("how we originally wrote it") and 'Late Night Saturday Call'. In between, Spike repeatedly invites us to "raise your glasses and help keep rock 'n' roll alive": unfortunately, there are still too many who, despite having paid to allegedly hear the band, are much more interested in doing so with the chit 'n' chat.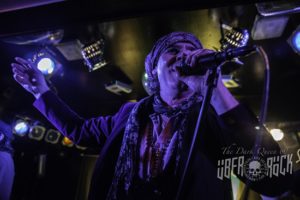 As the set heads towards its inevitable conclusion, it is definitely well past '7 O'Clock', but the party has been going for several hours so far – and looks set to continue into the wee small winter morning hours. The roof-raising demand for more is rewarded, with Spike smirkingly declaring "oh shit, it's a ballad" as local hero Keith Weir winds out the opening of 'I Don't Love You Anymore': but, as the man in the bandana says, "it wouldn't be a Quireboys show if we didn't play it". And, Spike, we know you love us as much as we still love you. And, after all, we still have the 'Sex Party' to look forward to 😊
Songs always take on a different texture when they are played acoustically, but tonight proves once again that you don't need everything plugged in and turned up to 11 – and that The Quireboys are one of the three greatest British rock 'n' roll bands of their generation.  Until we meet again, lads, keep on doing what you do and we'll keep on keeping rock 'n' roll alive.
'Absolute Disgrace' is released on 8 February. You can get your copy, and loads of other goodies, HERE
The Quireboys also play the following 'Unplugged' dates in February:
Friday 1 – Bedford, Esquires (Guy Griffin's '50th Birthday Party' Special)
Thursday 7 – Cambridge, Junction
Friday 8 – Sutton-in-Ashfield, The Diamond
Saturday 9 – Evesham, Iron Road
Sunday 10 – London, The Garage
More 'Unplugged' dates follow in March:
Saturday 23 – Derby, The Flowerpot
Sunday 24 – Worthing, Bar 42
Saturday 30 – Buckley, The Tivoli
They then undertake the following co-headline dates with FM in April:
Monday 1 – Nottingham, Rock City
Tuesday 2 – Cardiff, The Tramshed
Thursday 4 – Wakefield, Warehouse 23
Saturday 6 – Sheffield, Corporation
Sunday 7 – Manchester, O2 Ritz
Monday 8 – Glasgow, The Garage
Tuesday 9 – Wolverhampton, Steel Mill
The Quireboys also headline the opening night of the Über Rock-backed SOS Festival in Prestwich on Friday 12 July and final night of the Rock & Bike Fest in South Normanton on Saturday 13 July.
PHOTO CREDIT: All photos © The Dark Queen/Über Rock. You can view our full gallery of photographs HERE.
All content © Über Not to be reproduced in part or in whole without the express written permission of Über Rock.