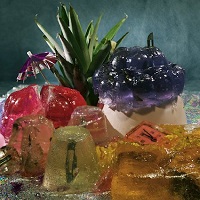 Bitch Falcon have been on my radar for a few years now after seeing them at the last Mandela Hall show here in Belfast. I walked into a crowded hall to find a band shrouded in smoke and light, thrashing round the stage like it was 90s Seattle and making a noise equal parts face melting and floaty. Not much has changed since then.
The debut album from Bitch Falcon, 'Staring At Clocks', finds the band's crystal vision coming to fruition. Led by frontwoman Lizzie Fitzpatrick on guitar and vocals, the combination between her distinctive voice and the shoegaze reverb drenched ambiance meets dimed distortion sound  she pulls from her guitar form the core of the Bitch Falcon sound. Anchored by the often Godzilla like rumble of Barry O'Sullivan on bass and propelled by Nigel Kenny's drums. Nigels contribution is not to be overlooked, changing moods and feels from almost art punk disco sections to stick, cymbal and neck snapping parts on a dime.
They say in space no one can hear you scream but the ungodly wail that opens Staring At Clocks sounds exactly the aforementioned space scream. From the offset 'I'm Ready Now' with its pounding drums, urgent vocals and layered guitar sounds like a statement of intent. I can imagine this being a beast of a song live.  'Sold Youth' has a less immediate beginning creeping in under a bass line of Peter Hook ancestry. This song is an example of just how important Barry's bass sound is to the band, another bass player and this song would lose its creeping menace altogether. 'Turned To Gold' sounds like it could soundtrack any episode of 'Stranger Things'.
A lot of this record has a definite 80s and 90s vibe, all ran through the Bitch Falcon filter which renders it into a new sound where both decades exist simultaneously.  'How Did I Know' is the current single from the album based around a driving bass line that would get even the most static beard stroking gig attendees moving. The guitar parts that come in during the final third of the song add a nice hook amongst the swathes of sounds. Title track 'Staring At Clocks' creates a palpable sense of tension building towards its inevitable release three minutes in and euphoric conclusion. 'Damp Breath' we got as a single at the tail end of 2019, with a more urgent feel to this song the sharp mix helps accentuate each part.
Prior to the release of this record we got a number of singles: 'Test Trip', 'Martyr' and 'Gaslight'. Lizzies vocals on 'Test Trip' sound fantastic and a testament to just how good a vocalist she is, she has such a distinctive voice it's an intrinsic part of their sound. 'Martyr' is a slow build never rushing to the end but when it breaks it feels like a necessary manic release, I would have concerns about the safety of the bands instruments when they play this live. 'Gaslight' is my favourite track on the album; to me at least, it showcases the band at their best. Combining all the elements that make the band great and presenting it in one neat three-and-a-half-minute package, which is no easy feat. The album closes out with 'Harvester', clocking in at six and a half minutes its the album's longest track. The band don't waste a second on it though taking us from musical movement to musical movement and ending with a cataclysm of pedal induced dissonance. It's a beautiful noise.
Bitch Falcon are a band of dualities, an approach they've honed to devastating effect on 'Staring At Clocks'. It's the bands most complete and realised work to date, showcasing every element to their full and further cementing their own original sound. When I listen to Bitch Falcon it's all colours and for some reason I can't not thin
k about space. Like they were born out of a deep space maelstrom giving way to all the beauty and violence in their music, bathed in streams of colours and smoke, just like the first time I saw them.  Creating a beautiful dense cacophony of sound 'Staring At Clocks' demands your attention when you listen to it, it wraps around you and sucks you in. Bitch Falcon have produced a debut that most bands would sell their souls at the crossroads for.
'Staring At Clocks' is released on Friday (6 November). You can get your copy HERE.
All content © Über Rock. Not to be reproduced in part or in whole without the express written permission of Über Rock.