By Jim Rowland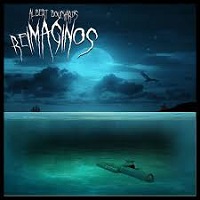 The original concept of 'Imaginos' dates back to the 1970s and was originally projected to be a trilogy of double albums with a story that weaves scripts and poems by the late producer Sandy Pearlman about an alien conspiracy that is brought to fruition during the late 19th and early 20th century through the actions of Imaginos, an agent of evil. It was also originally intended as a solo album by Blue Öyster Cult drummer, founding member and sometime songwriter and vocalist Albert Bouchard. The protracted stop/start recording of it was to last seven years and eventually surfaced, at the insistence of BÖC's then label CBS, as a Blue Öyster Cult album in 1988, their last for the label. Having been fired from the band in 1981, Bouchard himself had less involvement in the finished product, but now all those years later, he gets his chance with 'Re-Imaginos', an album where he gets to re-visit and 're-imagine' the concept album, perhaps more as it was originally intended.
In truth, you could argue that 'Imaginos' was not a true BÖC album anyway, with numerous guest musicians playing on the recordings, including Robbie Krieger, Joe Satriani and Also Nova, and BÖC vocalists Eric Bloom and Donald Roeser drafted in at the last minute to overdub the vocals, replacing those of Bouchard, one of the things CBS had objected to. Whilst it was hailed as one of the heaviest albums to bear the Blue Oyster Cult name at that point, it divided opinion, and as a big fan of the band myself, it ranks nowhere near the top of the BÖC album pile for me. With that in mind, I approached this album with a little trepidation. As it turns out, I needn't have worried, as I must say I am very pleasantly surprised by 'Re-Imaginos'.
Part of the reason for that is the radically different approach Bouchard has taken in putting this album together. It's far from a re-hash of the original BÖC album and bears little resemblance to it in terms of musical style, despite containing the same songs. This one includes three further tracks not included on the BÖC version, and the running order has also been slightly altered. 'I Am The One You Warned Me Of' still kicks it all off, with this version probably being the heaviest effort on the album, albeit much more in a psyche rock direction. The album has a more organic, laid back approach to it with a west coast psyche feel mixed with a folky vibe, exemplified by this version of 'Siege and Investiture of Baron von Frankenstein'.
In fact the sound of Arthur Lee and Love springs to mind in places. Bouchard's voice, one that BÖC fans will be familiar with from the earlier albums, works well. The three songs that were omitted from the BÖC album, and re-integrated here, are 'Girl That Love Made Blind', 'Gil Blanco County' and 'Black Telescope', all worthy additions, and the latter being a radically different version of 'Workshop of the Telescopes' from the first Blue Öyster Cult album, here re-imagined as a folky sea shanty type tune. Even the re-working of 'Astronomy', one of the truly great Blue Öyster Cult songs, works well here due to the different approach taken, whereas the re-vamped BÖC version on 'Imaginos' largely fell flat on its face. Neither, of course, touch the majesty of the original BOC version on 'Secret Treaties'.
Whether 'Re-Imaginos' reflects the original intention of the solo album that Albert Bouchard had imagined, only he will know, but you get the sense here that perhaps it does, albeit in a truncated version of the original concept. 'Re-Imaginos' is only really going to appeal to keen and curious Blue Oyster Cult fans, of which I am one. I was pleasantly surprised, and I suspect other BOC fans will be too. It's nice to know that after all these years, Albert Bouchard has finally managed to 'reclaim' 'Imaginos' and made a fine job of it too.
'Re-Imaginos' is released on Friday (6 November). You can get your copy HERE.
All content © Über Rock. Not to be reproduced in part or in whole without the express written permission of Über Rock.