By Jonny Bakes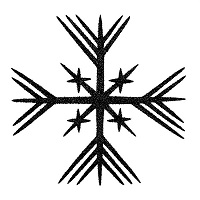 The summer of 2019 seems like a million years ago, but I still distinctly remember picking up a split-EP to review from two bands that were relatively unknown to me at the time – Bhleg and Nechochwen. Bhleg had seriously grabbed my attention with their strong Scandinavian folk music influences but, alas, only had one track on the EP which left me eager to see what more could be achieved by the Swedish duo. The wait is over though as I've managed to get my hands on the upcoming full-length album, 'Ödhin', which promises to be a heavy affair…
A heavy affair is exactly what this is! Bhleg do not pull their punches with this brutal assault of blackened folk metal that offers musings on the end times, which is a pretty fitting subject at the moment. Steeped in nordic mythology, 'Ödhin' is both aggressive and melancholic in equal measures its depiction of the fate that the Norns determine for all who live. Traditional folk elements are blended with the brutality of black metal to form music that is as dark and foreboding as it is hauntingly beautiful. While listening to this, it's pretty easy to forget that Bhleg are only a two-man act as there doesn't feel to be anything missing at all! I would be very keen to catch them live to see how this translates onto stage, but if even they manage to capture only half of the atmosphere on the album it will still be a very impressive show.
After a foreboding repeated chant of "Vyss", which happens to also be the name of this first track, you are instantly battered with a wall of blackened noise. This leads into a very solid piece of black metal that is pretty reminiscent of Mgła, who I would consider to be at the top of the modern black metal scene. Surprisingly, 'Vyss' isover 9 minutes long but it certainly didn't feel like it at the time as it grabs hard and does not let you go until it's over. From this first track, I can already tell that this is going to be a pretty special album and it continues to impress as it goes on.
'Ödet' is another stand out track for me. Again this starts with an onslaught of blackened noise, however this quickly subsides into something a little more melancholic. While the lead vocals are still as brutal as you would expect, these are backed by a haunting choral chant that makes this a pretty moving piece. But don't let that fool you, Bhleg are still here to kick you in the gut to make sure that you're paying attention, so there are still some brutal passages to break up the melancholy.
For my first new album review of 2021, this is a pretty strong start, and definitely one that I'll be recommending to my friends. If you like your metal distinctly blackened and also have an interest in nordic traditions (which, let's face it, is a pretty common interest in our scene) then 'Ödhin' should definitely float your longship. It's beautiful in a way that only black metal can be and the inclusion of traditional nordic elements adds that little bit of extra something that makes it stand out amongst the crowd. Well worth a listen to see for yourself, or you can take my word for it and pick it up on Bandcamp where it's available in a few fancy formats, including the obligatory vinyl, and the really keen can pick up an 'Ödhin' T-shirt too!
'Ödhin' is released on 15 January. You can get your copy HERE.
www.facebook.com/bhlegofficial
All content © Über Rock. Not to be reproduced in part or in whole without the express written permission of Über Rock.