By Jim Rowland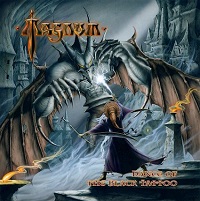 There aren't many British rock bands more enduring than much loved Brum pomp rockers Magnum, now fast approaching their 50th anniversary. Twenty-one studio albums down the line, they maintain a pretty prolific output that is incredibly consistent, which is impressive for a band that have been going that long. Recent albums like 'Lost On the Road to Eternity' and 'The Serpent Rings' have proved that Magnum are still very much capable of delivering an album of the highest quality. 'Dance of the Black Tattoo' is not, however, an album of new material, but rather a new compilation of harder hitting tracks to counter the 2017 'The Valley Of Tears – The Ballads' compilation, which concentrated on the softer side of Magnum's output.
The twist here is that Magnum have delved deep into the archives to unearth rare live cuts and radio edits of the 14 uplifting and fist-pumping hard rockers contained on 'Dance Of The Black Tattoo'. Quite a few of these have been previously released as bonus tracks on various album and DVD releases. The album kicks off with live versions of 'Black Skies' and 'Freedom Day', previously available exclusively as DVD bonus tracks on 'Escape From The Shadow Garden', along with the rather fine 'All My Bridges'.
'On A Storyteller's Night', the title track of their 1985 classic, and 'Dance Of The Black Tattoo', another two rare live tracks from the bonus section of 'Escape From The Shadow Garden', are then followed by radio edits of their seasonal anti-war song 'On Christmas Day' and the fan favourite 'Born To Be King', dating back to the 'Goodnight L.A.' LP, previously only available on vinyl or for digital download.
'Phantom Of Paradise Circus' and 'No God Or Saviour' are both bonus tracks from 'Sacred Blood – Divine Lies', whilst 'Your Dreams Won't Die' and 'Twelve Men Wise And Just' are two live bonus tracks which first featured on 'Lost On The Road To Eternity'. Add to those 'Show Me Your Hands', 'Not Forgiven' and 'Madman Or Messiah' – three previously unreleased radio edits from the studio recordings for 'Lost On The Road To Eternity' (2018) and 'The Serpent Rings' (2020) albums, which, as previously mentioned, are proof positive that Magnum are still writing quality material in the modern era.
'Dance Of the Black Tattoo' is a great listen – you wouldn't expect anything less from a band with the consistency of quality that Magnum has. Exactly how essential it is could be a different matter. Magnum is largely a band with a very loyal following, and many will have these live bonus tracks on their respective album releases already. I'm also a bit unsure how essential the radio edits are, bearing in mind the full unedited versions must surely be the preferred cuts and also freely available on the original releases. This compilation is clearly a stopgap release, and you can't blame any band for doing something like that under the current circumstances where usual band activity is extremely limited. Having said that, if you're a fan who doesn't have much of the content of this compilation already, it's well worth shelling out for as it's a good illustration of what makes Magnum such a special band.
'Dance Of the Black Tattoo' is released on Friday (8 January). You can get your copy HERE.
Magnum are due to tour the Über Kingdom and Ireland in the Autumn:
Thursday September 16 – Nottingham, Rock City
Friday September 17 – Sheffield, Leadmill
Sunday September 19 – Norwich, Waterfront
Monday September 20 – Islington, Assembly Hall
Tuesday September 21 – Southampton, Engine Rooms
Wednesday September 22 – Cardiff, Tramshed
Friday September 24 – Manchester, Academy 2
Saturday September 25 – Holmfirth, Picturedome
Monday September 27 – Birmingham, Symphony Hall
Wednesday September 29 – Cambridge, Junction
Thursday September 30 – Glasgow, Garage
Saturday October 2 – Dublin, Voodoo Lounge
Sunday October 3-Belfast, Limelight 1
www.facebook.com/magnumbandpage
All content © Über Rock. Not to be reproduced in part or in whole without the express written permission of Über Rock.