By David and James O'Neill
Just a week before the national rugby team kicked off their latest Six Nations campaign in triumphant style, Beth Blade and the Beautiful Disasters celebrated the released of their UR-approved second album, 'Show Me Your Teeth', with this very special show at Cardiff's Fuel club. Support came from two outstanding young up-and-coming acts. Naturally, we couldn't resist the temptation to pop along and check out the rock 'n' roll action in the back streets of the Welsh capital.
Forming in early 2018, from the remnants of various covers and originals bands across the South Wales scene, King Kraken have gone from strength to strength. Consisting of powerhouse vocals from frontman Mark Donoghue, blistering lead guitar work from Adam Healey, strong rhythm guitar and backing vocals from Pete Rose, and a solid foundation in the rhythm section from bassist Karl Meyer and drummer Richard Mears. Taking to the stage for the first time in September 2018, KK have been making waves in the local metal scene. Drawing influences from bands such as Metallica, Slayer and Pantera, they've been kicking out originals from the word go, and have a much more exciting presence than most bands in this stage of infancy usually possess.
Their opener, 'Freak', boasts heavy riffs, soaring lead work, and insane kick work from the aforementioned members. With Mears driving the band, and Donoghue sitting on top of the mix with vocals reminiscent of Howard Jones. Drawing the crowd in, and then moving on to 'Veins', KK have proven their collective experience is not to be taken for granted.
After another three songs, I found myself developing a lasting interest in following this band. Soon to be releasing music on various streaming platforms, and with their first music video for 'heatwave' already being live, this band will be making huge leaps in the coming year. Mentions of a forthcoming EP launch are already on my radar.
King Kraken play Le Pub in Newport, with Ravenbreed and Surge, on Saturday 23 February and Celtic Mosh 26 at Hobos in Bridgend on Friday 1 March.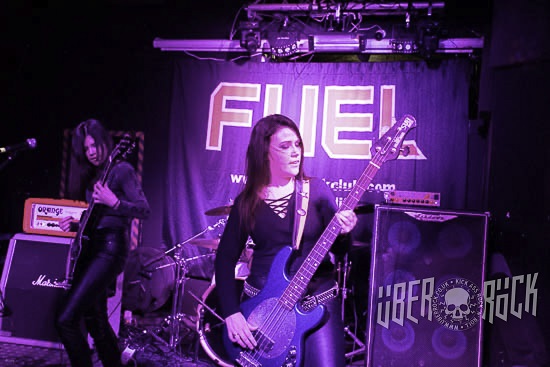 Hailing from South Wales and Cheltenham, Häxan have been striding towards big things from a frighteningly young age. The lineup includes sisters Sam and Charlotte Bolderson on guitar/lead vocals and drums/backing vocals respectively, and Harriet Wadeson on bass/backing vocals. After releasing their first song six years ago, they have been performing all over the UK and even some dates across Europe and America.
Opening their set with a bang, and straight away hitting home that they are not three young women to be taken for granted, but three confident and skilled musicians. With a strong foundation in the rhythm section, Bolderson is able to deliver powerful, melodic guitar lines reminiscent of AC/DC as well as a unique style of vocals and strong use of hook lines, encouraging crowd participation and ensuring people remember Häxan long after they've left the stage.
Flicking through their setlist with no friction, and their sound well filled in from a thick, distorted bass tone from Wadeson, Bolderson is free to play strong blues solos, showcasing her skills as a lead guitarist.
Ending their set with a cover of Led Zeppelin's 'Rock and Roll', it's obvious where Häxan have drawn their influences, although their brand of classic rock certainly possesses a modern edge that is necessary to cut through in today's rock circuit. Häxan are only going up from where they currently stand and are sure to be releasing more and more music in the coming year.
Häxan play The Fighting Cocks in Kingston Upon Thames, with Witch Tripper and Nunchucker, tonight (Sunday 3 February).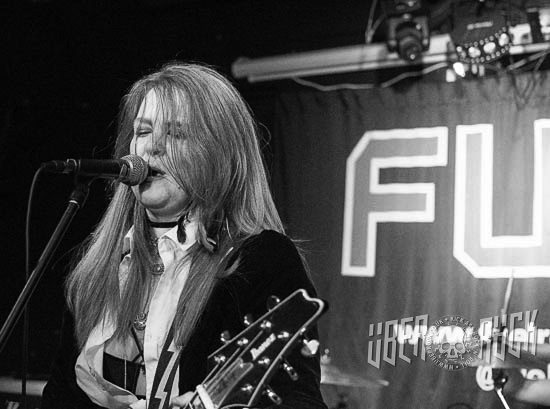 Following on from a quiet year on the road whilst getting the second album finished was topped off by gong on the last KissKruise alongside the likes of The Dead Daisies and Ace Frehley Beth also topped off the year performing backing vocals on Thunders' Medicine Man of the latest album so starting 2019 with an album launch is a good way to go.  Here to demonstrate their latest full length studio effort, 'Show Me Your Teeth', Beth blade opened their set with the album's opener 'Secrets'. As soon as the band began, it was obvious that Beth Blade is set to be one of modern rock's most prominent frontwomen. With vocals comparable to Lzzy Hale, and guitar playing on par with most people on the forefront of the circuit, the only way she could be let down is her songwriting. This, however, is not the case. From the pounding drums and bass from her rhythm section and the lead guitar lines from her lead guitarist, all syncing up around anthemic choruses and catchy hook lines, as well as guitar and vocal harmony lines, rhythmic stabs between the guitars and drums, this band prove themselves ready to take this album to the next level between live shows and radio airtime.
Playing their newest album in full, with such a versatile sound, BBatBD have set themselves up perfectly for a powerful live show. With songs from 'You and I' to 'Jack and Coke', there is definitely enough to entertain even the most sceptical of music fans.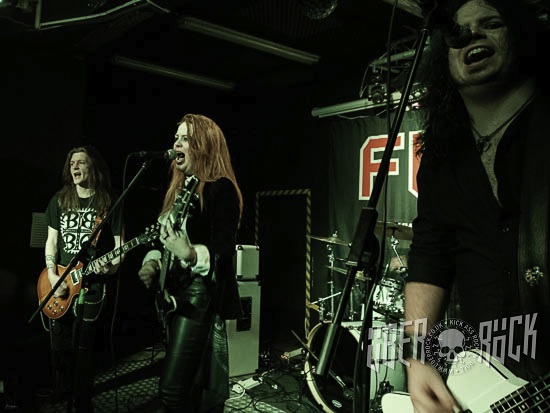 If this album wasn't enough, BB didn't leave long-time fans disappointed. Playing fan favourites such as 'Bad Habit' and 'Down and Dirty', Beth Blade is set to be the 'next big thing' in terms of up and coming bands, and with shows like this; they're only set to keep on gaining more and more.
With such a high energy performance and as strong of a stage presence as you could possibly want from any good frontwoman, Beth Blade And The Beautiful Disasters are ready to take on anything that is thrown at them. Having honed their live show and subsequently dropping SMYT, they now have all the ammunition they could need to take the music business by storm and are set to do so in a truly stylish manner.
BBATBD play The Heartbreakers in Southampton, with Western Sand and 27 Days, on Friday 29 March; The Tivoli in Buckley on Saturday 13 April; Hamgar 18 in Swansea, with Scarlet Rebels and Black Tree Vultures, on Satuday 18 May; Nozfest at The 1865 in Southampton on Saturday 10 August; and Uber Rock's Tenth Anniversary Party, with Last Great Dreamers, at The Doll's House in Abertillery on Friday 23 August.
All content © Über Not to be reproduced in part or in whole without the express written permission of Über Rock.