By Hannah Reid
Today was one of those days where I just needed something to cheer me up, so what better way than a last-minute concert? I rocked up to this show, having not slept and been at uni, and was so tired I had actually forgotten everyone on the bill – so it was brilliant when they all came out on stage and I got that buzz of excitement that I got when I originally first saw the lineup. And what made it better was that tonight was the only Scottish date on the tour, so the venue was packed and everyone was ready to have a good night.
The first act of the night was solo singer, Grace Petrie, and an acoustic guitar – but oh boy did they not let the stage swallow them as they owned every single part of that and made sure they were standing out at the front.

'Black Tie' I think got the biggest reaction from the whole set as everyone in the front rows and beyond were singing as much as they could to whatever lyrics they could. Next song they all had a little sing song together during the final chorus and bridge, where everyone had the chance to get involved with the song – which was a theme throughout this whole set and it was brilliant.
The last song was written and dedicated to their girlfriend, and it was another sing along to get people moving around the room and warmed up from the chilly weather outside. It was good because it got the audience participating and singing along, which in turn got the energy up all over again because people were really into what was going on on the stage. The crowd was encouraged to start clapping as well during the final chorus along with the singing, and the musician gave it their all to go out with a bang. Honestly this singer was amazing and knew exactly what to do to capture and entertain a crowd – and solo is an even more amazing feat. What a way to open up tonight's show.

Jimmy Eat World were the main support for this tour and took to opening their set with 'Pain', which was a perfect start to get people moving and singing along with them. They weren't up for slowing down either as the played track after track, barely giving the crowd a moment to catch their breath before they were off playing again, trying to fill as many songs as they possibly could within their set.  They haven't played in Scotland for a little while and you could tell that everyone had been missing them as they cheered and clapped as much as they could during and after the songs.
'Bleed American' was such a crowd pleaser to everyone as they all sang and swayed along. Honestly this was a band that knew how to entertain the audience and keep everyone looking at them at all times, it was truly amazing to see how much people were invested in what this band was doing.
Of course, the band finished off with arguably their most famous song 'The Middle' and oh wow did the crowd go mental. I don't think anyone was standing still during this one, the floor was near enough vibrating from the movement throughout the room – honestly it was the best moment of the whole night for me personally because of how close everyone seemed to get during this song.
Frank Turner and the Sleeping Souls knew how to make an entrance as they took to the stage with a bang – strobe lights and flamethrowers at the side, which is just what you want for a punk rock show. 'Out Of Breath' was their opening song that had everyone moving, the flamethrowers and flashing lights definitely adding to the spectacle that was being put on. They introduced themselves to the crowd and gave everyone two rules to follow throughout the night:
Don't be an asshole
If you know the words to a song, you have to sing along
In saying that, I don't think you could have gotten off with not singing and moving along with this band as they played, the whole room was alive and moving. 'If I Ever Stray' was one of those feel good songs that you couldn't help but not sing along, stamp your feet and clap your hands to – and Glasgow definitely didn't let anyone down as they were right up into that sing and giving it their all. They took a moment between songs to thank the bands that had played before them, even reminiscing of how they've been listening to Jimmy Eat World for a couple of decades, and to play on a stage with them has been one of their best moments – and that's what I love, is when bands genuinely love each other and get excited about working together.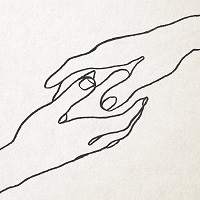 '21st Century Survival Blues' was such a good song to play live, with a screen behind them showing a single line drawing representing the lyrics that were being played. Tonight also saw the creation of the Glasgow Gospel Choir – which basically involved the entire crowd instead of the normal gospel choir which appears on the track. They got everyone to sing along to the chorus – the first time now well enough for the band and they riled the Scottish crowds up by saying England was better… Oh that didn't go down well, and Scotland gave it their all for the next part to prove that they were 100 per cent better than the English crowds.
Frank also wanted everyone to dance with him during 'Little Changes', and he told everyone what to do and what he was expecting before just saying, 'You're all not going to dance, you're just gonna watch me make a dick out of myself'… His band agreed.
'Undeveloped Film' stated off a little solo acoustic moment by Frank Turner by himself with just an acoustic guitar, and this particular song was apparently based off of a true story. The crowd was hooked on this song much like the rest and couldn't take their eyes from the single man left on stage. He played three songs acoustically while the Sleeping Souls took a little break, and boy the power he had to keep the whole room on himself was amazing. 'The Modern Leper' was a Frightened Rabbit cover and 'The Ballad Of Me And My Friends' – both two more good choices he did to show off his own talents. I keep talking about how captivating the bands were tonight, but honestly that's the bit that stands out the most because you couldn't take your eyes off of any of them.
'I Knew Prufrock Before He Got Famous' welcomed back on stage The Sleeping Souls and the concert resumed with everyone back on stage and continued to just rock out and show off everything they could do in ending the night on such a high. They finished off the night with 'Four Simple Words' and in true Rockstar form he finished the show off by crowd surfing across everyone, being held up by his fans – and that's the way to end a show!
Frank Turner headlines Camden Rocks on Saturday 1 June.
All content © Über Rock. Not to be reproduced in part or in whole without the express written permission of Über Rock.