By Jonny Bakes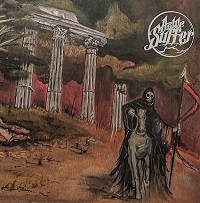 Concept albums can be a bit of a marmite subject, I've found. There are some people out there, myself included, who love to get themselves lost in a good concept album but there are others who can't think of anything worse! Now when it comes to metalcore, I'm not sure I can immediately think of any concept albums off the top of my head. So, when I was given the debut release from As We Suffer, my interest was immediately grasped by the concept laid out before me.
There's a very good chance that you've not heard of As We Suffer unless you have your ear close to the ground in the Canadian metal scene where they've been building up some momentum in their hometown of Ottawa. But that's all about to change with the release of 'The Fallen Pillars' which certainly carries an interesting concept that is up there with an album I reviewed last year which covered the stages of grief. 'The Fallen Pillars' refers to the concept that a truth should be treated as a pillar to be attacked with counter-arguments and challenges to try and knock it down. Should the pillar stay standing then it is indeed a truth, but those that fall are proven to be false. The band takes this core concept, applies it to our modern society and uses it as a springboard to attack the false truths that we should be rejecting. It's something that is absolutely topical, a little politically charged but mostly pretty scathing and I like it!
The overall sound of the album takes a core metalcore sound but draws in influences from across the genres at different points in the album. There's the classic mix of harsh and clean vocals which are often reminiscent of Killswitch Engage prominent throughout the album but the musical stylings that accompany these have a solid amount of variety. At times there's influences from classic heavy metal, with the level of groove and guitar harmonies that would be found in bands like Iron Maiden. Then at other times, there's some pretty strong influences from some of the modern punk bands, like Rise Against (who happen to be well up on my list of favourites too). But one thing that is for sure is that the whole album is pretty raucous and energetic in a way that has managed to revive me from my zombie-like state after a day on the tools!
I won't talk through every track in detail, but I will pick out a couple… 'Scatter the Herd' is a blistering attack at the herd mentality that is rife among us these days. The music here is very much a cross between a punky riff and that heavy melodic metal. It's like someone has taken all the music I loved when I was a teen and put it into a fucking meat grinder to blend it together. Interestingly, title track 'The Fallen Pillars' closes out the album and takes on a view of the carnage all around. Very much like Killswitch Engage or Bullet for My Valentine, this manages to be seriously heavy and incredibly melodic at the same time. It's one of those tracks that buries itself under your skin, so it's no surprise that this was selected as a lead single!
Overall, this is a pretty killer debut for As We Suffer! If you were a teenage metalhead in the mid-2000s then this will call out to you with its nostalgic combination of bands that you loved back then. This gives 'The Fallen Pillars' strong potential to find its way into the music collections of many people and I feel that the core concept will be pretty relatable to everyone. What really interests me is where As We Suffer will go from here? Will we see a string of concept albums from them, or is this a one off? Only time will tell, but one thing is for certain, As We Suffer is a band worth keeping an eye on.
'The Fallen Pillars' is released today (Friday 30 April). You can get your copy HERE.
All content © Über Rock. Not to be reproduced in part or in whole without the express written permission of Über Rock.