By Monk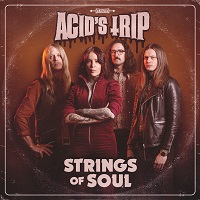 I love when a band, despite all the faux seriousness of their image – i.e. the passively-aggressive crossed arms, the sultry looks and the deep, meaningful stares into the camera lens – quickly display that they not only look like they mean business but also are more than capable of sticking their tongues very firmly in their cheeks in the process (without ruining those carefully crafted scowls, of course). And one such example is one of the early tracks on this, the debut album from the new project by former Honeymoon Disease guitarist Acid… well, that bit makes sense, anyway…
The track in question is 'The Kiss Riff' – the title of which should be pretty self-explanatory and need no further elaboration on my part. It does exactly what it suggests, presenting an affectionate homage to, and pastiche of, some of the finest moments of the KISStory, reminding most emphatically of bubblegum pops such as 'Rock 'n Roll All Night…' (yes, you remember: the sort of thing Gene Simmons used to do before he asserted that the genre was dead, while continuing to extract millions of dollars from its thrashing corpse), especially with cheesy/classy lyrics such as "come see us after we play the show/feels good being out on the road/you can't beat rock 'n' roll, yeah". Yeah, indeed.
It is not the first, nor the last, affectionate homage on an album that very much looks over its shoulders to the glory days gone by: the title track sounds like a psych-pop jam of Blue Öyster Cult mashed with Pat Benatar and Stevie Nicks (in both of the latter's heavier moments, of course), while the wonderfully titled 'No More Fucks' – one of my favourite tracks on the album – evokes the sort of Runaways-meets-Riot Grrl sound that the likes of The Amorettes and Thundermother have revived so effectively in recent years.
None of this is to suggest that this album should instead be titled 'Rip-Off Central': far from it. Yes, the feels are familiar and the grooves instantly recognizable, but there really is nothing new in this hoary old rock 'n' roll game… It's down to how you deliver it, and how much heart and soul you put into it, and Acid and company certainly have put plenty of both elements into this debut full-lengther.
The result is a captivating and energetic album, and one which will become an instant chart-topper on all those NWoCR-themed playlists the Überverse over. This is, indeed, classic rock at its finest, played with little refinement, just a good old-fashioned desire to have a good feckin' time… and, this is, indeed, the perfect soundtrack for doing just that… Who needs speedballs when you've got rock 'n'f'n' roll?
'Strings Of Soul' is released next Friday (7 May). You can get your copy HERE.
www.facebook.com/acidstripband
All content © Über Rock. Not to be reproduced in part or in whole without the express written permission of Über Rock.