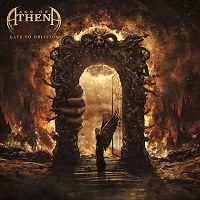 Age Of Athena are a four-piece band from Canada.  I have researched the band's social media and Spotify accounts to find out how much of a following they have. I was very surprised that it is not very big. However, the album sound is HUGE! Think of a cross between Bullet for My Valentine and Nightwish – sort of metalcore meets opera, sans orchestral arrangements.
The multilayered guitar work is typical of the genre; there is also a significant layering of keyboards on the majority of tracks but the two things that really stand out are the machine gun double kick drumming and the soaring, crying vocals.
The only disappointment is that the instrumentation, whilst amazing to listen to, drowns out the vocal performances; this may be a personal thing, but I like to have the vocals sitting on top of the mix rather than buried under the music, no matter how good the music is (and believe me this is good!). This occurs through almost all the tracks with the exception of 'Ephemeral', where they have been stripped back to allow the piano sound to carry the majority of the track.
If this eight-track offering is anything to go by these guys are going to have a big future if they get picked up by the right label or put on as support for an appropriate band; the one that immediately comes to mind for me is The Raven Age if they tour Canada.
Whilst not my usual genre of musical taste, when it's good it's good.
'Gates To Oblivion' is released on Friday (17 December). You can get your copy HERE.
All content © Über Rock. Not to be reproduced in part or in whole without the express written permission of Über Rock.