By DJ Monk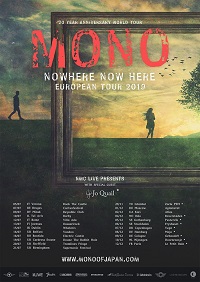 Japanese post-rock collective MONO are celebrating a double anniversary this year, marking as they are both their 20th year as a band and a decade since the release of their 'Nowhere Here Now' album. And it is was part of this latter celebration that the quartet headed to ÜR's home city in the midst of the otherwise usually quiet July holiday period to perform a one-off UK headline show for a packed room of fans who obviously had been waiting a long time for this special occasion. It's an eclectic crowd, ranging in ages from late teens through to early seventies, demonstrating the cross-generational appeal of music, and from smartly dressed middle-age women to rockers in T-shirts which have obviously seen better days.
Opening proceedings are a local band with whose name I'm familiar from social media but until now have never got around to seeing, Unbelievable Lake. They prove to be a highly appropriate appetizer, as they inhabit the same sort of sonic landscape as the headliners, delivering as they do dense layers of noise that cascade and vibrate in equal measures, with waves of psyche-tinged drone set against a backdrop of laconic percussion and topped off with piercing vocal wails, producing an aural darkness that countermands the bright sunlight still streaming through the windows at the rear of the venue.
A suitably understated lightshow, based around glowing reds and piercing spotlights, illuminates the gloom emanating from the stage, as the Derry trio's Lynchian soundtrack sets the mood for the evening, and the end of their allotted 30 minutes gains them the first reaction of the night, as a smattering of polite applause dots itself around the room.
MONO slowly build the atmosphere at the start of their set, a lilting piano refrain slowly building in momentum before the guitar kicks in and in turn constructs more complete layers of sound, which develop like a slowly exposed film reel in both heaviness and speed while still retaining the main winding riff of their central core. Their dense grooves are driven by thick bass rhythms and taut percussive patterns which work as much for what they leave out than keep in. Meanwhile, ethereal harmonies mix with crushing moments of discordance, bringing an unworldly atmosphere to the dystopian soundscapes accompanying the now slowly darkening sky outside.
Building layers of sound with the precision of a master brickie, the quartet make it all seem so simple in the process, as the ease with which their performance transmits into your cortexes possesses an eerie hypnotism mixed with a deep sense of foreboding, especially in the denser ends of their sound. Their delivery is laconic, and at times so laidback its virtually horizontal, but also has a vibrant energy, as it brilliantly, almost translucently, contrasts between light and shade, before they finally quit the stage after just shy of 70 minutes. Surprisingly, there is very little call for an encore from the largely static crowd, but the nevertheless return for another 15-minute mini-performance to send us into the now chilly evening in a suitably morose but ecstatically satisfied mood.
MONO play the Doune The Rabbit Hole festival in Cardross on Friday (19 July), the Tramlines Fringe festival in Sheffield on Saturday (20 July) and the Supersonic festival in Birmingham on Sunday (21 July). They will then stage a special 'Beyond The Past' 20th anniversary show, when they will perform alongside The Platinum Anniversary Orchestra, at London's Barbican on Saturday 14 December.
All content © Über Rock. Not to be reproduced in part or in whole without the express written permission of Über Rock.