By Jim Rowland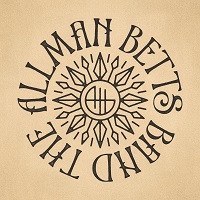 Allman and Betts are two of the most prominent names in the history of southern rock, thanks to Greg Allman and Dickey Betts, original members of The Allman Brothers Band as well as prolific solo artists in their own right. The Allman Betts Band is led by Devon Allman and Duane Betts, sons of Greg and Dickey, picking up the baton of their dads' legacy and running with it. The original Allman's connection doesn't end there either, with bass duties in the band being handled by Berry Duane Oakley, son of the late Berry Oakley, the Allman Brothers Band original bassist. 'Down To The River' is the debut album from the newly formed Allman Betts Band, and even features guest appearances from Chuck Leavell, the Rolling Stones keyboard player and former Allman Brothers member, and Peter Levin from the late Greg Allman's band.
That legacy is clearly in very good hands, as this album is hugely impressive. Recorded at the legendary Muscle Shoals Sound Studios, it boasts nine cuts melding blues, southern rock, country rock and hard rock to fine effect, with the sound of the Allman Brothers Band clearly in the blood.
'All Night' kicks the album off in style with an up-tempo rocker centred around an irresistible hard rock riff. Both 'Shinin'' and 'Try' make use of the Allman Brothers twin guitar trademark style, and to me come across like a fusion of Southern Rock meets Bad Company, which is no bad thing. Title track 'Down To The River' takes a more laid back blues approach perhaps in the vein of Robert Cray, whilst the beautiful piano ballad 'Southern Accents' illustrate there's a variety of styles on display across the album.
The epic 'Autumn Breeze' provides arguably the albums finest moment, and the biggest nod in the direction of the classic Allman Brothers Band sound, with twin guitar work a plenty and some brilliant sprawling guitar solo work. 'Melodies Are Memories' is a quality country rocker with some very tasty bursts of heavy riffing and slide guitar, and the country rock vibe of 'Long Gone' rounds off the album in style with yet more superb guitar work.
Whilst by no means a carbon copy of the Allman Brothers, the influence of that band in the sound of the Allman Betts Band is hard to ignore, but they add their own stamp and identity to this album too, making it an incredibly strong debut. Highly recommended to any fans of southern rock and country rock.
'Down To The River' is out now. You can get your copy HERE.
The Allman Betts Band play Outlaw Country stage at the Ramblin' Man Fair in Maidstone on Saturday (20 July) and London Shepherd's Bush Empire on Saturday 3 August.
www.facebook.com/AllmanBettsBand/
All content © Über Rock. Not to be reproduced in part or in whole without the express written permission of Über Rock.