By Jonny Bakes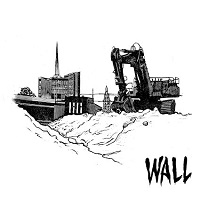 The last year has been a seriously frustrating time for everyone and people have dealt with this in different ways. Some people picked up new hobbies, some turned to functional alcoholism and others just went completely loopy. But Ryan and Elliot Cole of Desert Storm took their own frustrations of being cooped up together for months on end and condensed them down into a raw instrumental EP named after the thing we've all seen far too much of… 'Wall'.
'Wall' is a thunderous assault of pure doomy chugginess that is heavily tinged with a frustrated aggression. The fuzzy bass lines and hard hitting drums provide a strong energy that perfectly encapsulates the feeling of being a caged animal desperate to escape. Particularly the opening track 'Wrath of the Serpent' is uncompromising in its frenetic energy channeled into the fast-paced riff that is guaranteed to resonate with your own frustrations and make it stick in your head for hours afterwards.
The whole EP is a collection of sludgy doom riffs that will immediately grab the attention of every self-respecting Sabbath fan out there. Hell, this EP could quite easily be titled "Tony Iommi: Our Lord and Saviour" if it wasn't already clear where the Coles draw their influence. Personally, I can't think of a better way to pay homage to your heroes than to release a collection of filthy riffs that could have made the cut for one of their albums – and that's exactly what this is.
And if that wasn't enough Iommi-worship for you, the EP comes to a close with a pretty true-to-the-original cover of Sabbath's 'Electric Funeral'. Considering how hard it is to mimic Ozzy's unique vocal style, the lads manage to pull this off pretty well! But the real star of this cover is the guitar riff as it's slightly cleaner than the original which makes it more prominent and gives the song more energy and allows it to blend in with the frustrated energy of the rest of the EP.
You'll most likely find yourself slowly headbanging along as each track and perhaps, like me, you'll find it a little cathartic listening to the musical embodiment of the frustrations you've been feeling (no, not those kind of frustrations… well, not entirely anyway). In case you hadn't already guessed, 'Wall' is definitely a worthwhile purchase for Sabbath fans everywhere, and I would expect that fans of Desert Storm and, indeed, other bands on the APF roster should be pretty keen to get a piece of 'Wall'.
'Wall' is out now. You can get your copy HERE.
All content © Über Rock. Not to be reproduced in part or in whole without the express written permission of Über Rock.