Chosen by Monk

Well, 2021 may have may have finally taken its reasonably confident steps into its third month, with some light seeming to finally appear at the end of the tunnel for what otherwise has been pretty much of another shitstorm of a year, with the vaccination programme finally starting to take effect and BoJo's much-vaunted "roadmap" out of the crisis finally having some form of, albeit loose, timetable. Of course, it comes too late for the first half of the festival season, with both Download and Glastonbury already shelved for the second successive year and it remains to be seen if there will be any longer lasting restrictions on live events, either indoors or outdoors. With the path to our previous level of "normality" still a long way off, at least 2021 is sharing something more positive in common with 2020, in that it already has produced some terrific new music, with the promise of plenty more to come, if the inbox here at ÜRHQ is anything to go by…
In that context, as the new rock 'n' roll year finally starts to stand on its own two feet, with its DMs firmly planted in the mire and muck of the dissolving world around it, there has been a healthy slew of new music pinging itself our way, and especially the number of submissions we received for our 'Video Of The Week' award was startlingly impressive, especially with the levels of creativity displayed in the adverse circumstances we continue to find ourselves. After viewing all of the entries – and,yes, we do watch each and every one of the 100+ submissions which we receive every week – at the end of the day (or night, depending on where you are in the Überverse), there could be only one winner…
This week's champion of champions is the new single from Sheffield metalcore heroes While She Sleeps, who have teamed up with Biffy Clyro frontman Simon Neil for their latest single, 'Nervous', which is a hard-hitting, no-holds-barred commentary on mental health, drawn from WSS guitarist Sean Long's own experiences with anxiety, as the man himself explained to us: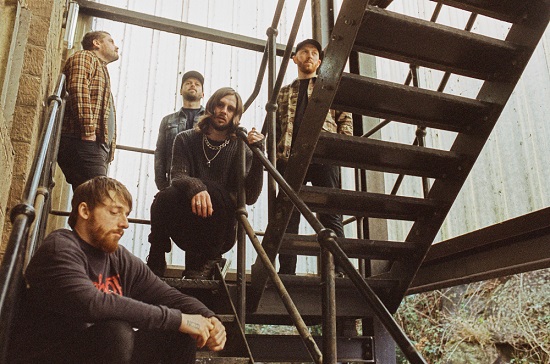 "The song 'Nervous' is one the band has been talking about ever since its first demo. It's completely infected us since the start, and we all knew instantly that something really special had happened. I would go so far as to say it's the single most important song I've ever written in my life. It's born from experiencing the pain and suffering generated by acute anxiety but also finding a way out from that, which whilst in such a dark and terrifying place felt like the biggest pipe dream imaginable. I felt like if I didn't write this song then someone else would have. It feels like it needed to be manifested into this world ASAP. I truly believe it's going to resonate with people on an extremely personal, deep and meaningful level because I feel like it came from a place beyond what we may call ourselves and I feel the song is much bigger than our band. 
"I'd like 'Nervous' to be viewed as more of a spiritual request rather than just a song to enjoy. I'm talking about a particular emotion in this song, but the idea is transferable to any negative or troublesome feeling. It's about accepting your emotions, fears, pains, anxiety, depression – not only accepting them but owning them and becoming one with them completely. It's about being proud of all our emotions. The song is literally telling you to BE nervous, be scared and be in pain.
"By this I mean a lot of our pain comes from the idea that there's me on the one hand and the pain on the other. So, when the pain arrives this "me" is somehow trying to get away from said pain. When we really think this through with clarity, we inevitably see it's a futile endeavour. The moment we realise this, we can stop fighting and running away and we can begin the healing process by feeling the emotions as if we wanted them to be there in the first place. Once you stop fighting and pushing the feelings away, you realise that most of, if not all of, the pain was caused by this attempt to split ourselves in two. Most of the pain was caused by the fear of the pain itself and the attempt to get away from it. It can actually be a good thing to feel these emotions fully and experience that journey of acceptance. If we just sit a little longer with the pain, fully go into the dark, feeling it with every cell of our being, there is a chance of something miraculous to occur for the individual. What do you have to lose? This is what 'Nervous' is about."
Guest vocalist Simon Neil added:
"I've been a big fan of what WSS do, and how they do it, for a long time. When Mat and the boys approached me to be a part of their new record it was a no-brainer and Nervous is a towering statement of intent for their new era. The way WSS have chosen to promote and release this album, and the new model they are creating, excites me for the future and I am delighted to be a part of it."
'Nervous' is the latest single to be taken from WSS's forthcoming new album, 'Sleeps Society', which also happens to be the name of the band's fan-oriented online community, powered by the Patreon model, which they launched last October and actually gave subscribers direct input into the recording of the album, as Sean Long explained:
"We did a collection of livestreams from the studio where members could talk to us whilst we were in the development stages of different sections, giving their input & vibes whilst different sections were coming to life. We also recorded a track completely live where members could watch the process throughout – this will be really cool as when the record is released, and those fans hear the song, they will have that feeling of 'I was there when this happened' and feel intrinsically connected to the piece. On 'Call Of The Void' we had members send in recordings of them singing a section & the song features over 200 Sleeps Society Members singing together. It came out so cool and it feels so special to have involved the people who make this all possible in the music itself and actually include them in a song on the record."
'Sleeps Society' is released on 16 April via Sleeps Brothers/Spinefarm Records.
Well, there you go. That's our latest 'Video Of The Week' winner in what promises to be another traumatic year for the music business. But, as ever, we at ÜRHQ will continue to do our best to shine a light into your darker corners by bringing the brightest new rock 'n' roll sounds to lighten your mood and uplift your soul. So, until next week, #StayAtHome, #KeepTheMusicAlive, #CrankItUp and #StayTheFuckSafe…
All written content © Über Rock. Not to be reproduced in part or in whole without the express written permission of Über Rock.