By Steve Mirsik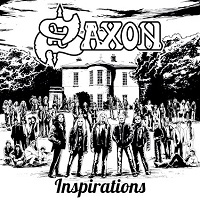 Many bands have been forced to take new approaches to creativity during this global pandemic. Whether it's through releasing singles, playing live stream concerts, or making music videos, many bands are doing all they can to stay positive and keep the music alive. English heavy-metal royalty, Saxon, are returning to their roots and digging deep into their inspirational vault to deliver their own rendition of famous rock songs that have shaped them during their formative years.
Right out of the gate, Biff Byford and co. hit us with a brilliantly heavy version of 'Paint it Black' by The Rolling Stones. They kept the bleak vocal style of Mick Jagger and pushed the guitars and percussion to a whole new level. As much as I love the original version, this cover hits on a whole new level. Led Zeppelin's 'Immigrant Song' with it's iconic riff is up next and it's honestly as satisfying as the original. Led Zeppelin is obviously one of the greatest of all time, but Saxon certainly nailed this cover.
Are you a fan of The Beatles? They've got you covered! I never imagined I'd hear a high-octane version of 'Paperback Writer', but Biff provides his soaring vocals over an extremely well-played rendition of this classic tune. You can tell that Saxon has a vastly diverse musical background as they jump from The Beatles right into Black Sabbath with 'Evil Woman'. If you're looking for a track to bang your head to, look no further. These crunchy riffs and sublime leads are all you need!
Looking for something a little more psychedelic? How about a souped-up version of the care-free Hendrix classic, 'Stone Free'. With blistering leads and driving percussion, this is an entirely new take on the original. Guitarists Paul Quinn and Doug Scarratt are definitely a force to be reckoned with.  Don't settle in yet though because you're about to get thrust right into metal mayhem with 'Bomber' by Motorhead. This cover is incredibly fast-paced, like the original, and just as tight. I think Lemmy (RIP) would be quite proud of this one. Next up is 'Speed King' by Deep Purple and I think this cover gives the original a run for its money. The guitar leads are out of this world!
'The Rocker' by Thin Lizzy is another well-played tune on this album, but the one cover that certainly stands out is 'Hold The Line' by Toto. All of the piano parts from the original are played on guitar, adding an entirely new flavor to the mix. I wasn't sure how I'd feel about this one when I saw it on the track list, but I'm honestly very impressed. Biff does an excellent job with the vocals and the band added their own twist to do justice to this iconic rock tune. Again, I'm picking my jaw up from the floor with these transcendent solos!
Unfortunately, all good things must come to an end. 'Problem Child' by AC/DC pays homage to the greatness of Angus and Malcom Young, which to me seems like a large influence on the band's tone. Closing out the album is a Saxon spin on 'See My Friends' by The Kinks. Living in a small town in New Jersey (USA), I haven't heard much about Saxon unfortunately. Maybe I've just been living under a rock though. This cover album was extremely well done, and you can tell that each of these songs was chosen for a reason. The Saxon sound has definitely been shaped by all of these legendary musicians. I'll definitely be diving in to all the original works of Saxon to see what else is out there!
'Inspirations' is out now. You can get your copy HERE.
www.facebook.com/SaxonOfficial
All content © of Über Rock. Not to be reproduced in part or in whole without the express written permission of Über Rock.