By Monk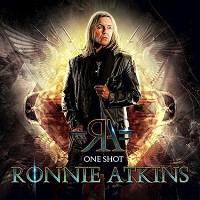 If ever an album had an appropriate title, it is this solo debut from Pretty Maids' charismatic leader Ronnie Atkins. Because it is an album that has been born out of the most extreme of personal circumstances, and one which perhaps presents the singer with that all-important one final shot at making his voice heard, defiantly and proudly and in a way in which he has the sort of control which may shortly be taken from them… and that, it has to be admitted, is exactly what he has managed to do on this, a stunning declaration of intent made in the wake of the devastating revelation that he had been diagnosed with incurable stage four cancer…
Atkins himself takes up the story of his reaction to the news, which he was given just last Easter: "Needless to say, that was a total game changer, and I went into kind of a panic situation for a while! But when the dust had settled. I realised there were two ways to approach the situation. I could sit down, accept the facts, and feel pity for myself or I could pull myself up, set some goals, pursue my dreams, and carry on living! And with fantastic back up from my family and true friends, I went for the latter!" Simultaneously, of course, the world had gone into a pandemic-enforced lockdown, leaving Atkins with the prospect that it was "now or never" if he was going to eventually, after four decades, lay down the solo album for which many fans had been clamouring… so, with a bunch of song ideas already recorded on his iPhone, he called up band mate and self-described firesoul Chris Laney, with whom he concentrated on doing the one thing he knows how to do best… and that is record a fucking rock 'n' roll album.
And a great fucking rock 'n' roll album it is, too! Leaving aside the songs for a moment, Atkins' voice throughout is absolutely huge, with the man delivering one of THE defining performances of his storied career. He's rich and mellifluous, drawing out every nuance, and ounce of passion, in the material, proving that even the face of the most brutal adversities possible genuine commitment and desire to be the best you can be shine brightly through; it's a lesson many of his "let's-just-sing-it-by-numbers" contemporaries could do well learning.
Having recruited a virtual who's who of luminaries from the Scandinavian melodic rock scene – the likes of Pontus Norgren, Kee Marcello, Olliver Hartmann, Pontus Egberg, Linnea Vickström Egg, Björn Strid, as well as his "PM relatives" Allan Sørensen and Morten Sandager – Atkins, with the invaluable input of Laney, has produced a strident and defiant album, one which demonstrates the belief in not going down without a fight, but while having to do so possessing the determination to leave behind the best legacy possible.
If this indeed Atkins' last shot, then it is one which will resonate for some time to come and help to cement his reputation as one of the best melodic hard rock singers of his generation. But, hopefully, he's got at least one more bullet in the barrel…
'One Shot' is out now. You can get your copy HERE.
www.facebook.com/RonnieAtkinsOfficial
All content © Über Rock. Not to be reproduced in part or in whole without the express written permission of Über Rock.