By Monk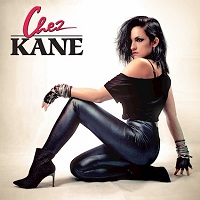 The name of Chez Kane should be pretty well-known to regular ÜR readers, but for those who need an introduction/reminder she is one of the trio of sisters who make up the vocally harmonic element of Kane'd, who have been kicking around the valleys, and south Wales in general, for the best part of half a decade or so. They've also been one of the "go to" acts for the various iterations of the Hard Rock Hell franchise of festivals, which is where they first crossed our paths – and, quite possibly, young Chez first hooked up with Danny Rexon, vocalist with another group of HRH faves, Crazy Lixx, who, having produced his own band's last brace of albums was looking to widen his horizons, and fortunately was given a vehicle to do so via the bosses at Frontiers…
Now, if like me, you lived through the heady days of the late Eighties and early Nineties, with their seemingly unending stream of radio-friendly bubblegum pop-rock female hitmakers such as Pat Benatar, Patty Smyth, Holly Knight, Robin Beck, Terri Nunn and even Bonnie Tyler, as well as heavier contemporaries such as Sandi Saraya and (more especially) Lita Ford, then you will find some extremely easy reference points for this debut solo outing from Ms Kane, as it so immersed in that era that a certain cosmetics company renowned for its ultra-pongy bath bombs could make an entire range based around it. But the one proviso would be that it would have to rose-scented, as this album definitely comes up smelling of that particular floral treat, in every department.
Entirely written and produced by Rexon, each and every one of the ten songs has "smash hit" written all over them… well, if this was 1989 that is, and not the moronic, mundane Simon Cowell and Ed Sheeran polluted times we find ourselves in three decades later. It's an album that definitely fits the descriptive of "all killer no filler", crammed with enough potentially era-defining chart-toppers to give 'Hysteria' a defiant run for its money. Huge choruses, massively hummable hooks, memorable melodies and beautifully crafted song writing all combine to produce a collection that ticks every box with more confidence than a Tory activist entering a polling station.
While undoubtedly steeped in the nostalgia of the era which it deliberately seeks to evoke, Kane and Rexon have succeeded in producing a quality album that is fresh and vibrant and showcases two massive talents who have proven to be extremely well suited to one another and the achievement of their collective, and individual, ambitions. The result is an essential purchase for any fan of classic AOR/radio-friendly/melodic rock delivered with fire and passion.
'Chez Kane' is out now. You can get your copy HERE.
www.facebook.com/ChezKaneVocalist
All content © Über Rock. Not to be reproduced in part or in whole without the express written permission of Über Rock.