Chosen by Monk

Well, 2021 may have may have finally taken its reasonably confident steps into its third month, with some light seeming to finally appear at the end of the tunnel for what otherwise has been pretty much of another shitstorm of a year, with the vaccination programme finally starting to take effect and BoJo's much-vaunted "roadmap" out of the crisis finally having some form of, albeit loose, timetable. Of course, it comes too late for the first half of the festival season, with both Download and Glastonbury already shelved for the second successive year and it remains to be seen if there will be any longer lasting restrictions on live events, either indoors or outdoors. With the path to our previous level of "normality" still a long way off, at least 2021 is sharing something more positive in common with 2020, in that it already has produced some terrific new music, with the promise of plenty more to come, if the inbox here at ÜRHQ is anything to go by…
In that context, as the new rock 'n' roll year finally starts to stand on its own two feet, with its DMs firmly planted in the mire and muck of the dissolving world around it, there has been a healthy slew of new music pinging itself our way, and especially the number of submissions we received for our 'Video Of The Week' award was startlingly impressive, especially with the levels of creativity displayed in the adverse circumstances we continue to find ourselves. After viewing all of the entries – and,yes, we do watch each and every one of the 100+ submissions which we receive every week – at the end of the day (or night, depending on where you are in the Überverse), there could be only one winner…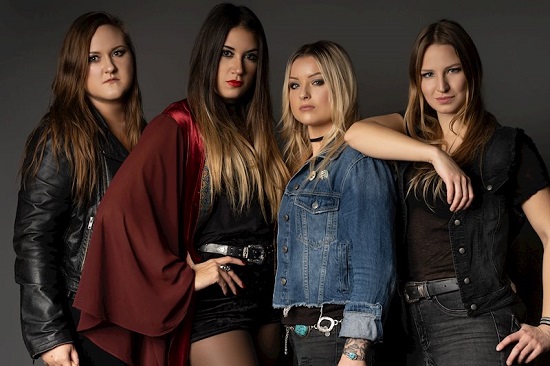 This week's champion of champions is the new single from those hard-rockin' Swedish femmes fatales Thundermother. 'The Road Is Ours' is a declaration of intent as to what we can expect when bands are allowed to return to some form of regular touring schedules, with the ladies no doubt seeking to pick up where they left off around a year ago, by playing virtually anywhere that has an electricity supply, just for the fun of it… The song is the lead single from the forthcoming deluxe reboot of last year's 'Heat Wave' album, which will see the original release come with a second album of three new songs, previously unreleased live tracks and acoustic versions of the 'Heat Wave' singles, featuring guest appearances by Jesper Binzer (D-A-D) and Dregen (Backyard Babies/Hellacopters).
The accompanying video is great fun: a "road movie" with a difference, filled with all sorts of references to classic horror and sci-fi movies of the Seventies and Eighties (and even the Noughties), and something the girls obviously had a lot of fun making, which in turn helps to make it a highly entertaining watch – one which immediately had DQ and myself clicking the "rewind" button (sic) to check out the bits we had missed first time around!
Well, there you go. That's our latest 'Video Of The Week' winner in what promises to be another traumatic year for the music business. But, as ever, we at ÜRHQ will continue to do our best to shine a light into your darker corners by bringing the brightest new rock 'n' roll sounds to lighten your mood and uplift your soul. So, until next week, #StayAtHome, #KeepTheMusicAlive, #CrankItUp and #StayTheFuckSafe…
All written content © Über Rock. Not to be reproduced in part or in whole without the express written permission of Über Rock.