By David Stewart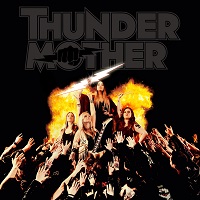 Thundermother are a female hard rock band that was originally founded by guitarist Filippa Nassil in Vaxjo, Sweden in 2009. Originally a five piece band, they found some success and started gaining a following with their first two full length releases 'Rock N Roll Disaster' in 2014 and 'Road Fever' in 2015.
Things took a drastic turn though, when for various reasons, four members of the line-up (Clare Cunningham, Linda Strom, Giorgia Carteri and Tilda Stenqvist) decided to leave the band, leaving Filippa Nassil on her own.  Instead of throwing in the towel and giving up, she decided to continue on by putting together a new line-up under the Thundermother banner, this time, as a four piece band, consisting of Filippa Nassil on guitar, Guernica Mancini on vocals, Majsan Lindberg on bass guitar and Emlee Johansson on drums. With the new streamlined line-up in place, they released their third album, the self-titled 'Thundermother' in 2018, which was immediately praised by fans and critics as the best album to date.
Since the release of their 2018 album, it's been pretty much onwards and upwards for the band. Touring with the likes of W.A.S.P. and Michael Monroe and also performing a slot at the Wacken Festival in Germany in front of around 10,000 fans, things really seem to have taken off really well for the new four-piece Thundermother. Now in 2020 the girls are back and just in time for the summer with their aptly named forth album 'Heat Wave'. This is one sizzling hot record full of hard rocking tunes that preserves the old school, feel good vibe of rock and roll with fresh elements of modern hard rock and with thirteen tracks, there's plenty here to sink your teeth into.
The album is full of great hard rocking songs, with some solid heavy riffs, nicely executed guitar solos, huge melodies, thundering drums, groovy baselines and catchy choruses and all brought together by a solid and clear production.
Musically and lyrically the writing on this album is strong. Maybe their strongest yet. Because of this, not only do the musicians shine on this release but vocalist Guernica Mancini really gets to shine also. Her vocal range is incredible and her ability to go from bluesy to sassy attitude shows just how capable and talented she is as a lead singer.
One of the standout moments for me on this album is probably its slowest and most emotional track 'Sleep'. This song is so well crafted and shows that the girls can do more than rock hard. The vocals on this are beautiful and full of emotion. Some of the more upbeat, hard rocking highlights for me are the album opener 'Loud And Alive', the first single from the album 'Driving In Style', the knock down, ass kicking 'Into The Mud',  the killer title track 'Heat Wave' and the fist pumping album finisher 'Bad Habits'.
This is a great album with no fillers in sight and just full to the brim of hard rocking catchy anthems to keep things sizzling through the summer.
'Heat Wave' is released on 31 July. You can get your copy HERE.
www.facebook.com/thundermother
All content © Über Rock. Not to be reproduced in part or in whole without the express written permission of Über Rock.