By Monk
Bristol melodic/post-hardcore heavyweights Immerse are preparing to release their second album, 'The Weight The Holds Me Here', at the end of the month. While this is the band's sophomore full-length release, they somehow previously managed to slip under the radar here at ÜRHQ, so we decided that this would be an ideal time to catch up with them, and particularly drummer Josh, to find out more about the band, the album, the challenges of life in lockdown and their ideal gigging partnerships…
But, first of all, in line with the title of this future, we asked him introduce us to the members of the band…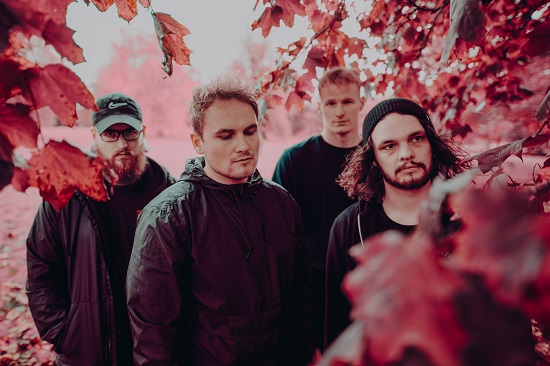 We have Archie on vocals, Tim on guitar, Ben on bass and me, Josh, on drums!
People love to pigeonhole bands, so how would you describe your sound?
You'd have a hard time pigeonholing us! Our music is incredibly varied and diverse due to all of our musical influences making appearances throughout our music. Our sound moves between dark, heavy, gritty post-hardcore to road-trip, summer vibe pop punk. As contrasting as that may seem, I feel that the essence of IMMERSE brings it all together.
What are your collective and individual influences, and how have you moulded these into the band's own sound?
As I mentioned in the previous question, as band we have a wide range of influences! Gideon, CABAL, Holding Absence, The Story So Far, Kublai Khan, Stray From The Path, Architects, Neck Deep, Traitors – These are the kinds of bands that we listen to and they definitely impact our song writing choices.
As we mentioned above, you're about to release your second album. Can you tell us a bit about the title, and how it maybe reflects what we can expect from the album as whole?
The title of the new album is basically asking what grounds you, what keeps you real and makes you grow and learn. The whole album is a reflection of past issues that we have seen or been through.
Can you tell us a wee bit more about the songs on the album? Can you elaborate on any particular subjects/themes which you address within the individual tracks, and the album as a whole?
Every track on the album tells a different story; we connect with love, hate and everything in between. 'Red Shade' is a prime example of how we feel about the current state of the world and how it's easier to hate than it is to love and lift people up. We also address issues such as heartbreak and being distant from loved ones.
We find ourselves in very trying times, and it's obviously been very difficult for bands to get together to write, rehearse and record against the backdrop of the pandemic. So, I'm wondering how you adapted to having to do all of this in the light of all the restrictions?
We feel incredibly lucky to have been able to record the album prior to the Covid outbreak. We adapted and extended the release schedule to cover the lockdown periods and have concentrated on building our social media profile whilst we wait for shows to come back! Rehearsing has unfortunately been put on hold until the studios reopen so we're super excited to get back in when we can.
Putting aside the restrictions of the pandemic and lockdowns, was there any other conscious change in the approach you took to putting the new album together compared to the first one? Were there any lessons you had learned from recording the first one that you applied the second time around?
We were definitely conscious of making the new album feel like a complete product as for the first album, some songs were recorded at different times in different studios and with different band members! We spent a lot of time deciding who we wanted to record with and who we felt would take our sound to the next level.
Can you tell us a bit about your songwriting processes? What comes first: lyrics, melodies, riffs? Do you write separately and then pull it all together, or would you normally jam stuff out and see what works?
We've never been a 'sit in a room and jam until we come up with song ideas' kind of band. Tim & Ben are incredible song writers and will record a bunch of demos for us to listen to and input ideas. Archie will form the lyrics and melodies during these early stages and eventually we'll build solid song structures to take the rehearsal studio, polishing as we learn!
Obviously, the pandemic has also changed the way in which bands are able to promote themselves, especially live. You mentioned spending time to develop your social media profile: how important is that to you in terms of interacting with fans and promoting yourself to new ones? And are there any particular channels which you find more beneficial than others?
Interacting with our fans is so important to us, we wouldn't be anywhere without them, so we make sure to give them the appreciation they deserve every time they share our music, send us a message or buy our merch! We're mainly active on Facebook and Instagram and are starting to experiment with TikTok as its huge natural reach on posts could be really beneficial.
As we mentioned, it's been all but impossible for bands to get out there and perform their songs live, and we have no real clear picture when we'll be able to get back to some form of normality in that regard, especially with different timetables in different regions of the ÜK. Have you any plans for any "virtual" gigs to promote the album?
We have a live-streamed show booked with our friends in Palmist at The Black Heart in London at the end of May! It was originally booked for January, but the lockdowns have forced us to push back a couple of times – so fingers crossed this will go ahead. It will be a limited cap within the venue but streamed worldwide thanks to Hotel Radio.
When gigs are possible again, who would you like to go out on the road with? What would be your ideal tour (and you can count both "big name" and independent acts)?
I think supporting a band like Architects would be a dream come true for us! We would love to do another run with the boys in On Hollow Ground too; we had a blast on our ÜK tour back in 2019.
On a related subject, if you could have someone guest on your next single/album, who would it be and why? And, similarly, if you were given the opportunity to guest on someone else's album, or get up and jam with them on stage (when you can do so again), who would you immediately answer the 'phone to?
Guest appearances from Charlotte Gilpin (Dream State), Oli Sykes (BMTH) and Jamie Hails (Polaris) would be nuts! They all have super unique, powerful vocals – it would be an honour to have any of them on our material.
If Sum 41 or ADTR called up Archie to get him on stage with them, he'd kak his pants.
Final couple of questions. And we'll stick with live shows for the first one… Imagine you're at the stage of headlining an arena tour: what would be the most outrageous thing you would put on your rider?
A bottle of Action Bronson's new 'Splash' fragrance.
Like Belfast, where Über Rock is based, Bristol is quite a small city, but it seems to have a disproportionately active music scene. What other Bristolian bands would you recommend Über Rock's readers check out?
Rxptrs, Hazey, Phoxjaw!
And a real killer question to finish off with (yes, we always save the best one to last), and one which sparks endless debates online… pineapple on pizza: yes or no?
I don't like pineapple in any form so it's huge no from me on the pizza debate – and my main man Gordon Ramsay doesn't think it belongs on pizza either, so I think that's the end of that!
'The Weight The Holds Me Here' is released on 26 March. You can get your copy, and loads of other Immerse goodies, HERE.
www.facebook.com/IMMERSEofficialUK