By Monk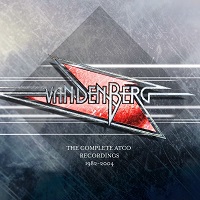 The name Adrian Vandenberg will be best known to most rock fans as one of the myriad guitarists to have graced the ranks of Whitesnake: in his case, it was at what could be argued to be the most commercially successful, and certainly, most MTV-friendly, stage of their career, the late Eighties. He got the Coverdale sidekick gig, of course, not only because he was a highly talented (if, in many eyes, overshadowed and ergo under-rated) guitarist, but also because he had proven himself to be able to gain commercial success on his own right, through the band which bore his name and released the three albums now unearthed and re-issued in this neat little package… Yes, I know it's a four-disc set, but the last one is one of those de rigeur compilations of demos, live tracks and other (alleged) rarities) that really only appeal to the most purist of fans.
When they first emerged onto the scene in 1982, Vandenberg were quite rightly regarded as something of an overnight sensation; but what surprised many was that, despite their apparent rawness and their equally apparent, in a different sense, hunger, they sounded like a fully-fledged entity – not something thrown together to capitalize on what turned out to be emerging hair metal trend. But, that should not have come as a surprise: for not only was the band leader a highly educated student of, especially British, blues-rock, but the group of musicians had actually been together for more than half a decade before cheekily grabbing the attention of Atlantic Records' European supremo Phil Carson (and if you want to know the full story behind that, you'll have to read the very in-depth booklet that accompanies this box set).
The self-titled debut, released in '82, did its job, and a lot more decently than many similar albums by bands in similar situations, spawning two minor hit singles (the obligatory power ballad, 'Burning Heart' and 'Wait') and earning them tour slots with generational draws such as Ozzy Osbourne and Kiss, which undoubtedly helped build their international profile. Intelligently, they kept the momentum building by quickly following up with 'Heading For A Storm'. This was a much more polished, AOR-style offering than its predecessor, which had very much drawn on the UK blues-rock sound of the Seventies and did not sound out of place alongside many of the NWoBHM acts emerging at the same time. 'Heading…', however, saw them placing much more emphasis on radio-friendly melodies and choruses, although maintaining a hard edge that connected them as much to the likes of Dokken as it did REO Speedwagon or Van Halen.
Despite the initial one-two double whammy of their first two albums, circumstances such as touring commitments meant it was more than two years further down the line before what proved to be the band's final album, 'Alibi', surfaced – and it showed the band progressing even more down the radio-friendly, chart-oriented route which, ironically, his soon-to-be future boss was simultaneously considering by adding a similar amount of gloss to his own back catalogue. The result was Vandenberg's poppiest album, filled to the brim with multi-layered vocal harmonies – although Adje did manage his way through the thick Dulux mix to interject a few damn fine blasts of shreddiness into the overall proceedings, most notably on the likes of 'Voodoo' and, of course, the finale of the 'Eruption'-esque 'Kamikaze', on which AV proved he could definitely, and defiantly, stand toe-to-toe with the global big bosses.
As mentioned above, the fourth CD in this set is the now obligatory collection of demos (seven of them, including two, 'Out Of Cash' and 'Help Me Thru The Night', which never made it into the final recording sessions), alternative edits and mixes and live tracks. There is one highlight: an unplugged, acoustic re-recording of 'Burning Heart' from 2004.
Overall, this box set is still a worthy listen, and reminder of an era when rock was redefining itself, to varying degrees of success. These recordings truly reflect the spirit of the age, being as they are something of a hotch-potch of styies, as band's struggled between their integrity as "real" rock 'n' roll musicians and the "reality" of rock 'n' stardom. There are some great songs, which do indeed dust the cobwebs off the old memory cells, and some (in fact, a plethora of) moments that are cheesier than a well-dosed bowl of macaroni, but it is nonetheless a worthy piece of hard rock history. Vandenberg's post-Whitesnake career has been a bit of a hit-and-miss story, but, having won the fight to use his own name as that of his band, he came back last year with a new band and a pretty decent "comeback" and has another in the pipeline… so, all seems rosy in that camp…
'The Complete ATCO Recordings (1982-2004)' is released on Friday (27 August). You can get your copy HERE.
www.facebook.com/adrianvandenbergofficial
All content © Über Rock. Not to be reproduced in part or in whole without the express written permission of Über Rock.