By Monk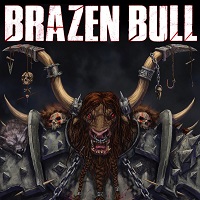 The backdrop of a global pandemic may not be the best time for a young band to try and establish themselves on the musical landscape, but that is exactly the situation in which East Anglia's Brazen Bull have found themselves. And, when we describe they four guys as "young", we're right on the money, as they're all still in their teens. However, given the resilience of youth, they have not let small things such as continuing lockdowns get in the way of getting their music "out there", in the form of their forthcoming self-titled debut album, which they are self-releasing at the beginning of next month.
Sounds like a perfect excuse for the latest in our irregular series of 'ÜR Introduces…' features and find out more about this young band, their origins, the challenges they have faced over the past year and what they hope the future holds once some form of post-pandemic formality is restored…
First of all, we asked them to introduce themselves (well, given the name of this feature, it sort of makes sense doesn't it?):
We have frontman Alex who is on vocals, Charlie and Hayden on lead guitar, Jordan on drums and me, Luke, on the bass.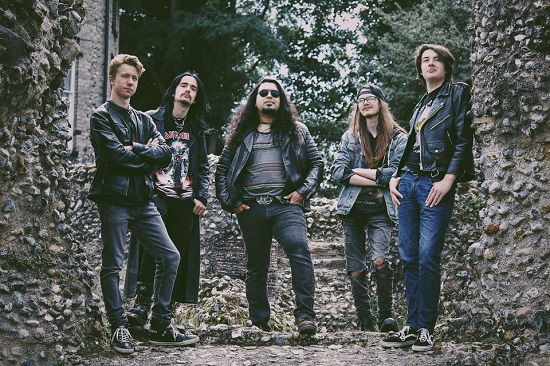 You're a relatively new band, so how did you all meet, and when did you come together as a band?
Luke: The band formed in June 2018 when me and Charlie, long term school friends, wanted to hit the stage performing our own music after we finished our GCSEs. Not long after that Charlie was doing an interview for music college when he bumped into Jordan, who was wearing a Iron Maiden T-shirt. They got talking and Charlie invited Jordan for a jam session and has been a part of the band ever since. Then over the next few years we started playing some shows here and there but constantly having line up changes as we weren't happy with our sound or some member didn't get along as easily.
It wasn't till late 2019/early 2020 we asked one of our Instagram followers (Hayden), who played guitar, whether he would fancy coming for a practice. From there we all hit it off very well [and] had one of our best shows to date. Then the pandemic hit. Our singer at the time wanted to part ways so we went on the hunt online for a new vocalist on joinmyband.com. That's when we had a reply to the ad from Alex. We all jumped on a Zoom call, had a good laugh and then when lockdown was easing, we all got into the practice room and that's when we felt the band was finally complete.
I love to explore the origin of band names: where did yours come from? Does it have a particular meaning?
Charlie: I took inspiration from bands like Iron Maiden, in that they got their names from ancient torture devices. The Brazen Bull is an Ancient Greek torture device, and I was like "that's pretty sick". So that's how we got our name.
People love to pigeonhole bands, so how would you describe your sound?
Alex: NWoBHM with punk energy, sprinkled with a little bit of prog influences.
Luke: We all have different influences which has a big effect on our writing, so we have bits of everything. But our main vision of the band is to build the bridge of the classic rock and metal sound with the newer.
Picking up on the above point, what are your collective and individual influences, and how have you moulded these into the band's own sound?
Charlie: I'm massively influenced by NWoBHM bands like Iron Maiden, Judas Priest, Tygers of Pan Tang, etc. But I love taking ideas from neo-soul and blues into my playing to spice things up a bit.
Luke: As a bass player I love the heavier bass sounds on modern metal like Avenged Sevenfold and Alter Bridge. Other influences like RHCP, Gn'R and Slipknot influence the way I play the bass and how I like to structure songs to enhance the experience of the audience at our shows, for example making sure there are songs which people can really mosh too.
Alex: I didn't have too much of an influence since I joined recently but, looking forward, I'd like to experiment with different sounds, with maybe a little bit of a progressive approach.
You've already released three singles (the latest, 'Pact In Blood' came out just this past Friday), and your debut album is due next month. How difficult has it been to record against the backdrop of the pandemic? And how did you adapt to having to do so in the light of all the restrictions?
Luke: It has definitely been difficult for us. However, if it wasn't for the pandemic we wouldn't have Alex today. His vocals complement our sound and him as a friend has made the wait to perform worth it for us. If this wasn't the case, we would have recorded the album back in June with a different singer, and instead of eight songs we would have done 12. But the pandemic stopped us from getting together to write. So, with bringing Alex into the band, we recorded the album in July/August.
We wanted to release the album around a time when we could gig again, originally hoping for that date to be around winter… but, boy, were we wrong!? So, we had been postponing over and over again until we just went "fuck it!" It's something we are extremely proud of and we just want to let the people hear it.
Obviously, the pandemic has also changed the way in which bands are able to promote themselves, especially live. How important is social media to you in terms of interacting with fans and promoting yourself to new ones? And are there any particular channels which you find more beneficial than others?
Alex: Social media has been invaluable. We've been able to share our music internationally, such as Lithuania and some parts of the States.
Luke: It has allowed us to talk to fans one-to-one without not being able to hear them after a gig. We have had people message us saying how much they love the songs and how they are looking forward to more. We have even had someone message us saying they are writing about us for their music college course!
Let's switch back to the music itself. Can you tell us a wee bit more about the songs on the album? Are there any particular subjects/themes which you address?
Charlie: 'Pact in Blood' and 'Stray Wolf' go into the subject of mental health and breaking free from abusive situations you find yourself in. Those two songs are about finding yourself in tough times.
Luke: Some songs are about the struggles we have had with forming the band and how some people just want to see the world burn because It's not going their way. Another song, 'Boy And The Dancer' is about how a particular member *cough* Charlie *cough* of the band didn't have the courage to talk to a girl. Mainly the songs have personal meanings, but the lyrics and the sounds can be interpreted in different ways by different people and we look forward to seeing what each song means to the fans.
We talked above about recording against the backdrop of the pandemic. Can you tell us a bit about your song writing processes? What comes first: lyrics, melodies, riffs? Do you write separately and then pull it all together, or do you jam stuff out (which must be difficult given the various lockdown restrictions) and see what works?
Charlie: We usually work from melodies and riffs then build the song around that with lyrics coming last.
Luke: When we are all together is when the songs really come alive. Our most popular songs have come from all of just jamming to some ideas that one of us came up with and then from that we evolve a verse, chorus and most of the time a bridge. We then talk about them and then test different structures trying the vary the songs and make them different. Then BOOM you have a Brazen Bull song.
As we mentioned, you had previously released two singles from the album, with a third one just released this very weekend…
Luke: We put two songs, 'Angel's Nails' and 'Stray Wolf', out at the end of last year, with both being received exceptionally well. Both songs getting a total of 18k streams and counting on Spotify Is phenomenal. Our third single, 'Pact In Blood' came out on Friday, two weeks before the album on 5 March. This song is the last song we wrote on the album. It is the one that we experimented with our sound the most, with elements of prog of punk in a form of ballad.
Charlie: 'Pact…' is a hard-hitting, emotive, explosive ballad detailing the battle of emotions in your head.
Obviously, as we mentioned, it's impossible for bands to get out there and perform their songs live. Have you any plans for any "virtual" gigs?
Alex: We did one when I initially joined. We experienced some technical difficulties but still managed to power through it. We have thought about doing another one, but not until the lockdown ends. We're also toying with the idea of some acoustic gigs.
When gigs are possible again, who would you like to go out on the road with? What would be your ideal tour (and you can count both "big name" and independent acts)?
Luke: Locally, I would love to do more shows with Renegade Twelve, who we did a show with in 2019. Bigger names? It would be a dream to tour with Slash, Steel Panther, Alter Bridge, Avenged Sevenfold and Skindred.
Alex: I would love to tour with Unleash the Archers. Their album, 'Abyss', was my favourite album of last year.
On a related subject, if you could have someone guest on your next single/album, who would it be and why?
Luke: I would love to work with Myles Kennedy. His lyrics and vocals are phenomenal and they would really fit with our sound.
Two slightly off-kilter questions to finish off with… Imagine you're headlining somewhere like Wembley Stadium: what would be the most outrageous thing you put on your rider?
Alex: A bunch of cats!
Charlie: I want to do a tour and have each venue bring in a dog so we can pet it in the dressing room.
Luke: A shit tonne of antihistamines because I'm allergic to cats and dogs.
And finally, a question which has fuelled thousands of internet debates: pineapple on pizza?
Luke: Love it mate, I always get it to infuriate everyone.
Alex: Trick question, the answer is broccoli.
Charlie: Absolutely not!
'Brazen Bull' is released on 5 March. You can get your copy HERE.
www.facebook.com/brazenbullband
www.instagram.com/brazenbullband_/
All content © Über Rock. Not to be reproduced in part or in whole without the express written permission of Über Rock.