By Monk
Even with a roadmap out of the COVID crisis now seemingly nailed to the table, at least in some parts of the Über Kingdom – here in our home territory of Northern Ireland all dates remain "indicative" and even when bars are eventually allowed to re-open they won't be able to host live music until our so-called political leaders deign otherwise – I think it is safe to assert that streaming shows are set to remain part of our regular "gigging" routine for the foreseeable future. The latest act to throw their hats into the vagaries of the lives stream virtual arena this past weekend were those erstwhile rock 'n' roll reprobates by the names of Ginger, CJ, Danny and Ritch (or is it Mark, Twitterati), collectively known as The Wildhearts, emerging from the dustiness of the studio and into the spotlight of the live arena…
Hang on a second, did I just mention "studio" and "live" in the same sentence? Yes, I believe I did. And what is immediately obvious is that is a set recorded live in a studio (or maybe even a converted farm building in some desolate location where they couldn't bother the neighbours with the volume levels): but then, we haven't had a fix of proper live music in nigh on 13 months, we're hardly in a position to complain how and where it is delivered are we?
Now, I've said it before, but a Wildhearts show can often depend on the sort of place that Ginger has found himself at the time, both leading up to the event and during it. In the weeks leading up to this show, it had been very obvious that the man was in an extremely happy location indeed: he had been enthusing widely about the band's newly completed album and pushing this show so heavily he risked breaking his social media feeds with the excitement he was exuding… and, it is immediately obvious that both the frontman and his three band mates are on fiery form indeed, with a show that is tighter than a choirboy's buttocks on the eve of the first post-lockdown communion service.
The setlist for this stream was mostly chosen by fans so it is no surprise that it is rammed to the gills with the big pops, prompting Ginger to comment "every time we ask the fans, they pick the same fucking songs": 'TV Tan', 'Everlone', 'Suckerpunch', 'Vanilla Radio', 'The Revolution Will Be Televised', 'Sick Of Drugs', 'Caffeine Bomb'… they keep coming, bouncing into and off each other in rapid-fire succession, each played with smiles all over the quartet's collective and individual faces, as they also bounce off each other with natural charm and familiarity. Between the songs, the jokes and repartee flies back and forth, each member getting the chance to contribute to the banter.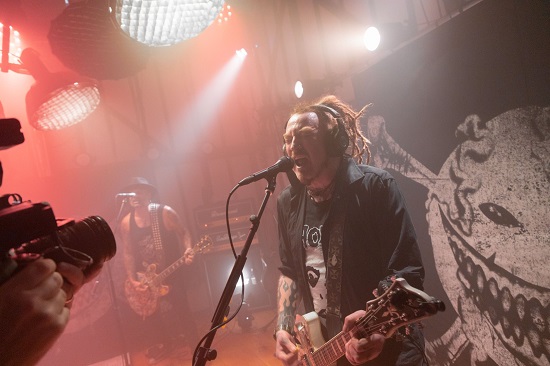 Despite the rather anodyne setting, and especially the lack of fans, it's a typically energetic show from the Wildhearts, even if they do have a bit more time to fuck about between songs, with Ginger making his best of the situation by constantly urging ourselves to make ourselves heard: even though he, and the boys, obviously cannot actually hear us, I am sure I am not the only one who was singing myself hoarse and bouncing off the dog, before fighting my way through to the fridge and screaming at it to give me another over-priced, lukewarm, plastic-wrapped pint of camel's piss of the sort we miss spilling over ourselves in the real live environment.
One advantage of live streams over live shows is that they allow us unprecedented up-close-and-personal access to the musicians as they perform: you can see the spit inflecting Ginger's lips, the ice slowly melting in his whiskey – and the sheer panic in the eyes of Frank Turner as he joins the band for closers 'Let 'Em Go' and 'I Wanna Go Where The People Go'. Meanwhile, the sound mix is impeccable, with just the right amount of dirt and grit mixed into it to capture the essence of the band at their rawest and most honest, which this show truly exhibits. It just goes to show that it doesn't really matter where a rock 'n' roll show is played, as long is done so with fire, passion, belief and commitment, and from the heart and soul, then it will reach deep into those of the listener/viewer.
EDITORIAL NOTE: Fans who purchased the deluxe ticket package for 'By Request' get the opportunity to rewatch the show as many times as they want until 15 May – and I'm sure many will have it on nigh-on constant repeat – as well as to enjoy bonus features such as a preview of a song from aforesaid newly recorded album, Ginger discussing the craft of songwriting with long-time friend and fan Frank Turner, Ritch talking drums, Danny talking about living with bipolar and mental health in the music industry – as well as CJ's own cookery show (that's one I'll definitely be checking out, 'cos I've a few bottles of his hot sauce that deserve a decent recipe!).
The Wildhearts are scheduled to play the Steelhouse Festival in Ebbw Vale on Sunday 25 July, the Rock & Blues Custom Show in Pentrich on Friday 30 July, Cleethorpes Rocks on Sunday 31 July and Bloodstock on Friday 13 August. They are also due to tour in September, with further dates also scheduled for later in the year: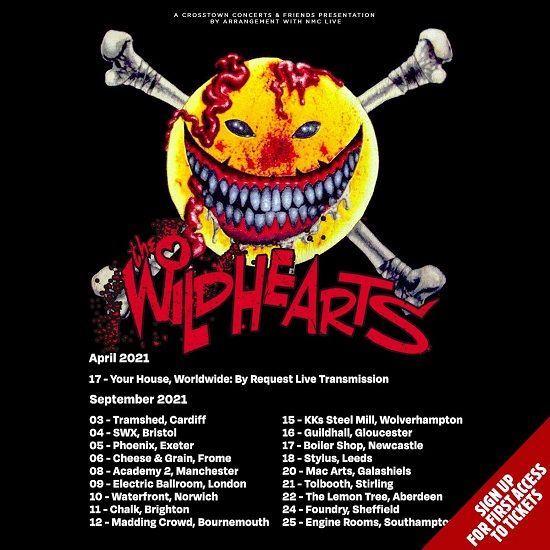 www.facebook.com/TheWildhearts
Photo courtesy of The Wildhearts.
All content © Über Rock. Not to be reproduced in part or in whole without the express written permission of Über Rock.