By Juan Pablo Mazzola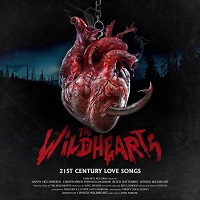 The best band in the universe is back with a sharped mood and a kickass mind blowing album, a perfect sequel to their amazing "Renaissance Men' album… as they usually do, as the good thing about The Wildhearts is that they are always coming back.
Being a Wildhearts fan is really an addiction, because it's always so good that you want more and more, and they keep delivering it, which is astonishing for a group that can do pretty much whatever the fuck they want with their sound.
Here we have again one of the best songwriters ever, a killer drummer (because you need a killer drummer for this kinda stuff), an amazing guitarist who masters backing vocals like The Beach Boys and riffs a la Bay Area Trash scene and the most punk rock dude that ever walked the earth. All in a nutty blend of metal, punk rock, power pop, hard rock and some other weird shit that they come up with.
First of all I must say that the artwork looks FUCKING A. Perhaps related with Ginger's love for the gore?
'21st Century Love Songs' kicks of like a fist on your face and after a minute or so of maniac riffs, hell the song sinks into some kinda of '90s pop; so there you have it, the first mood swing on the album. Just a brilliant tune to start an album that goes by the same name. "I miss this like I miss my dead friends" is the first line in 'Remember The Days', a song about their early days in this crazy ride that the music biz is, I believe it's CJ singing "we know, we know" here, which sounds totally New Wave and, as usual, catchy as fuck.
Latest single 'Splitter' captures a hardcore vibe, and, just like in the their last album, Ginger sounds a bit like Lemmy, which makes the lyrics more emphatic A personal favourite here is 'Sleepaway', which is classic Wildhearts at their best – epic hooks basically – plus they shot a video which again, channels Ginger's love for classic horror and gore movies. I don't get how they can get away with putting out so many good releases, especially when it comes to mind that they put out music outside the band.
Lead single 'Sort Your Fucking Shit Out' takes me back to 'PHUQ', and that's a good thing. The pop thing in 'Directions' contrasts with the "killer rock" in 'A Physical Exorcism'; but, just like a chess castling, .you find a bit of "killer rock" in 'Directions' and a bit of pop in 'A Physical Exorcism. 'My Head Wants Me Dead' closes this journey with a strong message like "turns out nobody kills the demons, they just like to hide for a while", which is a painful truth and everybody who suffer from mental illness can relate…I can tell. This is one of the reasons why I love them so much. Sometimes I feel like they are singing my mind out.
I adore this band. I hope they release a thousand more albums. I'm gonna keep buying, treasuring and listening to them. Please come back after this one… again.
'21st Century Love Songs'

is out now. You can get your copy HERE.
The Wildhearts are currently touring: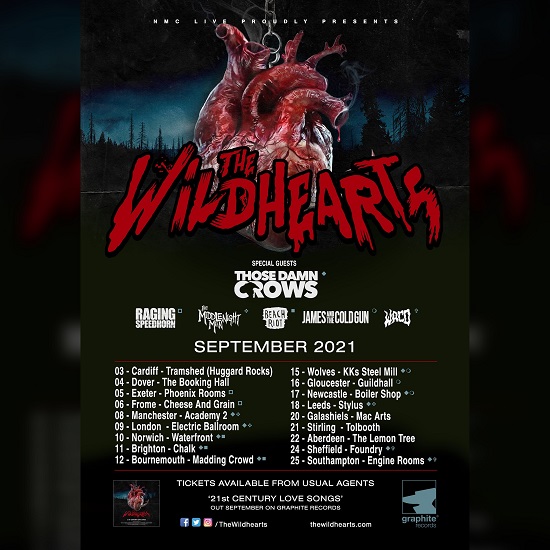 www.facebook.com/TheWildhearts
All content © Über Rock. Not to be reproduced in part or in whole without the express written permission of Über Rock.