By Monk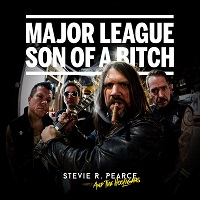 Stevie R Pearce is another of those artists whose name should be more than familiar to Über Rock readers, as he has been kicking about the ÜK rock 'n' roll scene for the best part of the past decade, not least as the erstwhile guitar-slinger for hire for the one and only Jizzy Pearl and his current incarnation of sleaze rock gods Love/Hate… Now, after some time plotting his own solo career, SRP has re-united with another bunch of rockin' 'n' rollin' hooligans to rip it up with this brilliant second, and much-delayed, full-length offering (it was originally due to be released earlier this year but, as with everything else in life over the past 18 months, things got a bit COVIDicated).
'Major League…' is a rambunctious, riotous celebration of all that is great about rock 'n' roll: rollicking riffs, massive melodies, huge harmonies and gorgeous grooves more infectious than a dose of stupidity sweeping through the Northern Ireland Assembly on a wet Wednesday. Add in loads of self-deprecating tongue in cheek humour, and a few moments of heartfelt pathos, and you have a recipe for one of the most perfect glunk 'n' roll albums you're going to hear this, or any other, year.
Fuelled to the brim with punk's rebellious, fuck you, attitude, combined with some serious hard rock shredding, a sprinkling of good old-fashioned glamarama and liberal doses of glorious gang vocals, 'Major League…' is one of those terriers of a rock 'n' roll album: it just grabs you by the balls and doesn't let go until it has worried you into submission. Along the way, it provides fist-pumping anthems, dancefloor-filling party tunes – and even manages to teach glam rock gods such as the Crüe and the 'Tailz (and even Pearce's sometime boss) how to pen a world-class earworm or three.
(Un)classy stuff of the highest order.
'Major League Son Of A Bitch' is out now. You can get your copy HERE.
Stevie R Pearce And The Hooligans play the Waterloo in Blackpool this Friday (10 September) and the Face Bar in Reading on Saturday (11 September).
My colleague Bona Pjarren caught up with Stevie and his hooligans at the recent HRH Sleaze festival, to chat about the album and more:
www.facebook.com/StevieRPearceAndTheHooligans
All content © Über Rock. Not to be reproduced in part or in whole without the express written permission of Über Rock.