By Jim Rowland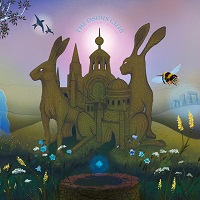 Last year, London-based 'alternative' proggers The Osiris Club linked up with Bad Elephant Music and released a live album, 'Blazing Worlds – Live At Roadburn' as their first release for the label. Now they're back with their first all new studio effort for Bad Elephant, entitled 'The Green Chapel', the band's third studio album overall, and one that sees them heading in an even more progressive direction.
As with previous releases, classic literature provides a thematic lyrical influence. Inspired in part by medieval tales of headless knights, blind hares, wild hunts by moonlight and snow-choked English landscapes, the lyrics conjure a world of mysterious powers spilling into reality and ancient forces waiting to be unleashed, invoking authors such as Arthur Machen and M.R. James. Musically, whereas the earlier releases reflected a wide range of influences, and headed into just as much of a post-punk direction as a progressive rock one, 'The Green Chapel' seems to be naturally more focussed, combining smatterings of doom, psyche, folk and classic rock, and the post-punk, into a mix that is very much more in a progressive rock direction than previous releases.
Title track 'The Green Chapel' is split into four parts (very prog), and is a good example of the diversity on offer across the album. 'Pt 1: The Green Chapel' is a dark, heavy slice of prog with the addition of saxophone inevitably bringing the great Van Der Graaf Generator to mind, as it does on 'The Inmost Light Pt. 1'. 'Pt II: Blind Hare and the Pale Lady' has a softer, pastoral flavour to it, slightly reminiscent of early Genesis in places, whilst 'Pt III: Winter's End' heads in an altogether heavier, doomy direction. 'Pt IV: My Lord The Sun' provides an uplifting, mellotron-soaked crescendo, with a touch of an '80s neo-prog influence seeping through, before the album is closed out with the dreamy, mellow and slightly Pink Floyd-esque 'The Crow'.
Elsewhere, 'Count Magnus' is a twisted, angular piece with the saxophone combining with it to bring The Cardiacs to mind, the album opener 'Phantasm' provides the most up tempo moment of dark, full-on and complex prog, with 'Moscow' providing perhaps the most commercial sounding moment.
Their most focussed and best album to date, 'The Green Chapel' sees The Osiris Club really finding their identity.
'The Green Chapel' is released on 26 September. You can get your copy HERE.
All content © Über Rock. Not to be reproduced in part or in whole without the express written permission of Über Rock.