By Juan Pablo Mazzola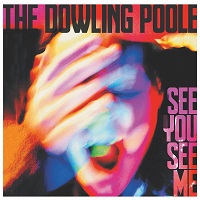 It is stuff like this that should be recognised by big media. Period. The Dowling Poole are back with their insane mix of progressive power pop, 'See You See Me', which is totally mind blowing.
'See You See Me' is the perfect kickstart song with its Jellyfish-esque mood and piano, followed by 'The Product', where the nutty mix of voices and sounds set the atmosphere in a mysterious way. It is obvious that these guys know what it's all about when it comes to epic songwriting. I understand 'Hope' is a song about false expectations and the fuckery the world became. "Hope will hold your hand and drag you down… she enjoys your suffering" they sing, with a touch of social and political criticism. "She spreads the virus wide…" is so accurate in 2020.
The bass playing on this album is just beautiful, such as on 'Made In Heaven', which is also political.
A personal favourite is 'Human Soup', a mid-tempo tune, atmospheric and catchy as fuck. I guess it's safe to say that the influence of Paul McCartney is all over here, perhaps a bit (or a lot) of Costello 2; amazingly well-crafted songs like 'Alison's Going Home' can confirm that.
There is no filler on this album, every single song is a perfect world, songs like 'Sunrise' and 'The Light Dies Down' get along well, yet they come from different places. The last two songs are 'Keeping The Stupid Stupid', which features a killer riff and an ironic message, and 'The Last Train Home', a sad ballad with great instrumentation and really deep and thoughtful lyrics, such as "when insanity was normalised we whispered someone should be notified".
This is genius stuff, brilliantly produced and mixed, loved the colourful artwork too. Something tells me this will be one of the best 2020 releases.
'See You See Me' is out now. You can get your copy HERE.
www.facebook.com/TheDowlingPoole
All content © Über Rock. Not to be reproduced in part or in whole without the express written permission of Über Rock.