Interrogation by DJ Astrocreep
Theatrical goth rockers Avatar release their new album, 'Hunter Gatherer', on 7 August. So, I took the opportunity to catch up with charismatic frontman Johannes Eckerstrom about the album: mind you, it took two attempts to get the conversation on tape, thanks to the beauties/vagaries of Microsoft updates launching themselves during the uploading process. However, with the interview successfully saved at the second attempt, among the topics we discussed, at length, were how a track on it has been seven years in the making, as well as being his biggest challenge to date, his thoughts on the heaviest song ever and a rider request that maybe worried some venues about what they were getting with the band!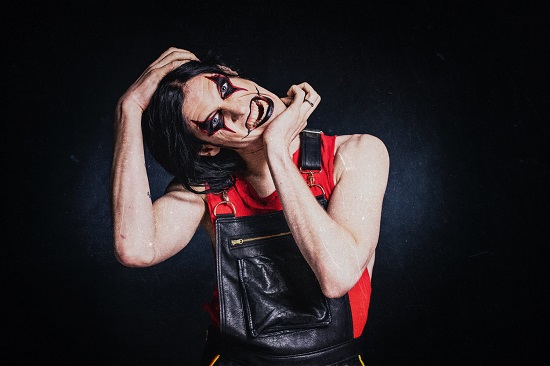 Here are some excerpts to wet your taste buds for what is in the almost 30 minute-long interview…
About Corey Taylor contributing to 'Hunter Gatherer': "…You can whistle, motherfucker!"
On heavy music: "You've got your Meshuggah, your Sunn O))), you've got heavy stuff like that, but I would still argue in metal music, the heaviest thing ever recorded, because of how I remember hearing  it recorded when I was 14, was Metallica, 'For Whom The Bell Tolls'."
The Avatar guitar tuning: "We tune our guitars low, B standard… sometimes drop A"
On album track 'Gun': "Somehow, while trying to finish this song, there would always be this distorted, heavy chord (that) would creep in, halfway through the song, and it would turn into fucking 'Bed of Roses' by Bon Jovi and turn into a power ballad and like, 'okay…it's crap now!'…"
On approaching 20 years together as a band: "The band feels very old but young at the same time"
On the band's 'big top black metal' visuals for their live shows: "It was through a series of experimental photo sessions back in that period, because we were looking for something but we didn't know what…"
On their musical influences: "At the very foundation of it, the ideals for what we want to be as a band can be summarised in just two bands names…The Beatles and Black Sabbath!"
For all the above quotes, their explanations and much, much more, crack open a beer, settle into your comfiest chair and have a listen through the interview below:
'Hunter Gatherer' is released on 7 August. You can get your copy HERE.
All content © Über Rock. Not to be reproduced in part or in whole without the express written permission of Über Rock.