By Jess Robinson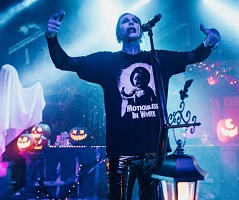 They say you should never meet your heroes, but when I was offered the chance to interview Chris Motionless, I jumped at it… After introducing one another we shuffled into a small room in the SWG3 to dive deep into some questions about Motionless in White, the new album 'Disguise', healthy lifestyles, skincare, conspiracy theories and more.
I started by asking him how he would always like Motionless In White to be known for?
I think I usually answer this question by saying we just wanted to be a band that really showed that we care about the music and the art of music, all of the honest, sincere appreciation that we could for music and what it has done for us, both as listeners and artists. I think it's really important to us and we have never treated this as anything but something that we should be really grateful for, so we want to nurture that and let people know that we care a lot about being honest and sincere.
Your band's music has taken on a big change stylistically over the years but what is one thing you feel has kept consistent throughout the timeline of the band?
I guess that message, just in my last answer. We have definitely been really true to what it means to be our band. The music can change but the message, the idea, the core values of what makes the band, the band has always been there and sometimes we talk about it more than others but it's there and it's not going to ever go away. That might be one of the things that the fans have stuck with us for, even through the musical changes. As they like that the band has stuck to what we built our entire career on.
How would you summarise the tour so far, as it is coming to the end of the European and UK run?
It's so cool because it's not just the end of this tour, it is the end of the decade for us. It's kind of surreal that the biggest moments of our career have been in the past ten years. This tour has been some of the biggest shows – this is the biggest UK tour we have done. So, to end it on something that feels like it's a bigger and better thing than we have ever done for ten years and counting is just so cool and I'm glad that we get to end this decade on a high, high note.
Quickly swapping the subject to health, being on a plant-based diet, what would you say your favourite meals are?
Over here I sadly fall victim to Wagamama a little too often. They have a really great vegan menu and it's all new from the last time I was here, so I keep finding myself getting sucked in to trying each one. So that's really tough because I really do love that kind of stuff, compared to the healthier stuff. It's so hard to be really healthy on the road because I don't have a way to cook things like I would at home, but thankfully there is a lot of restaurants now that serve really good quality plant-based food. Every morning I try and eat breakfast and lunch really healthy and then dinner is where I go a little off the path and go the Wagamama way."
What would your advice be for someone that wants to potentially break into a plant-based diet?
I think you should not listen to the dumb criticism that you see online and make the choice for yourself. There's lots of positive information on the internet, so not that you should ignore all of it, but I think that especially when it comes to stuff like diet and plant based vs meat eaters there's a lot of conflicting information and you should just do what feels right for you. Read as much as you can, watch some documentaries, try and educate yourself so when you go into it you have more knowledge. Don't let other people who are trying to not accept the changes you want to make, make you stray from trying it.
Obviously, you wear makeup onstage as it's something that you band is known for. How would you say that you look after your skin, is there something in particular that you do like a skincare routine?
I try to be as good as I can with it, I cleanse twice a day. After taking all of my makeup off I try to use vitamin E or coconut oil to help kind of fake it off without using harsh makeup wipes – which is a big thing because they dry your skin out like crazy. I really like Lush products, that's the go to for me. They're cruelty free so I feel good about that, it smells great, functional – it's all good."
Is there a particular Lush product that you like using that helps you?
I wouldn't say there's any one that reigns supreme – I try different cleansers all of the time. I would say the tried and true is the Dark Angels exfoliator. That's my go to for twice a week exfoliation.
Would you say you believe in conspiracy theories and if so what is your favourite one that you have heard?
I do believe in conspiracy theories. I think 9/11 would probably be the one that sticks out the most. I mean, there are some quite convincing theories that I have heard that have said that it's been an inside job. I don't know if we will ever know but that is definitely one of the more intriguing ones."
What is the most obscure thing you have owned or currently own?
That is an interesting question. I don't know, I have to go through my closet or something. I'm going through my room in my head right now taking a virtual tour, trying to find anything. I don't think I own anything that I find to be obscure, I guess I don't have anything. I don't have that one thing that's like oh boy I have this. I have a lot of junk but most of everything that I do own, it's kind of at the point where it's a necessity now. I just have way too many clothes, way too many clothes. I still have shoes that I had when I was in high school because I could still wear them if I wanted to, even though I know I never do. So, I think it's not obscure but it's annoyingly that I have way too many clothes."
What's one of your favourite moments when performing, is there something that happens within the audience or on the stage that you really enjoy?
I would just say the sing alongs, I love when the crowd's energy is really high because it helps us to be more energised to see the crowd that way. We totally feed off of the crowd, it's absolutely true, but when there come these big moments in the song where I can put the microphone out and they sing back it's just like wow. I have in ear monitors and I'm constantly popping them out so I can hear the crowd better, just for that adrenaline rush that you get from hearing them sing.
What is something you would like to add to the stage craft of the band?
Of course, we wish we could be doing production like arena production, we have definitely tried to do our best to bring an arena show into a club. We really have let that be known that, that is what our thing is – that we want to bring an arena into a club, since we aren't in arenas. I've been really happy with some of the things we have done before, it's always been tough to do it over here because it's so much more expensive, so we always struggle with the 'slightly less'. Especially for the UK shows we definitely amped it up from the rest of Europe and we are trying to give it as much as we can within our budget.
Who is one artist or band that you would like to collaborate with either on a tour or song?
On a tour for sure Rammstein, that's the band that is left. It used to be Slipknot, but we fortunately got the opportunity to tour with them a couple of years ago, so now it's full steam Rammstein. That would be the dream come true.
What is one of your favourite things to do with your band, is there anything you have to do before a show? Do you have any rituals or do you all just spend time yourselves?
Yeah, we kind of just do our own things. We get ready, I do a warm-up. I have a specific set of things I have to do but we don't do anything as a band. Everyone just likes to have their own space so when we get together it feels good. So, I guess if anything we just kind of separate.
Would you consider releasing another "documentary" on the production of the next album?
I think "documentary" for the video we did for 'Disguise' is a very loose word. It was more of an inside look of how dumb and ridiculous it could be and how serious it could be to record a record. So, I think doing that again would be great. We tried to do it on past records, but we just didn't have enough stuff because we didn't really focus on filming l. This time it was like "I don't fucking care, I'm just going to do cellphone videos… I don't care". So next time I could imagine we could do something really cool.
Is there a particular sound that you want to go for with the next album or are you just going to see how it goes when it comes?
I think we are going to go with something very similar to this last one and 'Graveyard Shift'. That is where we feel like we found our home. We like to explore and try things outside of that box, there's a few songs on 'Disguise' that feel different from the rest and that is just part of us exploring different styles. So, there will be a lot of that still, but I think it will sound mostly like 'Disguise'.
In the video you had filmed, you were looking at getting Ricky and Ryan singing on the songs more. Is that something that you definitely will be taking on?
Yeah, I think so, they've never really expressed the "hey I want to sing" it's always been kinda me going "hey is this something you're interested in?" Little by little they take on more, so I'm sure it'll be a little bit more next time and a little bit more after that. I think especially with the fans saying they liked it, then we will get to do some more.
Do you feel like the writing approach for this album has been more beneficial than it had been on prior albums, with how you are all coming together a little bit as opposed to having your own distinct writing?
That's really tough to say because each song is different, it's not even necessarily the album. Some songs we work together, some songs it's one person, two people – each one is different. That is the way that we work best. It's actually less productive for us to get together as a group than anything else because it puts you on the spot to come up with something and there's just something about it that doesn't click for us as well. It's more each person wants to be on their own, they want to figure it out and then we share it to one another and make it better from there.
Do you feel like one band member in particular has more writing control than the others or do you feel like you all just throw ideas around and see how it goes?
On this record it was a really good joint effort. We all had to make the unfortunate decisions to cut certain songs off the last record and that was a really tough three days for us. We sat there, listened to everything and talked about why each song should and shouldn't be on the record. That's something I am really grateful for because we had gone with with everything I wanted to do, one or two of the songs that ended up on the record that are fan favourites might not have ended up. So it's great to have other voices come in and share their thoughts. We all are working towards making the best record we could. It's really easy to work with people when you want the same goal"
What would you say your favourite older song is to play live and favourite newer song is to play live?
Favourite older song? I still like playing 'Immaculate Misconception' because it's a really powerful song, I don't know if it's my favourite, but I do enjoy it. Let's see we are going through the list here. Maybe I like playing 'Black Damask', that's cool. The newer songs, I really like playing 'Undead Ahead' and 'Catharsis' – they're good ones.
After having the opportunity to sit and talk to Chris, many new things can be learned by others – all of the way from health and diet as well as interest with what has been going on for the band, how they feel as though everything has been progressing and what the next potential step is for the future of the band.
www.facebook.com/motionlessinwhite
Read our review of Motionless In White's Glasgow show HERE.
All content © Über Rock. Not to be reproduced in part or in whole without the express written permission of Über Rock.