By DJ Monk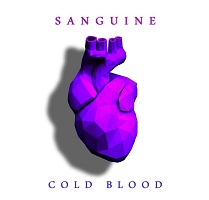 Sometimes the beauty of describing yourself as "alt-rock" or "alt-metal" is that you can fuck with the norms of genre and get away with it, because you are doing something "alternative" within a genre that, it can be argued, can be perceived as stagnant, staid or stuck in an unimaginative rut. And in an era when so many bands are content to ape what has gone before and regurgitate tried and tested formulae, it takes balls to stick your head above the parapet and dare to do something a bit different… fortunately for Exeter quartet Sanguine, Tarin Kenney has balls so big she has to wear them on her chest (sorry DQ!).
Sanguine definitely, and defiantly, are not afraid to step outside the norm, pushing boundaries, bending and shaping them into new paradigms – and producing fucking great rock music in the process.
Admittedly, 'Cold Blood' does take a while to get into its stride. 'Pressure' is not the most convincing of opening tracks, while the inclusion of slow burner 'Lonesome' so early is a bit of a gamble; but, fortunately, it is one that pays off as it really helps to reveal the album's full potential, which explodes into fiery life with the defiant, gothic-industrial edged 'Running On Empty', on which Kenney practically spits her message of "Don't waste my fucking time/I'm not your fucking Jesus" straight down your throat.
As I said, Sanguine are not afraid to mix it up. 'Ignite' inhabits the sort of territory that Linkin Park might have explored if the guitars were heavier in the mix, while at the same time treading very firmly on Lzzy Hale's stilettos and declaring "bring it on, bitch". They then switch gears and drive headlong into metalcore terrain on 'Summer Son', with guitarist Nick Magee stepping up to vocal duty, but do so with an easy transition which epitomizes the clarity of this album's approach – and that of its creators, who are not afraid to take a chance and take you out of the comfort zone in which you thought you had found sanctuary… until now.
The second half of the album is heavy as fuck. 'Surrender' takes Hayley Williams out into the alley and gives her a good bitch slapping while its riff pummels and grounds with fat intensity, while 'Raised Like Wolves' takes any UK metalcore band you care to name down to the pawn shop to trade in their guitars.
It's taken Sanguine a while to get around to releasing their third album, but by the lords of metal has it been worth the wait.
'Cold Blood' is out now. You can get your copy HERE.
Sanguine play MK11 in Milton Keynes, with CKY, on Monday 27 January and the Old Bakery Studios in Truro, with Godstone and O'Deus, on Friday 31 January.
All content © Über Rock. Not to be reproduced in part or in whole without the express written permission of Über Rock.