By DJ Monk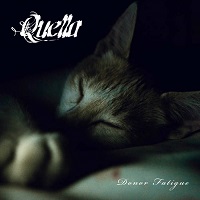 Quella inhabit that murky territory between metal and punk – you know the place, where metallers try to play punk and punks try to play metal, but, in this case, they don't really succeed in doing either, resulting in this four-track EP falling into the cracks somewhere between the two.
Opening track 'Crown Of Flies' is a prime example: a mish mash of the two styles, thrown against the wall to see which one sticks only to result in both of them running down the wall like a freshly painted wall in the rain. Lead single 'Smalltown Eiderdown' is a much better proposition, combining elements of prog in a way that reminds me of Northern Ireland pronk kings NASA Assassin. 'Loyal To The Lie' sees the band introduce elements of ska, but it disappears in all sorts of different directions, adding RHCP-style heavy funk into the mix and lacks any form of cohesion, while closer 'Them Apples' comes across as some sort of post-apocalyptic Beastie Boys after one too many packets of liquorice allsorts.
A disappointing listen from a band who could be capable of so much more if they decided what style of music they want to play. I'm all for diversity and combining elements to create a different aural experience, but it needs to be done with a clarity of thought that, unfortunately, this EP lacks.
'Donor Fatigue' is out now. You can get your copy HERE.
All content © Über Rock. Not to be reproduced in part or in whole without the express written permission of Über Rock.