By DJ Monk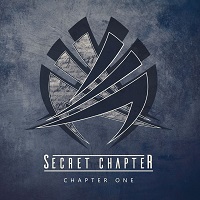 Now and again, an album comes along that is so cheesy that the massive block of cheddar that resides in the ÜRHQ fridge voluntarily throws itself into the food recycling caddy and admits ungracious defeat. This debut album from Norway's latest retro-rockers has just forced himself to reach for the sword hanging on the wall of the studio and plunge it deep into his chest, shouting "death to Wensleydale" as he withers on the blade…
As noted, and as its title so aptly implies, this is the first album from Secret Chapter. And it is a script which has been written thousands of times before, as they are not hiding which book of rock 'n' roll they have ripped the clichés out of, as each and every single one of them is present. In abundance. From the big crunching riffs through to the carefully crafted harmonics, the catchy choruses to the searing solos, the taut rhythms and the huge sounding drums, every box is well and truly ticked, and emphatically so.
This is not a bad album. In fact, it is a pleasant listen, in the best tongue-in-cheek Eurometal style. The guys definitely have worked at their craft, and the songs are well structured, while Ole Aleksander Wagenius has a very appealing voice. It does not offer anything new to the genre but does not disrespect it. It is the sort of album that you do not sit down and analyse, but rather put on in the background while you are getting on with some of life's more mundane activities.
'Chapter One' is out now. You can get your copy HERE.
www.facebook.com/secretchapterband
All content © Über Rock. Not to be reproduced in part or in whole without the express written permission of Über Rock.