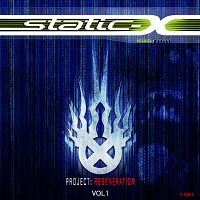 The question of whether their reformation is a heartfelt tribute to their fallen leader or a shameless cash grab has hovered around Static-X ever since they got back together. The impression at Über Rock towers has always been that Tony Campos, Koichi Fukuda and Ken Jay were being very sincere and that was only reinforced when we attended their highly successful ÜK tour. Having a mysterious, Edsel Dope-shaped enigma dressed up as their deceased frontman was a little creepy yes, but the love seemed genuine enough.
'Project Regeneration Volume.1' is their first recorded material to emerge since Wayne Static's passing. Originally intended to be a single album affair, it's been split into two (the release date for the second has yet to be announced) and makes for a bittersweet epilogue. It's not strictly "new," all these songs existed in demo form for years and only came to light when Campos found them. They've been chopped up, rebuilt and had the blanks filled in, but every single one owes its existence to Wayne. The fact it includes his last recordings is undeniably the biggest draw, but you do have to bear in mind that these songs might not exist in the exact form their creator intended them to.
This inevitably means that while there's a lot of good intentions behind 'Project Regeneration,' it is not a cohesive body of work. Instead it's something of a Frankenstein's Monster, stitched together from songs that were written over a very long time period, some of which may well not have even been finished. It's arguably the weakest record in their entire discography, but it still contains enough flashes of genius to make it worth checking out.
First track 'Hollow' for instance will already be familiar to the faithful, having been released as a single in February. Like their best openers, it straddles the line between pounding industrial and mosh-inducing groove metal and is a keen reminder that Wayne knew how to write a catchy song without compromising on the heavy. 'Terminator Oscillator' is another highlight, an intense headbanger that would have made a brilliant addition to their live shows.
'My Destruction' wears the electronic influences loud and proud. It's the track that's most reminiscent of their 'Wisconsin Death Trip' debut, while 'Otsego Placebo' is just shameless fun. It starts off sounding like a rave that's on the verge of going too far when a bunch of tattooed degenerates turn up and try to interrupt proceedings with a metal song, only for the DJ to keep playing along with them. It's a wild-eyed adrenaline rush and a fiercely energetic highlight.
Much as they try though, 'Project Regeneration' can't shake the impression of being a B-Sides collection. It carries a lot more emotional baggage than the average off-cuts collection that's been thrown together to satisfy a contract, but newcomers should absolutely check out albums like 'Machine' or 'Shadow Zone' before this one. 'Follow' for example is sadly unremarkable, while the closing 'Dead Souls' fails to get above average even with a certain Al Jourgensen making a guest appearance.
It goes without saying though that long time Static-X devotees absolutely must spend time with this album. The very circumstances of its creation make it way more essential than the vast majority of compilation albums out there and just hearing Wayne raging loud and alive again is worth it. He sounds like he's having a great time screaming into a microphone and while we'd still emphasise checking out their earlier work first, 'Project Regeneration' makes a moving tribute. God damn some of these would have been awesome in a live setting too.
'Project Regeneration Vol. 1' is released today (Friday 10 July). You can get your copy HERE.
All content © Über Rock. Not to be reproduced in part or in whole without the express written permission of Über Rock.