By Monk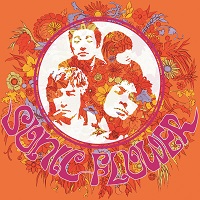 The name of Tatsu Mikami will be one well-known to aficionados of the more psychedelic end of the doom metal spectrum, as the distinctive-looking bassist has towered over the Japanese scene like a modern-day Godzilla, mainly thanks to his role as the driving force behind the serial-killer obsessed Church of Misery. It could be argued, I suppose, that Sonic Flower is a long-omitted sidebar to the CoM storyline, as the first of this coupling of albums was released back in 2003, while the second has lain gathering cobwebs in a Tokyo vault for the better part of 15 years, finally being dusted down and thrust, belatedly, into the light of day.
Sonic Flower trace their roots back exactly 20 years, when Tatsu teamed up for the first time for then to be future (now former) ..Misery guitarist Takenori Hoshi to explore their mutual love of Seventies-style freeform heavy blues, as propounded by the likes of Cactus, Grand Funk Railroad, Groundhogs, Savoy Brown and their ilk. IN turn recruiting second guitarist Arisa and drummer Keisuke Fukawa, their self-titled, totally instrumental debut album surfaced two years later, with a limited release on the Japanese Leafhound Records imprint.
The debut's sound will be immediately identifiable to those familiar with Tatsu's more renowned project, as it is very much rooted in CoM's traditional psychedelic blues sound, but a lot heavier and a lot more freely extrapolated, reflecting the fact that the majority of the album was recorded live in the studio and in the form of organic jams. It kicks in in almost sub-thrash style with a fast 'n' furious drift (sic) down the 'Cosmic Highway', which sets the tone for both the heaviness and the richness of what is to come over the remaining five tracks. Tatsu's characteristic low-slung bass rumbles and growls, interjecting the funk/jazz touches which have become his trademark, while the twin guitars add a depth which fully, and faithfully interprets the heavy blues approach adopted, with some neat melodic interplay as well as some natural fretboard duels, the most impressive of which is saved to the final track, the appropriately titled 'Going Down'.
Ironically, despite its age, 'Sonic Flower' does not sound an album of its time; rather, it remains fresh and vital, and this long over-due re-issue should serve to help bring Tatsu's immense talent to a new, wider audience who perhaps may previously have been put off by his doom pedigree, as well as more than satiate the appetite of existing CoM aficionados: it certainly did mine.
'Sonic Flower' is released tomorrow (Friday 22 January). You can get your copy HERE.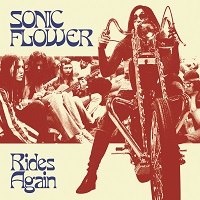 Work on the appropriately titled follow-up, 'Rides Again' began almost immediately; but, things didn't go quite according to plan as, virtually as soon as the original recording sessions were completed, the band members were confronted with various personal issues, not the least being the increasing global success of Tatsu's main band, and so decided to go their separate ways, the result being that the tapes lay on a shelf until the bassist decided to revisit them in 2018 and add the finishing touches, resulting in what we now find before us on the ÜRHQ deathdecks…
The synergy between the two albums is immediately evident, as 'Rides Again' picks up almost exactly where its predecessor left off and is packed with the same level of energy and enjoyment. Once again, there is that organic sound of the tunes being jammed out in the studio, in a way which is both carefree in its approach and careful in its attention to detail. The sound is somewhat closer to the psych-doom niche Church Of Misery were starting to carve for themselves at the time, with the likes of 'Black Sheep' in particular treading very firmly in Sabbath's footsteps: but, then, these moments are counterpointed, and beautifully so, by the insane space-rock grooves of the likes of 'Jungle Cruise', which evokes its title with its Santana-esque, samba-fuelled rhythm. Also unlike the debut outing 'Rides…' includes two covers, with faithful but distinctive interpretations of the Meters' 'Stay Away' and particularly Graham Central Station's 'Earthquake', which closes out the album with enough force to level half of Tokyo just by turning the volume dial on Tatsu's bass rig up by the slightest of notches.
Once again, the result is a vibrant and exciting album which will resonate as much with fans of old-school heavy blues (and its more modern-day proponents such as Clutch) at it will with the doomsters among us. Two invaluable additions to any music-lovers' catalogue. With Tatsu now apparently having revived Sonic Flower as a full-time project, and having added a vocalist to the previously all-instrumental line-up, it will be very interesting to see what furrow this extremely talented and knowledgeable musician ploughs in the near future (as well as, of course, what this means for that of CoM).
'Rides Again' is released on 29 January. You can get your copy HERE.
www.facebook.com/HEAVYPSYCHSOUNDS
All content © Über Rock. Not to be reproduced in part or in whole without the express written permission of Über Rock.