Words by Rich Hobson. Photos by Emily Coulter.
Long revered as the home for all things pop-punk and alternative, Slam Dunk has made itself a flagship brand in the festival market, putting on the kinds of line-ups that seem to have featured every single up-and-coming hot act that could possibly fit within the brackets of punk, hardcore or metalcore. For all of its differences from its predecessors (most notably in the lack of a Midlands date which sees a lot of familiar faces from the heartlands plonked up North, and in the larger festival site of Temple Newsam Park), Slam Dunk 2019 is still doing its damndest to champion acts old and new that represent the best of alternative culture with the likes of Angel Du$t, Milk Teeth and Anti-Flag all on early in the day as if to prove just how stacked this year's line-up is.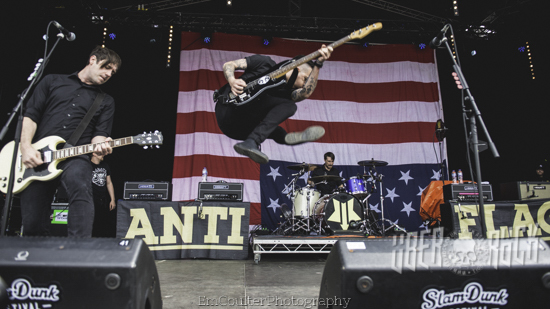 Kicking things off with 'Die For Your Government', it goes without saying Anti-Flag are – unsurprisingly, knowing their music – not mincing words when it comes to getting things started at Slam Dunk 2019. The opening band on NoFx's 'Punk In Drublic' stage, we have to push down to almost directly in front of the stage to avoid sonic bleed-over from the nearby Key Club Stage, but it doesn't matter too much as the expansive site makes it easy to crowd in front of the stage and not get caught in a crush (something you couldn't necessarily say for the smaller stages back when Slam Dunk used to have stages in the street outside Wolverhampton's Civic Hall!). Anti-Flag have made no secret of their political message over the years, their firebrand take on punk rock sticking explicitly true to the inclusive morals of idealistic punk even where others have watered their views down for mainstream acceptance.
We'll have none of that here thank you – Anti-Flag are on fire today, getting things started with a snarl as they rip through a set which draws on material from across their expansive discography. The nature of festival sets being what it is, it's a shame we don't get to hear more of the band (and, considering the current political situation, it's a damn shame we don't hear the brilliant 'Racists' from 2017's 'American Spring') but you just can't fuck with a set which can drop the likes of 'Fuck Police Brutality', 'This Is The End (For You My Friend)' and 'American Attraction', prompting the first howl-alongs of festival season to really get it feeling like we're ready to go for another 3 months in fields across Europe. Not one to let a moment pass, frontman Justin Sane closes the set with a declaration that Anti-Flag are anti-racism, anti-transphobia, anti-homophobia, anti-xenophobia and just about every other kind of small-minded bigotry you could care to name – punk rock through and through, folks (topped off by the bass and drums being sent clattering into the pit, where they are played for the duration of the song).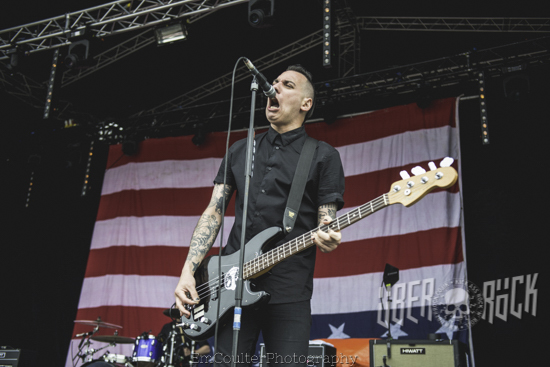 It's a quick trek up the hill and over to the Impericon Stage where we decide to make a tactical move and take advantage of that tent's dual-stage set-up and wait for hardcore heroes Turnstile. First up though are Wage War – cookie-cutter US metalcore delivered with 10 per cent more snarls. For all of the accusations of decline and proclamations that it is a dying genre, metalcore never fails to pull in the crowds. Whether you're talking While She Sleeps or Architects, Bullet For My Valentine or Killswitch Engage, it's a genre which still captures the imagination of metal fans, and the roaring crowd of Wage War are a massive testament to this. It doesn't hurt that the band enjoy one of the best sounding sets of the day, every riff massive and crushing in a way that lends a sense of enormity that suggests much bigger stages beckon the band.
Mixing in djent-like tones for songs like 'Low', Wage War have the kind of tonal richness that allows them to shine out amongst so many of their contemporaries within the genre. Even though they have the unfortunate tendency to favour breakdowns a little too much (but hey, it never hurt Architects), the choruses are something else, clearly whipping the crowd up into a frenzy. Even a metalcore curmudgeon like me has to admit there's something inherently satisfying to the weighty groove of a song like 'Alive', a track which is exemplar of what brilliance can be achieved within the confines of metalcore when every dial is set into overdrive. Considering just how big metalcore bands are still getting in the UK (While She Sleeps/Architects proof that such acts can still dominate massive rooms), it seems a safe bet that it's worth keeping an eye on Wage War as heavy-hopefuls of the future, breakdown-based riffs or no.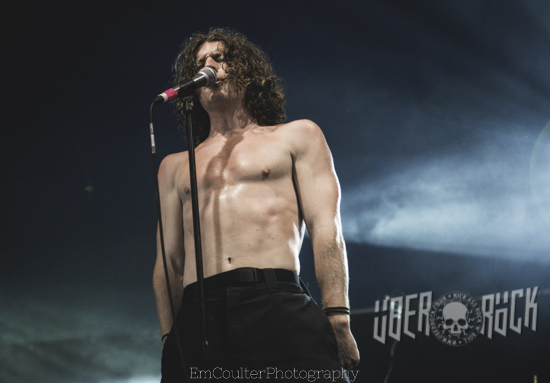 Turnstile seem to have the world at their feet after the acclaimed reception last year's 'Time & Space' received, managing to earn column space everywhere from Noisey and NPR to Kerrang! and erm, GQ. High-octane hardcore punk is the order of the day and if you've never seen a Turnstile show before, you should know by now to expect nothing but absolute carnage and mayhem. Perhaps a little chastened by sets being cut short in Glasgow last year (and heavy security presence at the festival) the crowd at Slam Dunk seems a little less wild than those at Turnstile's own show in Birmingham last year (where seemingly every member of the audience managed to get on-stage and take a flying leap off at least a dozen times), but that doesn't take anything away from the sheer mania the band conjure when they start playing.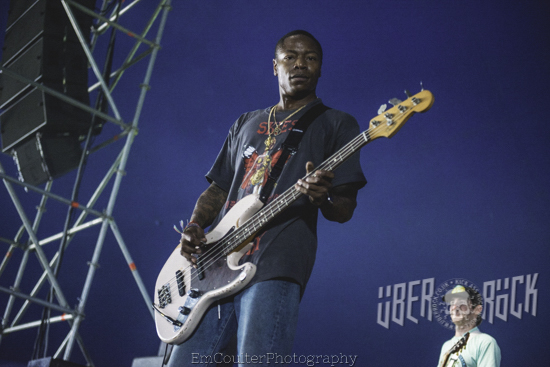 The grooves that go into Turnstile's music are something else, each riff setting off a sea of jumping, headbanging, crashing bodies. This is hardcore distilled into its perfect form, 'Generator', 'Drop' and 'Real Thing' all flying out in quick succession to make sure everybody is going to be a bit sore tomorrow, but hella-happy today. Frontman Brendan Yates feeds on the energy like a psychotic vampire, growing stronger with every song and ever more wild, clambering the rigging with the kind of speed that'd make King Kong pause in bemusement. The beauty of hardcore is in just how many songs you can fit into a short space, and Turnstile don't disappoint, cramming 13 tracks into their set that carefully balance the band's inclinations between alt-rock-via-hardcore roar-alongs and straight-up pummelings via tracks like 'Big Smile' – a fitting title for how it feels to see the band. While it's a little disappointing the band don't pull a bigger crowd (read: biggest, because goddamn that's what they deserve), you just can't fuck with a band as joyous as this.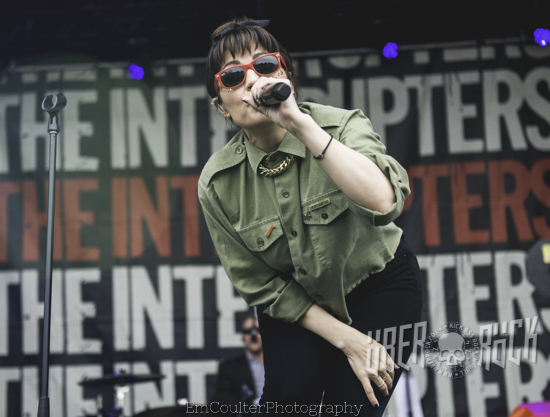 In comparison to the nuclear levels of furious energy up-hill, the bouncy beats of The Interrupters feel like a happy cooldown. The smiles aren't going anywhere, however – this is sunny music made for festivals and the band are here to get the party going. With their affiliations to Rancid, it's unsurprising that they've picked up a few tricks from that band over the years, most notably in their combination of classic 70s style punk and sunny 90s ska punk, topped off with massive choruses. 'By My Side', 'Take Back the Power', 'Gave You Everything' and 'She's Kerosene' are legitimate anthems, so it's no massive surprise to look around and see people bawling it back, raising a punk and, yes, skanking the day away.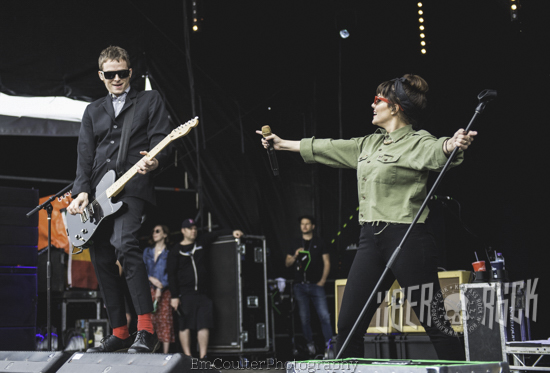 In many ways The Interrupters are the consummate festival band, a group who know how to get things moving and the songs to grease the process nicely. Managing to land spots at both Slam Dunk and Download in quick succession, it seems you won't be able to go far this summer without finding a massive ska punk party going down courtesy of the band. But then, why would you want to live in a world without that anyway? Closing out the set with the bouncy 'Family', there's no denying that The Interrupters are great at fostering a true communal vibe, the song's refrain of 'this is my family' ringing true for all the punks hanging about by the stage for the duration of the set, cheering, dancing and singing along as much as their bodies will allow.
The Interrupters play The Limelight in Belfast on Tuesday 11 June, The Academy in Dublin on Wednesday 12 June and the Avalanche Stage at Download on Friday 14 June.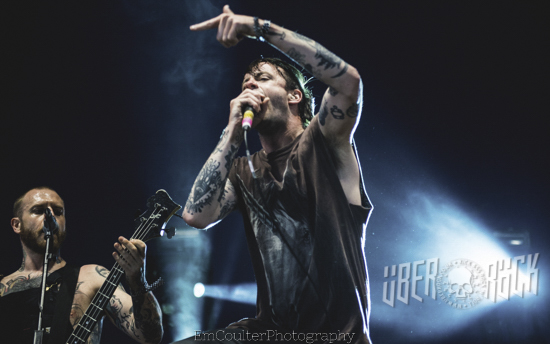 Back up on the Impericon Stage, Cancer Bats pull quite possibly the biggest crowd of the day, the tent literally heaving as bodies cram in to see the Canadian hardcore warriors do what they do best; destroy. As last year's Download Festival demonstration proved, Cancer Bats cannot be confined no matter how big or small a stage you give them, and the tent does nothing to dull the enormity of the band's set. Hitting hard and heavy, the band set their riffs swinging like a wrecking ball on opener 'Brightest Day', throwing in rock n roll swagger for follow-up 'Road Sick'. Vocalist Liam Cormier has the kind of snarl that would make a wolverine go belly-up, and those pipes are put to full use throughout the band's intense set. As the heavens open up outside, the tent grows warmer and more intense as things get heavier and heavier.
Drafting in Nikki Brumen of Pagan, the band unleash a ferocious rendition of 'Pneumonia Hawk' that shows just why they're at the top of their game, and why Brumen has already earned massive interest for her own visceral howl which could strip the paint off the walls. It's like watching two apex predators put on a show of dominance, and good goddamn if nobody comes out the clear victor. Where so many other hardcore acts like squarely in the realms of punk rock with the occasional venture into thrash, Cancer Bats have an omnivorous appetite that allows them to let loose everything from straight-up beatdowns in classic 'Hail Destroyer' to almost Mastodon levels of riffing on 'Bricks & Mortar', as well as the massively satisfying cover of Beastie Boys' 'Sabotage' as the penultimate song for a set which demonstrates why Cancer Bats are unwaveringly reliable when it comes to destroying audiences.
Cancer Bats play Bloodstock Open Air on Thursday 8 August.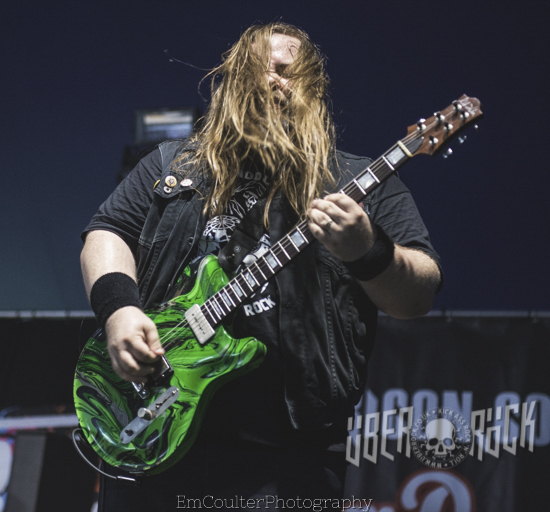 Mere minutes after Cancer Bats finish, fellow Canadians Silverstein are up to unleash their own brand of emo-inflected metalcore on the other side of the tent for the Jägermeister Stage (a handy set-up, we must admit!). Determined to not be outdone, the band blast out the gates with 'Smashed into Pieces'; where Cancer Bats went in with a sledgehammer, Silverstein have more precise instruments to get the job done, though the result remains the same; the audience is totally slayed. As if to drive home the Cancer Bats connection, the band follow with 'Vices' (a track which featured Liam Cormier in the studio… though he's nowhere to be seen now; it's only across the tent ya bastard!), fully flexing their more muscular material to make sure the audience gets a full pummelling.
It's telling how much the band have evolved and adapted from their early days when comparing those earlier tracks to something like 'Retrograde' from 2017's 'Dead Reflection'. While the formula doesn't change to the extent that it sounds like a completely different band, the execution is massively varied, newer material dropping the screamo hallmarks for more modern metalcore tropes (including chug-a-chug riffs and yes, breakdowns… sigh). Still, when the band are letting loose with something more out-and-out rampaging like 'Massachusetts' you see just how well they fit in at a festival like Slam Dunk – pleasing both the metal fans who are looking for Poison-era Bullet For My Valentine style emotional metalcore and pop-punk fans who will adore the absolutely monolithic choruses. The execution is flawless, and one of the biggest takeaways is that Silverstein aren't here to cash in on past glories – this is a band with their eyes firmly on the here and now, the majority of the set coming from their post-2010 material, though that doesn't stop them slipping 'My Heroine' and 'Smile in Your Sleep' towards the end of the set as big crowd-pleasers.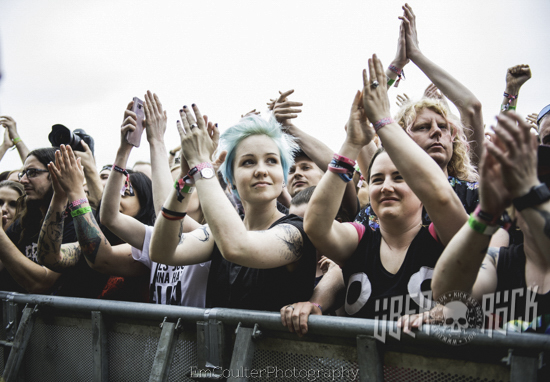 The decision to stick it out in the tent to watch the start of The Bronx is twofold; one, it is pissing it down outside, because of course it is. And two, The Bronx kick all of the ass. Like a replication of last year's Download set, The Bronx come howling out like the last rock n roll band on earth, the energy they put into set opener 'The Unholy Hand' frankly staggering. With the refrain "do you want to die, or just get real close" you get something of an insight into the band's workings onstage, a kind of measured chaos where everything feels like it's going to go off the rails at any moment, only to pull it all back just in time to send something careening off one of the walls.
As fun as hanging out with The Bronx again is, we sadly have to brave the rains yet again at some point, and the return of US punks Millencolin seems about as good a reason as we're ever likely to get. We still manage to fit in the howling 'Heart Attack American' and 'Under The Rabbit' in before we leave, safe in the knowledge that even if we're not there to witness it, The Bronx are kicking ass as far as the eye can see.
Back down on Punk in Drublic the British punks seem completely undeterred as Millencolin hit the stage. Opening with the title track from their new record SOS, the band show right away that they aren't just here to cash-in on the goodwill their 90s material affords them. Only problem is the weather seems to be playing absolute havoc with the sound system, drowning out most of the hardest hitting parts of their sound and leaving vocalist Nikola Sarcevic almost completely inaudible. To their credit, the crowd don't seem to notice much or mind – as the older material does appear the crowd are singing so loud it almost doesn't matter that we still can barely hear Sarcevic, his voice seemingly at the mercy of the winds that treacherously blow the sound away from a braying audience.
In keeping with the theme of the day, the energy of the band onstage is truly something to behold, the band making up for lost time since they last made it over by blasting through a combination of newer tunes and classic fan-favourites. Enjoying that punk trueism that is "you can fit more songs into a set if they barely hit the three-minute mark", Millencolin blast through an album's worth of tracks in no time, though persistent sound issues seem to rob the set of its potency. Which is a damn shame, as Millencolin are clearly very, very good at what they do, and the energy they give to the crowd (and in turn, receive back) is testament to just how powerful the band can be given the right opportunities. Still, sometimes you just can't contend with the British weather, and today it wins out as we head off following a mostly drowned out 'Lozin' Must' resolving to see the band next time they come over to the UK – which hopefully won't be too long.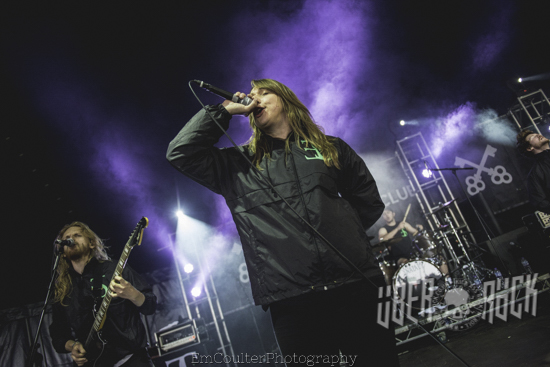 Slipping into the nearby Key Club Stage, we manage to catch the latter half of Employed To Serve's set. With 'Warmth Of A Dying Sun' having already established that the band are among the best heavy artists in the UK right now, the band's brand new record 'Eternal Forward Motion' has officially laid out their stall as a furious and visceral force to be reckoned with. Their sound quite literally fills the tent, clattering drums and seismic riffs a welcome infusion of brutal heaviness. Looking dapper in their matching ETS gear, the band are as tight a unit as they've ever been, locking in and providing a stylised beatdown that showcases just how good metalcore can be when the hardcore/metal elements work in harmony. Short and sweet as our ETS experience is, you can bet we'll be right down the front next time the band head out on tour – whether that be on this winter's Bury Tomorrow support, or on their next headline jaunt.
Employed To Serve play the Glastonbury Festival on Thursday 27 June and ArcTanGent festival on Saturday 17 August.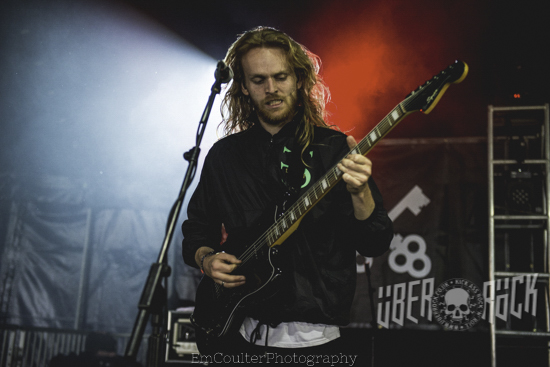 Still hiding out from the rain, we stick around in the Key Club to get a proper dose of Slam Dunk's bread and butter in the form of Microwave. Sat somewhere between pop punk and alt rock, Microwave have the kind of mainstream appeal that would likely have seen them a constant fixture on the radio and Kerrang! or Scuzz TV stations in prior decades, each song ready to deliver a happy dose of riffy sing-along rock. While perhaps not as overtly catchy as some of the giants in the game at this point, there's a sense that the band have already started to amass a fervent following, as the throng of screaming fans attests.
Microwave support Tiny Moving Parts on their European tour, which kicks off at The 1865 in Southampton on Saturday 21 September.
The rain outside is still going at it hard as it can, but we can't hide forever so once again we brave the weather to catch US ska punks Less Than Jake. Joined by guest trombonists from Mighty Mighty Bosstones and The Interrupters, the band bring a much-needed sense of sunshine to the proceedings, fighting the rain with as much power as their coastal US ska can provide. As seems to be tradition with LTJ shows, the band have been on-stage for barely 30 seconds before pints of beer and sent flying forwards across the crowd, the audience surging forward with an energy that says ska punk is still a vital force of fun.
The sing-alongs are in no short supply for Less Than Jake's set, tracks like 'History of a Boring Town', 'Johnny Quest Thinks We're Sellouts', 'She's Gonna Break Soon' and 'All My Best Friends Are Metalheads' acting like a time-machine back to the turn of the millennium. It's not surprising to see that Slam Dunk's older crowd are congregating around the Punk in Drublic stage for the better part of the day, but you can't argue with the power of a well-stacked line-up in reminding younger audiences of the glory days of punk past, and the sheer manic energy of 'Short Fuse Burning' perfectly demonstrates just how electric those bands were – and still are. Even the band's slower tracks can't do anything to diminish their momentum, the crowd switching from pogoing to grooving when the likes of 'The Science of Selling Yourself Short' or the appropriately titled 'Whatever The Weather Brings' are pulled out.
A quick trick up the hill as Less Than Jake finish puts us face to face with Touché Amoré over on the Dickies Stage. A lot of bands have gone by the description 'emotional hardcore' over the years whilst generally fitting under either the emo, screamo or hardcore brackets quite comfortably, but Touché really do fit the bill. Arriving mid-set, we watch the band put on an impassioned and powerful performance against the grey skies of Leeds, a scene which feels all too appropriate like a bad metaphor in an episode of 'Skins'. Vocalist Jeremy Bolm is a man possessed for the duration of the set, pacing and letting loose some of the most heart-felt vocals in the business, accompanied by a musical backing which seems to draw on everything from romantic 80s-style post-punk ('Rapture'), raging hardcore ('Pathfinder') and 90s style emo ('Displacement').
Multi-faceted and consistently brilliant, Touché Amoré are the heart and soul of the more authentic, candid styles of hardcore and pop-punk we see today, dispensing of the older shameless inclination for mainstream acceptance in favour of holding tight to each band's artistic voice. A cathartic experience, Touché Amoré are the kind of emotional exorcism you'd want from a live show, letting out 110% on-stage and receiving nothing less from the crowd. It's an almost even split between material from the band's last record 'Stage Four' and 2011's 'Parting the Sea Between Brightness and Me', showing that this band have only grown in scope and execution since their earliest days, and that the wait for a new record feels far too long.
Touché Amoré join Deafheaven for a joint headline tour which kicks off in Bristol on Sunday 29 September and includes dates in Newcastle Upon Tyne, Glasgow, Manchester and Camden.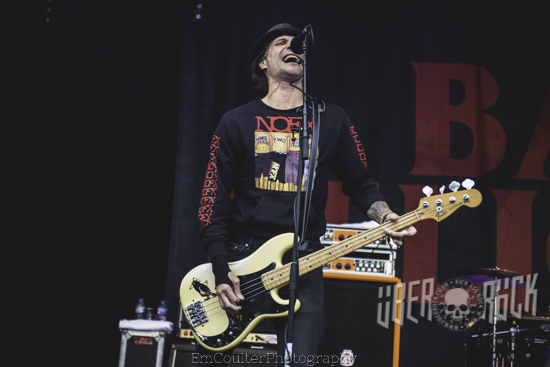 We don't get time to fully digest the impact of their set though, as back down on Punk in Drublic Bad Religion are kicking into gear, bringing along a cross-section of songs from across their extensive career. Rightly regarded as legends within the punk rock scene alongside The Descendents and Adolescents, Bad Religion helped to popularise a distinctly Californian brand of punk that seems to have spawned almost every punk-inclined act to have graced Slam Dunk over the years. With such a rich discography to draw from, you wouldn't hold it against Bad Religion if they just stuck to the classics, but that's not their way and a handful of hard-hitters from this year's 'Age of Unreason' show there's still plenty of fight in the old dogs yet as they blast out the tunes. Few bands have managed to balance politics and anthems so well as Bad Religion, every song pitch-perfect for delivering the sing-along goods. 'Fuck You', 'My Sanity', '21st Century Digital Boy' and 'Stranger Than Fiction' are absolutely massive, and its not a stretch to say Bad Religion could just as easily have been headlining this stage over fellow SoCal punks NoFx.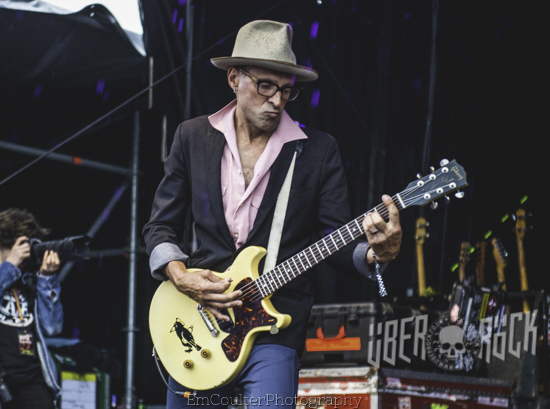 Still, as joyous as it is watching one of punk's most influential acts sink their teeth into an audience, we make a tactical retreat two-thirds of the way through the set to check out the shape of punk to come. We're referring of course to Dickies Stage headliners The Menzingers, a band whose stock seems to be on a meteoric rise with the fantastic one-two punch of 'Rented World' and 'After The Party'. Capturing the essence of what it means to be a 20-something this decade, the opening refrain of "oh yeah, oh yeah, everything is terrible" for 'Tellin Lies' is a call to arms for layabouts and shiftless rockers, perfectly carried through to the later chorus "where we gonna go now our 20s are over?".
As if by will of the gods the sun finally starts shining as The Menzingers hit their stride, almost ironic considering just how miserable some of their lyrics are – "I've been having a horrible time/Pulling myself together" ain't your usual party hard verse, but it does the job fine to get the crowd going. Drawing on material from their past three releases – as good a trilogy as you're likely to find in any back catalogue – we are treated to a helping of massive sounding earnest punk rock. The word "anthem" has been bandied about a fair bit during this review, but the title fits best to the arena-bothering inclinations of The Menzingers, the band leading the crowd through some of the finest sing-alongs about. Even shunted up to the (relatively) smaller confines of The Dickies stage, The Menzingers are headliners through and through, pulling a large crowd and bringing along the kind of setlist that smaller bands would kill for.
Indeed, its not hard to imagine Menzingers headlining Slam Dunk in their own right a few years down the line, particularly when the crowd are roaring along to the likes of 'The Obituaries', 'Midwestern States' and 'I Don't Wanna Be An Asshole Anymore'. This is a band just hitting their stride, growing towards an apex and determined to do it on their own terms. And we're definitely not going to argue with it; suffice to say, if there's one band you need to see at this stage, it's the Menzingers – before they start playing the megadome rooms they clearly deserve. Teasing a new release and more dates to come, it looks like the opportunity will come around sooner rather than later.
We close out our day wet but undeniably thrilled, heading back down to the Punk in Drublic stage to catch NoFx as they close out their specially curated stage. As with Bad Religion, NoFx have earned a spot as one of modern punk's great godfathers, their '90s and 2000s releases charting a path not just for the sound of modern punk, but some of its aesthetic, humour and most crucially how it operates with the creation of Fat Wreck Chords. As such, their space as headliners is more than warranted, the band providing a suitably high-energy end to a day which has seen no band bring any less than 100% to the stage. Old hands at this whole festival business by now (it seems they've barely missed a year in the fields of Europe since at least 2006), the band knows just how to pitch their set to make sure the whole thing comes across as one last big hurrah for the day.
As with so many other bands playing the Punk in Drublic stage today, NoFx have a hefty discography they can draw on to put together a setlist, offering up a combination of fan favourites, new(er) songs and more than a few covers to make the day end with a bang. Refusing to be painted into one corner or another, the band pull out a set which combines straight-up punk singalongs ('I Don't Like Me Any More', 'Dinosaurs Will Die', 'Six Years On Dope') with pseudo-schmaltzy ska tracks ('Les Champs-Élyysees' complete with brass sections, 'Kill all the White Man') and a number of covers including their Bob Dylan-inflected cover of 'Perfect Government'. If you've been to a festival over the past decade there's a pretty good chance you've seen NoFx plugging away and the fact remains that while the sets and shows don't change enormously (a little variety here and there in material, but the same good vibes at every show) there's a reliability to NoFx that you'd struggle to find in so many other places. Where they might not have the raging politicism of Bad Religion or Anti-Flag, nor the heartfelt candid nature of The Menzingers, NoFx are still a staple of the modern punk world, a band still very much worth celebrating.
Cold and wet as we are, we stick things out until the roaring 'Dinosaurs Will Die', at which point we make a tactical retreat to the car, determined to get away before the traffic can swamp us. Moved onto a bigger site for 2019, Slam Dunk continues to show its commitment to getting bigger and better in communicating alternative culture with its finger on the pulse of some of the myriad genres that still have the potential to produce massive names in the rock sphere. At the same time, the festival also still champions those that have gone before, the Punk in Drublic catering to a very specific kind of audience that will remember when acts like NoFx, Anti-Flag and Bad Religion were among the biggest names in modern rock. The balance Slam Dunk strikes can sometimes seen a precarious one, but where so many other big-name events have fallen away (Warped Tour, anyone?) Slam Dunk is seemingly going stronger than ever, determined to usher in the major acts of tomorrow with an inclusive atmosphere that seems perfectly geared to introducing the rock world to the masses.
PHOTO CREDIT: All photos © Emily Coulter/Über Rock. You can view our full gallery of photographs HERE.
All content © Über Rock. Not to be reproduced in part or in whole without the express written permission of Über Rock.