By David Stewart
Deep in the heart of his home town's historic Cathedral Quarter, The Black Box was the venue on the successful tour for The Answer frontman and Mencap NI ambassador Cormac Neeson, who had not only decided to spread his wings and fly solo, but also record something that is quite removed from what you would be used to hearing him perform.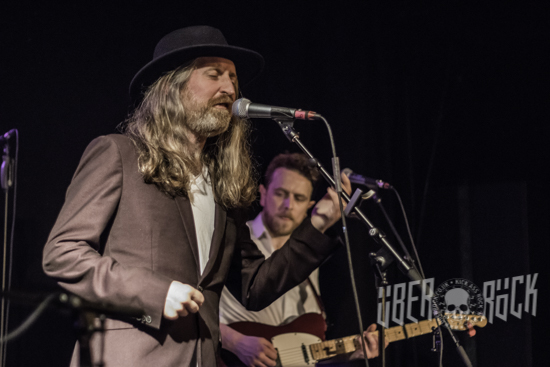 The lyrics of his debut solo album 'White Feather' are about his own personal journey and is a beautiful and well-crafted album and is straight from the heart. The album has also recently seen chart success by reaching number four in the UK Official Country Rock chart.
First up on the evening we were treated to something quite left field, the Clanmil Community Choir. The choir is led by soul singer Siobhan Brown of Manukahunney and consists of members of the Clanmil Housing Association staff, tenants, and friends.
Though their performance was quite short, at around 15 minutes, it was well received. They performed three songs with some short readings in between. The highlight for me was their rendition of The Beatles classic 'Blackbird', which they dedicated to Rosa Parks, who was an American activist in the Civil Rights Movement and was best known for her pivotal role in the Montgomery bus boycott.
Up next was Derry singer, songwriter Reevah, real name Aoife Boyle. Though musically not really to my taste, I do know a good voice when I hear one. A very rich and haunting voice with lyrics that are quite reflective, honest and thought provoking. Reevah played a 25- minute set to which the crowd seemed to really appreciate and soak up. Unfortunately, quite a number of people talked throughout her set, but to her credit she was unfazed by the loud chattering and got through her set.
From now through to September, Belfast's Babel bar (on the top floor of the city centre Bullitt Hotel) will be hosting free live music, with Reevah kicking things off on Wednesday (5 June) with her dreamy indie-folk style of music for those interested in checking her out.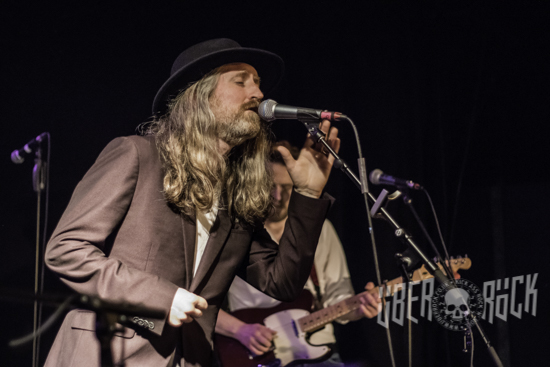 By the time the headlining act, Cormac Neeson, came to the stage, The Black Box had filled up and heated up… literally. It had started to feel more like a sweat box than the Black Box! Cormac was joined on stage by the members of The Unholy Gospel Band, with whom he regularly performs with in Belfast's Fibber Magee's, on the other side of the city centre, on Sunday afternoons.
Cormac performed a selection of songs from his 'White Feather' album and even threw in the song 'Preach', which he recorded with The Answer and dedicated it to his bandmates.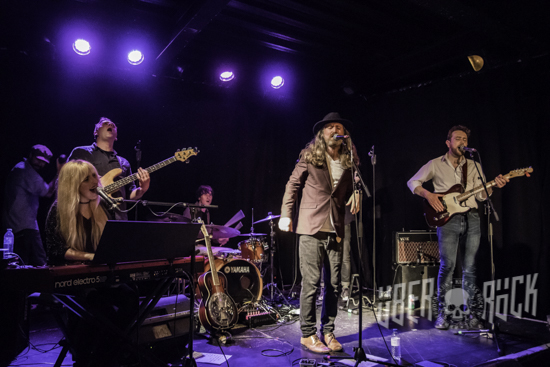 The song 'White Feather' is a very touching and moving one, and even more moving when Cormac tells the story behind the song before he performs it. A story of uncertainty during his wife's pregnancy but, when asking for a sign that things are going to be okay, and noticing a white feather on a tree branch, giving hope to the singer at a very tough stage in his life.
The gig finished with Cormac inviting onto the stage two other drummers who perform at different times with The Unholy Gospel Band, Martay Galbraith and Michael Mormecha. He also invited back to the stage, The Clanmil Community Choir to perform 'Broken Wing', a touching song written about his young son Dabhog, who was born three months premature and with Down's Syndrome.
A great night with a great atmosphere and a mix of music of different styles.
Both Cormac Neeson and Reevah will be performing at the Stendhal Festival in Limavady from 15 – 17 August.
PHOTO CREDIT: All photos © David Stewart/Über Rock. You can view our full gallery of photographs HERE.
All content © Über Rock. Not to be reproduced in part or in whole without the express written permission of Über Rock.