By Rich Hobson
Jaye Jayle deserves better. Playing in Birmingham for the first time amidst a number of dates around the country (including a recorded appearance at Desertfest), it feels like the fates have conspired to provide a poor backdrop for the night's show. Not only is it a dreary Tuesday in April (thanks, British weather) but the venue has barely a dozen people in by the time Jayle takes to the stage with his band, making an intimate venue feel almost cavernous in its unused space. But then, as if to spit right in the face of fate, the band go and put on the kind of performance that makes you want to grab your mates and drag them by the ears to the next show.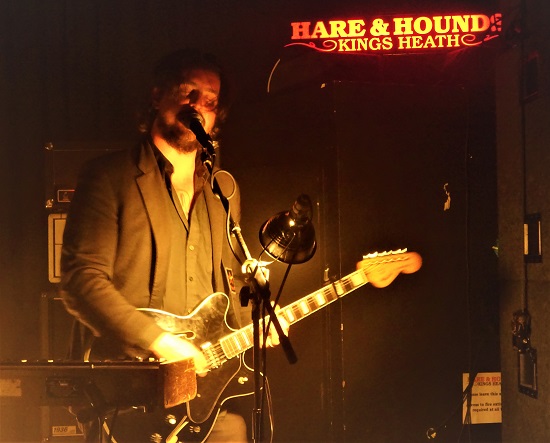 Sat in the space between rock, blues and folk, Jayle's music will most likely bring to mind the likes of Nick Cave with brooding, rich atmospherics providing a massive backdrop to both his releases thus far. Stirring in a cinematic kind of way, Jayle's own voice has the rich earthy tones that suggest a life lived in stories and misfortunes, each song a communication of the soul set against a driving alt-rock meets stoner to play the blues kind of way. This makes the cosy confines of the Hare and Hounds perfect to fully appreciate the scale of the sound whilst still communicating a sense of intimacy that is inherent to the kind of music Jayle's band make.
And don't let the name fool you – Jaye Jayle most definitely are a band live, each instrument pitched to perfection to communicate clearly and confidently. Whether that be in the gentle brushing of a drum kit in a song's softer moments to the blaring basslines which evoke the stoner odyssey of a band like All Them Witches, or even the dainty ringing of keys for a song like 'No Trail: Path One' that push the band into almost Mammal Hands-like jazz territories. The second Jayle opens his mouth it's as if the audience stops breathing – this is cinematic rock at its very best, dark and brooding but in no way angsty or impotent. 'No Trail: Path Two' is a slow burner which benefits greatly from the use of steady momentum and a well-placed sense of minimalism where it counts. Far from being your usual 'less is more' blues/folk type, the Jay Jayle band know when to blast in on a song, or drop back to let sparseness tell you everything you need to know about a song.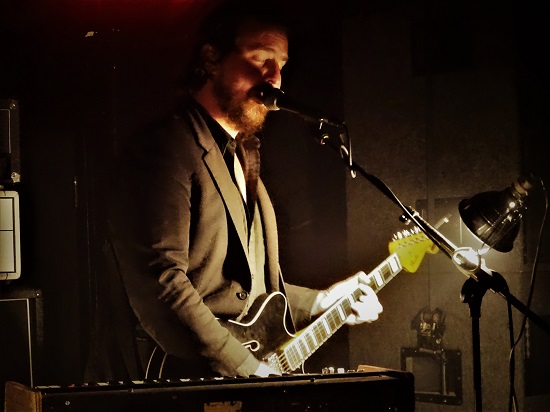 There is a transcendental air to the music of Jay Jayle which seems to stretch far beyond the more obvious Nick Cave comparisons – this is an artist who uses emotion and mood as a canvas, placing music atop a dark and rich background. Think Chelsea Wolfe or Emma Ruth Rundle and you're much more onto the right kinds of lines – this is the fabled 'death gospel' if such a thing does exist, a darker counterpart to similar sounds linked by an inherent inclination towards the dark underbelly of sound, as so perfectly illustrated by this year's stunning A.A. Williams EP. Unsurprisingly Jayle leans pretty heavily on the material from his last record 'No Trail and Other Unholy Paths' for the setlist, each song met with applause and cheers by an audience who may be conscious of their lack of size, but won't let it be said they lack enthusiasm. In return, Jayle exhibits the kind of self-depreciating humour which makes it impossible to not be completely won over, even before you realise his band can do some devilishly good things with sound and a few stark images.
The material from Jayle's other record, 'House Cricks and Other Excuses To Get Out' goes to show he is much more than a one-sound kind of man – songs like 'House Cricks' keep the same kind of dark blues vibe, but infuse it with desolate, almost psychedelic wails of guitar that were a staple of the early desert rock scene but haven't managed to carry across to modern day. More fool them – those guitars sound incredible, and the wailing notes transport the listener to a whole other realm of existence. Its not hard to see why Jayle has been embraced so readily by the stoner community in the UK when you hear a song like 'Cemetery Rain' from his last record, its metronomic bassline heavily reminiscent of early Queens of the Stone Age whilst stamping the Jayle band's own template of sonic darkness all over it.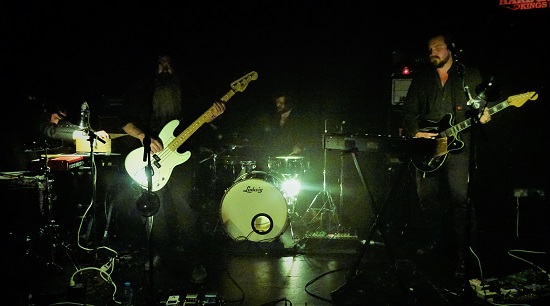 If there's one thing Jayle's set proves, it's that the music has such an expansive scope it could appeal to fans from a massive cross section of the rock community. Which just makes it all the more unfortunate that Birmingham didn't turn out to provide the kind of crowd the band deserves. Not that it matters too much – consummate professionals, they put on the kind of performance that makes a lasting impression, blowing the also-rans out of the water. Don't sleep on it next time.
'No Trail and Other Unholy Paths' is out now via Sargent House.
PHOTO CREDIT: Photos by the author.
All content © Über Rock. Not to be reproduced in part or in whole without the express written permission of Über Rock.