By Rich Hobson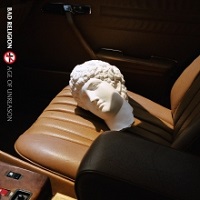 Godfathers of one of the most recognisable sub-schools of punk rock, Bad Religion's contribution to melodic hardcore has seen them namechecked by nigh on every major punk band to emerge post-1988. Approaching their fourth decade and onto their 17th record, Bad Religion are still very much in business, proving that even while they might have spawned a legion of imitators and fans, they have never been left in the dust as the decades wear on. 'Age of Unreason' stands testament to this; a record which showcases all the hallmarks of what has made Bad Religion popular to this point, whilst ramping up their most melodic elements to produce something which is less seeped in anger or cynicism, but a kind of jaded optimism that draws on the traditional punk spirit of community whilst offering a sense of joyous release.
Drawing on the turmoil of the outside world (and there's plenty of that to go around, isn't there?), Bad Religion tread the line between the political and personal to create something that burgeons with passion – both for the message they spread and the music they make. 'Chaos From Within' kicks things off with a classic-style slice of Bad Religion; rampaging beats, a massive chorus and some howling guitars bear all the hallmarks of the band, sounding just as vibrant and energetic as they did a little over three decades ago on 'Suffer'. In truth, while Bad Religion changed quite rapidly in those early days, 'Suffer' marked a solidifying point in their trajectory, creating the framework that has carried them through to today.
But then, when you're a band who can claim to have inspired everyone from NoFx to Leftover Crack, Drug Church to Avenged Sevenfold, there's no real pressing need to reinvent the wheel, even after a couple of decades. What we get is solid song-writing fastened to good times punk rock n roll, the band living and dying – as they ever have – on the strength of their ability to craft massive singalongs. In that you'll not be disappointed by 'Age of Unreason' – nigh on every single song feels anthemic, but standouts like 'My Sanity', 'Do The Paranoid Style' and [] all set the tone for a record which catches the listener by the collar and gets whole rooms roaring along.
As ever, Bad Religion affix relatable, intelligent messages to their songs. Where bands like Rise Against and Anti-Flag have taken their inspiration and can come across as clumsily trying to communicate a message, Bad Religion have an eloquence which is seldom matched. Just take the track 'End of History' – a critique of the modern American zeitgeist, lines like "Nostalgia is just an excuse for stupidity/I don't believe in golden ages/Or Presidents who put kids in cages" showing the band haven't lost sight of the poetic fire that carried songs like 'I Don't Want To Conquer The World' or 'American Jesus'.
Melody has long been a core component of what Bad Religion do, but on 'Age of Unreason' that feels truer than ever; the band's employment of vocal harmonies at times rivals feels like The Beach Boys via Ramones, felt most particularly on the post-Trump critique 'Candidate' and 'The Approach'. For all of this melody though, you'll still also find the nitro-infused energy of the early hardcore in Bad Religion's blood; 'Faces of Grief' boasting the kind of gang vocal that would do Agnostic Front or Cro-Mags proud.
'Age of Unreason' is the sound of a band upholding their own legacy, finding ways to enthusiastically communicate with new generations some 40 years from their arrival on the music scene. Bad Religion might balk at the nostalgia effect that has taken a toxic grip on global politics ("Make America Great Again", Brexit… need we say more?), there is a sense of comfort in knowing that they maintain the course as one of punk's most consistent bands. Losing none of their fire but finding new fuel sources to keep things fresh, this record could be used as a blueprint for other legacy acts, showing that it is still possible to burn bright with passion and inspire further generations to join the good fight.
'Age of Unreason' is released tomorrow (Friday 3 May). You can get your copy HERE.
Bad Religion play the Slam Dunk North festival in Leeds on Saturday 25 May and Slam Dunk South in Hatfield on Sunday 26 May.
https://www.facebook.com/badreligion/
All content © Über Rock. Not to be reproduced in part or in whole without the express written permission of Über Rock.