By DJ Monk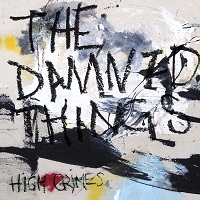 For those unfamiliar with their background, "supergroup" The Damned Things trace their routes back to the dawn of the decade, when Fall Out Boy guitarist Joe Trohman approached Scott Ian – yes, that Scott Ian, the one from Anthrax – and suggested that these two musicians from apparently completely disparate backgrounds use their mutual love of Thin Lizzy to make some rock 'h' roll of their own. Recruiting FOB and Anthrax band mates Andy Hurley and Rob Caggiano respectively, alongside Every Time I Die duo of Keith Buckley and Josh Newton they released the surprisingly impressive 'Ironiclast' album in 2011, played a handful of festival shows and then went back to their day jobs… until now, as eight years down the road, and with Caggiano and Newton replaced by Alkaline Trio's Dan Andriano, they have re-emerged into the sunlight with their second album…
'High Crimes' sees this particular damned combo picked up exactly where 'Ironiclast' left off, as if eight years has not separated the two releases. At the same time, it is also more diverse than its predecessor. While the first album maintained a fairly steady path through the rock 'n' roll firmament, 'High Crimes' sees its protagonists flexing their collective muscles to a much greater degree. Opener and lead single 'Cells', for example, is a fast 'n' furious slice of punk rock mayhem, played so fast that you actually hear Buckley declare "ah fuck", as if he is struggling to keep up with the pace. 'Something Good' sees them initially maintain that punk 'n' roll vibe, especially with it's Manson-like "all my friends are going to Hell" opening chant, before ploughing a very Foos furrow in its overall feel and vibe, while 'Invincible' and 'Omen' could very much have been ripped from the Matt Bellamy songbook, especially in their vocal phrasings and Andriano's pumping bass lines.
'Carry A Brick' returns to the punk rock fury, with its driving riff and suitably heavy as lead feel, as the song crunches and grooves in equal measure while also demonstrating the fun these five highly accomplished musicians had jamming these tunes out and then laying them down, especially as, like the album opener, it has a very "recorded live in the studio" feel to it. 'Storm Charmer' sees them take another left turn, with its swirling organ intro and splash of electronica before the thump of the bass kicks in and underpins another slice of prog-meets-indie experimentation: to be honest, to me this is the weakest track on the album, and at just shy of six minutes outstays its welcome at the start of the album's second half.
Something approaching "normal service" is restored with 'Young Hearts', a big, bold, bruiser of a tune with that progressive edge that has permeated many elements of the album to date, yet never losing site of it's central fuzzed-out intensity. 'Keep Crawling' once more demonstrates how the album moves quickly from punk fury to psyched-out alt-rock progressiveness, as it again sees TDT veer into Muse/30STM territory, although with much more emphasis on the heaviness of the underlying vibe than particularly the latter could ever muster.
As the album races to its conclusion, there are more of those alt-punk touches with 'Let Me Be (Your Girl)', which is a solid mid-paced rocker, before things come full circle with the totally manic (and badly mistitled) 'The Fire Is Cold', which takes the collection into the finishing straight faster than Lewis Hamilton with the chequered flag in his eyeballs.
And "chequered" is a good analogy as, I must admit, it took me a couple of listens to really get into the groove of this album, and it is something of a curate's egg. There are moments where it confuses and confounds, especially in relation to the expectations which it's curators may bring with them, but it definitely is a "grower": there is enough going on to keep you wondering what is coming next, and then going back to explore its myriad aspects further. Not as immediate in its impact as 'Ironiclast' but definitely a fine overall effort by a collective of musicians who've been around the block more than enough to know that they can basically do what the fuck they want and more or less get away with it…
'High Crimes' is out now. You can get your copy HERE.
www.facebook.com/thedamnedthings
All content © Über Rock. Not to be reproduced in part or in whole without the express written permission of Über Rock.