By Jonny Bakes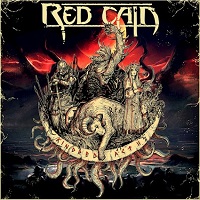 For me, power prog metal takes the best aspects of two of my favourite genres and smashes them together into a hybrid that is almost better than the sum of its parts. It's almost like the time some hard working Northern lad took the initiative to combine chips and gravy together and completely revolutionised English cuisine. So, as you can tell, it's a genre that I'm particularly familiar with, and would count several bands from the genre among my all-time favourites too. So while this is great for our readers, it does mean that any band that flies the power prog banner has quite a benchmark to overcome…
But here Red Cain step up to the plate to try and blow me away with the second act of their 'Kindred' saga. This follows on from their 2019 debut album which, funnily enough, was called 'Kindred: Act I'. The debut album successfully launched the band into the Canadian metal scene, resulted in a European distribution deal and ultimately a string of festival appearances. This year, the band have likely found themselves with a bit of spare time on their hands so it's been all systems go to launch their sophomore album and, although originally penned for a December 2020 release, this will hit the streets in January 2021 – but I've got my hands on it for an early look.
Overall, 'Kindred: Act II' is an interesting mix of styles that combine together in technical wizardry to set the backdrop for the continued tales of the warrior Zalcoatl. There's some unexpected musical influences that bubble to the surface, particularly the liberal use of electronic elements provides a futuristic, yet gothic, element to the tales. Vocally, there's some clear inspiration from Kamelot going on here. They're predominantly clean, but with a wide range between high pitched and deep passages (although I don't think anyone can get as low as Roy Khan). The guitar work is pretty varied as well and at times even hits a distinctly djent groove that seems to appear out of nowhere!
'Precipice of Man' is probably the song that stood out the most for a couple of reasons. The first being the odd pronunciation of "precipice" (which now rhymes with ice… unless I've been pronouncing it wrong all this time of course!). But while that was the initial thing that caught my attention, the thing that retained it was the rollercoaster nature of the song. Initially it's a relatively gentle piano ballad accompanied by falsetto vocals which is pretty relaxing but this is just a ruse! Once you've been lured in by the gentleness of the song, Red Cain unleashes a gut-punchingly heavy djent riff that knocks you off your feet. Things get even heavier with the introduction of delightfully harsh vocals to contrast that initial gentleness before rounding things off with a return to the Kamelot-type sound that is a common theme throughout the album.
While this took a little while to grow on me, once it had got under my skin it's a very enjoyable album and a great way to continue the thread from Act I. Fans of Kamelot and Mastodon alike will find some common ground with 'Kindred: Act II' (and Act I for that matter). Red Cain have some way to go to reach the top of my power prog favourites list, that is partially because the bar has been set so high by the likes of The Ancient Bards and Dakesis, but there's certainly the potential for Red Cain to break into that elite group if they continue to build on the foundations laid by Acts I and II of the Kindred saga!
'Kindred: Act II' is released on 22 January. You can get your copy HERE.
www.facebook.com/redcainofficial
All content © Über Rock. Not to be reproduced in part or in whole without the express written permission of Über Rock.