By Jase Walker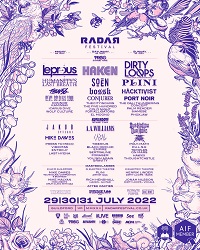 Well, I've finally made it, a little bit later than I originally anticipated but it's not like traveling across the country doesn't have its perils!
I've gotten into the venue, said hello to some good friends but it's music time now and what better way to kick off the day with long time emo/post-hardcore mainstays, Devil Sold His Soul. After a pretty solid show at Manchester's Rebellion venue a while back, I wasn't going to pass these up. Thunderous riffs echo through the main stage area of Guildford's Casino, and there's a pretty massive crowd here to boot. Admittedly the singers are a little muffled in comparison with the rest of the band, so you can hear the melodies, but the actual clarity is a little bit lacking.
The visual show they're putting on is solid though, constant movement and playing to the audience and seeing solid crowd response as a result. On the whole it's great to see a band that's been going as long as these have finding themselves a niche within the surge of metalcore and prog line-ups, a solid performance despite the vocals being a bit muffled. I don't doubt I'll be seeing these fairly often in future, always worth coming back to!
Next up is Press To MECO! These guys fusing punk energy with rapid technical expertise and massive helping of fun saw Manchester's Night and Day turn into a riot supporting Vukovi a while back. What stands out about these is that each member of the band takes turns leading the vocals on different songs all the while kicking out bouncy music. They sound fantastic today, each movement of the bass guitar can be felt right under my feet. Press to MECO are a bundle of unbridled energy, they kick out songs that are easy to bounce and sing along to all the while going absolutely mental on stage and the audience returns this back to them tenfold.
No messing about with getting through their set, each song leads into the next with the pads shouting at the audience to keep the energy going. Just looking around behind me I can see the whole crowd jumping around and losing their minds to every song they play. I really can't say I know any band off the top of my head that sounds and plays like Press To MECO, they're just some real good fucking fun and could easily fit on almost any rock-adjacent lineup and get the same crowd response whether people knew them or not. Always fun, always silly, and always tight, Press To MECO are great.
After a bit of food and pint at the nearest Wetherspoons, I'm back to catch a bit of Mike Dawes. Admittedly I don't get back for the start of the set but I've managed catching him doing a solo acoustic cover of Gotye's 'Somebody That I Used To Know', including all of the melody *and* the rhythm with one acoustic guitar. Essentially along the lines of Erik Mongraine or Jon Gomm. Not only this but some spoken word, almost comedy between songs as he adjusts the tuning of his guitar.
Disappointingly it's a struggle to consistently hear him properly against the dull roar of background noise with people chattering. This often seems to be the case when it comes to acoustic acts midday of variety festivals such as this. As much as I can hear him over the top of the chit-chatting of the people nearby, it often drowns out the more nuanced playing which really spoils the nuance of his playing. I think this would be a bit better suited for a consistent string of music along the same lines.
I figured I'd catch a bit of Humanity's Last Breath, despite not being a band I'm into much, I still regard them as arguably the heaviest band I've ever heard and the live show they're putting on delivers exactly that. I mean it's quite literally a non-stop assault of either blast beats, shrill guitar scraping or some of the heaviest, grinding grooves known. The vocals honestly sound like the world's decided to fully open the Marianas Trench, the backing synths are a constant, haunting pitch, and the rhythm section is a relentless, throbbing grind.
I'm more of a light and shade type of person, but I'd be wrong to describe Humanity's Last Breath as anything but as the overarching soundtrack to any epic disaster film. I'm just in awe of the tireless lurching of every single catastrophic growl and groove, like watching a chasm open up and swallow an entire city whole in slow motion. Humanity's Last Breath are the legitimate soundtrack to a world ending.
Unfortunately, I've had to give Jakub a miss because the room was unbelievably packed and I really needed to get a spot ready for Leprous. I do have a backup plan though to see him at ArcTanGent. The main stage is now packed, ready for Leprous to take the stage and I am boiling right down the front, staking my claim for the best view in the house. Nearly 30 minutes late, and with a crowd getting a bit impatient, Leprous finally takes the stage to close off RADAR on Friday. All the same, the unmistakable silhouette of Einar stands tall Infront of the backing lights, the rest shrouded in darkness.
Einar's voice soars over the top of the band, kicking out their layered, atmospheric licks and grooves. Leprous, although late, are very much in session here at RADAR festival. The sombre melancholy of the seat sweeps over the audience, leaning heavily on the 'Aphelion' and 'Pitfalls' album material, a significant shift in gears from the likes of 'The Congregation' and 'Malina' era of Leprous. The moment they start playing 'Below', the crowd suddenly comes to life, I mean I'm not surprised, it's a fantastic song. Not only that, but we're right into 'The Price', time for arguably the biggest singalong! The crowd surges constantly behind me, singing along to the songs riff and I can feel people's hair on my neck and hands and elbows on my back, very familiar territory.
It defies belief that a band like Leprous who you would ordinarily think aren't "moshable" due to being on the more atmospheric side of prog, but that is most definitely not the case. Every time I see Leprous, I'm always blown away by Einar's voice though, the fact that it delivers so much emotion and is carried by an incredible range that blows through octaves to reach soaring highs. Getting to see these again is always a pleasure and (no clashes withstanding) I'll be seeing them again shortly at ArcTanGent.
All content © Über Rock. Not to be reproduced in part or in whole without the express written permission of Über Rock.